Martin Widmark
Martin Widmark (b. 1961) is an acclaimed Swedish children's book author known for popular series such as The Whodunit Detective Agency (LasseMajas Detektivbyrå), Nelly Rapp, Halvdan the Viking and many more. His books have received countless of awards, sold more than 12 million copies, and been translated into 38 languages. Many of the books have been adapted into several feature films and TV series and been made into board games, theater, and video games.
Martin is engaged in issues concerning reading comprehension of children and young people and is considered one of the most prominent writers of children's fiction today. He has received multiple prestigious awards. In 2014, he was awarded the Swedish Government's medal Illis quorum for his work to encourage young people's reading.
Before becoming a full-time author, Martin Widmark worked as a middle school instructor and a Swedish language teacher. In the year 2000, he made his debut with the book "To catch a tiger" (Att fånga en tiger). Since then, he has written over a hundred books for children and young people and is today one of Sweden's most popular children's book writers.
Martin Widmark & Helena Willis
Swedish writer Martin Widmark (b. 1961) and illustrator Helena Willis (b. 1964) have together created the bestselling children's book series The Whodunit Detective Agency for ages 6-9.
The popular books with the young detectives Lasse and Maja are constantly on the best-seller lists, on the libraries' most popular lists and have been awarded the children's own book award 12 times.
Bibliography
The Whodunit Detective Agency
Related news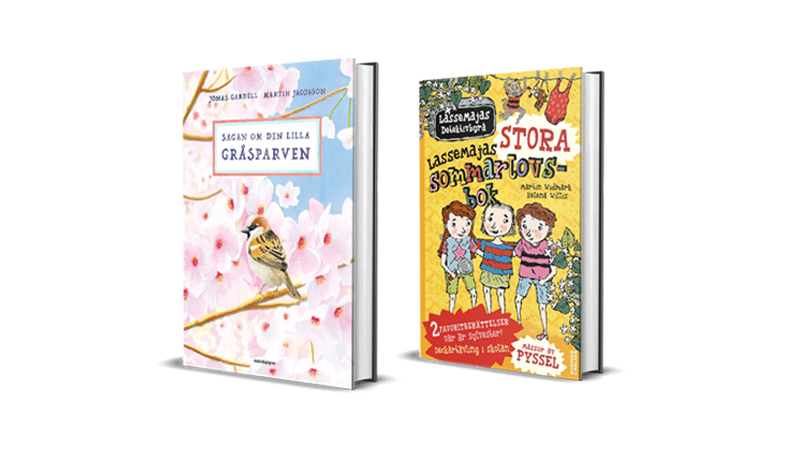 Gardell and Widmark on the Swedish bestseller lists
Jonas Gardell's The Story of the Little Sparrow features at No. 1 and Martin Widmark's The Great Summer Holiday Book comes in at No. 3 on the official list for children's fiction in Sweden.