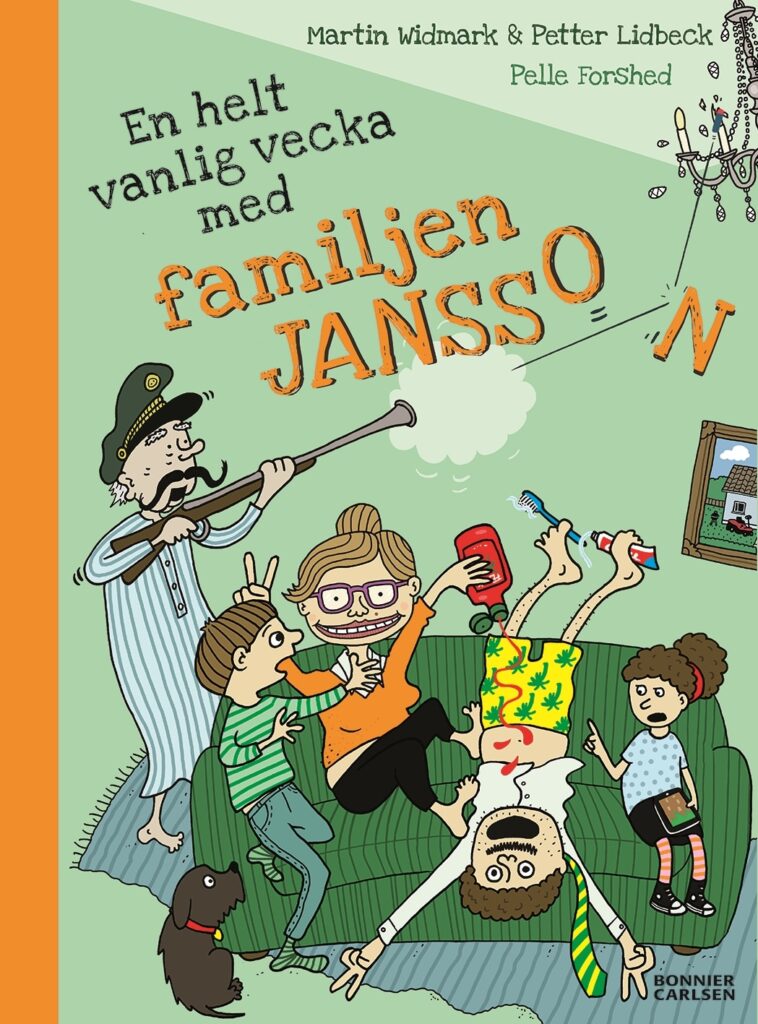 En helt vanlig vecka med familjen Jansson
A Completely Ordinary Week with the Jansson Family
The Jansson Family #1
Martin Widmark and Petter Lidbeck present a quirky and humorous portrayal of a family where children and adults have switched seats. The children have shouldered the role of parents, while mom and dad have shrugged it off. Will the two children be able to control their irresponsible parents who have very much become children again? Join the Jansson family during their upside-down week! A clever play with reversals of roles and expectations, fun for all ages!
What adult hasn't wanted to be a kid again? To be free of obligations and responsibilities. And what child hasn't wanted to be grown-up? To get to do everything that's off limits to kids, and to make the rules. So what would it look like in practice if these dreams were fulfilled? The Jansson family knows, because this week, they are doing just that and "living their dream" … or is it in fact one big nightmare?
Days filled with rambunctious adults who don't want to go to work or the dentist; necktie chaos in the hall; inappropriate comments on the bus; nagging about pets and career talks at work. The Jansson children have their hands full trying to keep an eye on their parents. Luckily, their new neighbors are in the same seat, so while their parents all goof around in the yard, the kids take the chance to have a barbecue and share their common woes.
The books about the Jansson family are a clever play with role reversals and expectations, originally created as a collaboration between the authors Martin Widmark and Petter Lidbeck.
Reviews
"In the Jansson family, the roles are reversed: here it's the children, aged nine and six, who parent the parents. /…/ There are laughs aplenty at first, when the worlds of children and adults collide, like for example at the office. Many young readers will recognize themselves in the parents' defiance and mischief. "
Author

Martin Widmark

Published

2018

Genre

Pages

128

Reading material

Swedish edition

Rights sold

China, Beijing White Horse Time (Simplified Chinese)

Poland, Wydawnictwo Mamania

Sweden, Bonnier Carlsen