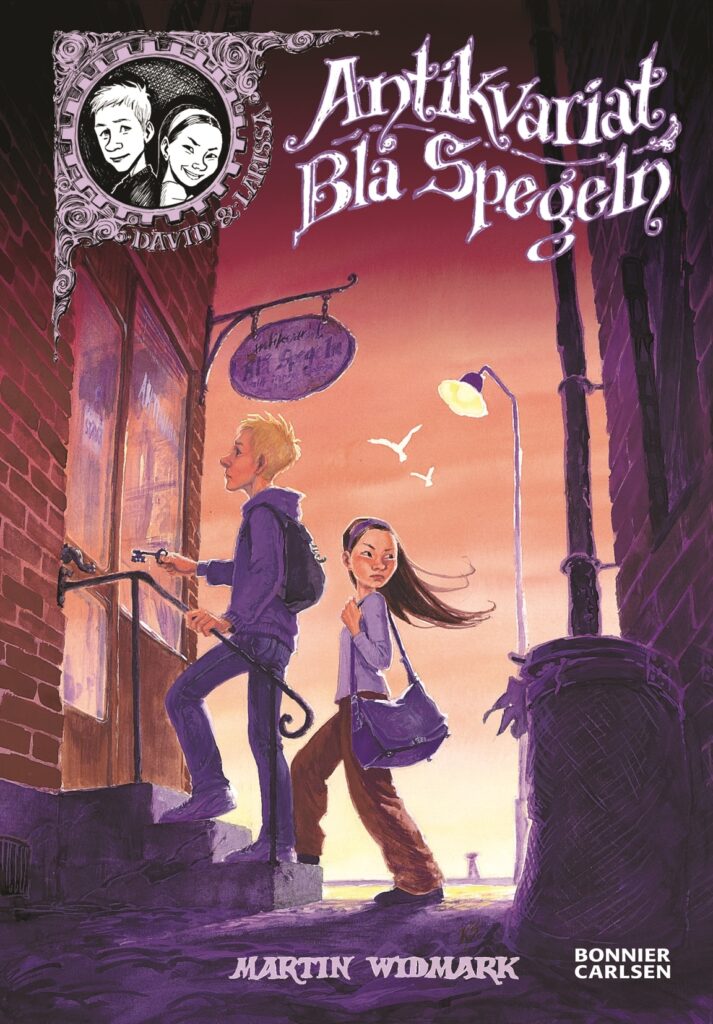 Antikvariat Blå spegeln
The Blue Mirror Bookshop
David & Larissa #1
In the first book about David and Larissa, 13 year-old David has just moved in with Melkior, a friend of the family, who owns The Blue Mirror, an antiquarian bookshop. Melkior is a thoroughly nice man who spends most of his time with his old books on biology and zoology. This suits David perfectly, since he is happiest when he is left in peace to think. These days he also enjoys the company of Larissa, a bright, headstrong Russian girl who turned up on their first day at school in class 7a.
One day the quiet routine at the bookshop is disturbed when Melkior suddenly disappears without a trace. David and Larissa find a coded message which sets them off on the trail. Gradually more and more is revealed about Melkior's astonishing past. And when they see a diploma on the wall of an underground chamber, full of prehistoric but living exotic animals, they can hardly believe their eyes: "To Melkior Rasmussen for his invaluable contributions", it says. Signed: "Charles Darwin."
David & Larissa is a series of books by the highly successful author Martin Widmark, with a scientific element, aimed at a slightly older age group. The main characters are drawn into adventures which bring them up against existential questions about life, death, growing older, time, morality, and the possibilities opened up by the latest DNA technology. Skilful and versatile illustrator Katarina Strömgård has produced the expressive illustrations which perfectly capture the characters and their surroundings.
Reviews
"A modern kind of tale about the dangers of taking a bite of the fruit of knowledge. "

"Widmark writes well, captivating and easy to read even when his target audience is a little older. "

"Whilst it also being a classic detective story (seasoned with a little love) [Widmark] manages in 'Antikvariat Blå Spegeln' to make the subjects of history and science exciting without it feeling the least bit contrived. "

"The book addresses more scientific and existential questions than usual in children's novels."
Author

Martin Widmark

Published

2006

Genre

Pages

176

Reading material

Swedish edition

Rights sold

Poland, Wydawnictwo Zakamarki

Sweden, Bonnier Carlsen