Sarah Sheppard
Sarah Sheppard (b. 1971) grew up in Sweden and Atlanta, USA. She has written and illustrated over twenty books of her own and illustrated for many more. She has a background as an Art Director and Graphic Designer and after also studying paleontology, Sarah combined her profession with her passion for dinosaurs to create the hugely popular and critically acclaimed 2008 book Lots of Dinosaurs (published anew as Dino Deluxe), which was nominated for the August Prize for Best Children's Book. Since then, she has written and illustrated many non-fiction books for children, weaving together facts and fantasy in an innovative mix of text, illustrations and comic strips.
Fascinated as much by the present as by the past, by maps, sharks and other living species, Sarah Sheppard thoroughly researches her books to dig up astounding information the reader has probably not come across before.
"Sarah Sheppard is a Swedish author and illustrator who, with her books about dinosaurs, has written herself into the Swedish literary canon for children."
– Sydsvenskan
Bibliography
Animals
Dinosaurs
 Around the World
Related news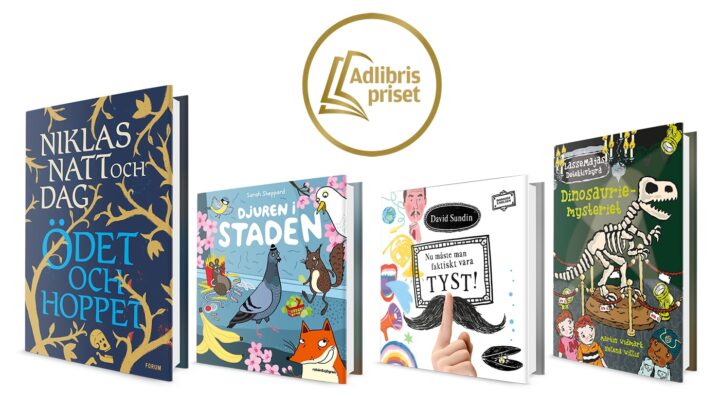 The Adlibris Awards 2023
The nominees for the 2023 Adlibris Awards have been announced. Adlibris is the leading book retailer in the Nordics and the award was founded in 2019 to celebrate the site's biggest titles. The nominated works have been selected by a jury of Adlibris employees, but the winners will be voted forth by the public. The winning titles will be announced on January 25, 2024.
In the category "Fiction of the Year," Niklas Natt och Dag competes with Hope and Destiny.
In "Children's Book of the Year, Ages 0-6," Sarah Sheppard and David Sundin have both received a nomination. Sheppard for her Animals of the City, and Sundin for his You Must Be QUIET Now!.
Lastly, in the category "Children's Book of the Year, Ages 6-12," Martin Widmark vies for the winning title with The Dinosaur Mystery.