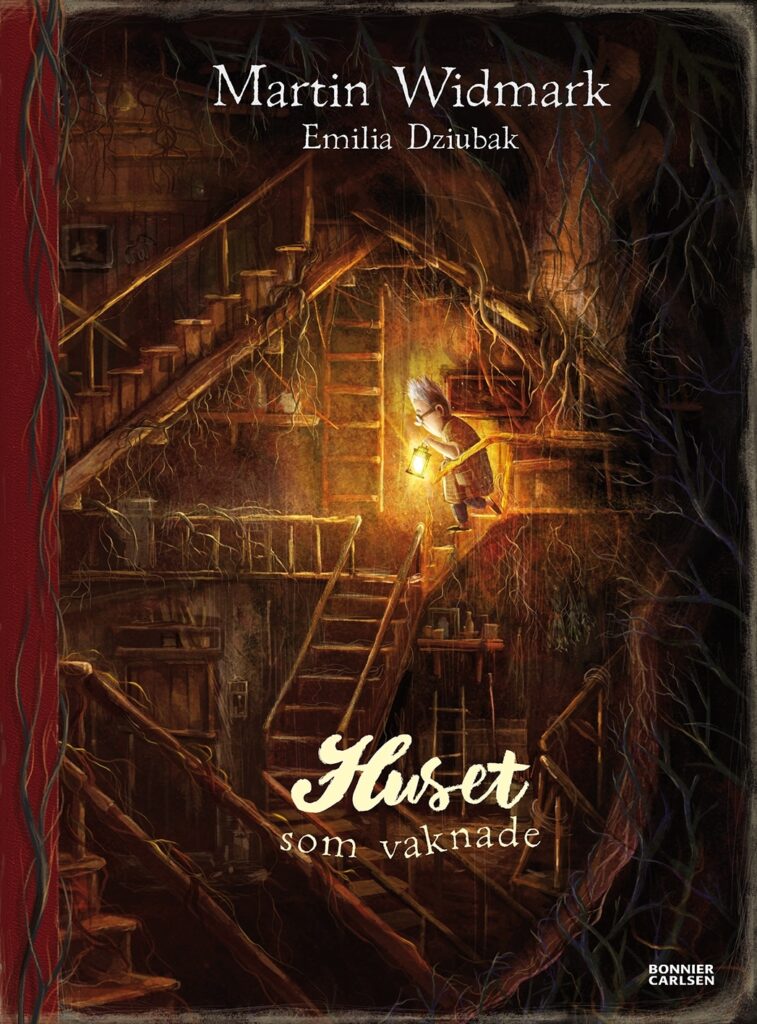 Huset som vaknade
The House of Lost and Found
Picture books #
One evening, as old Larson has gone through all the rooms in his house to switch off the lights and along the way has reflected on his wife and children's life, there is a sudden knock on the door. Who can it be?
Old Larson opens the door to find a little boy holding a strangelooking pot. Can it really be that old Larson is supposed to take care of the pot and its newly planted seed, while the boy is going to be on holiday? Really? He certainly doesn't have time for that.
The House of Lost and Found is a picture book where the best of Swedish and Polish tale telling and artwork come together. Bestselling author Martin Widmark has with LasseMaja and Nelly Rapp consolidated his position as one of Sweden's favorite children's author. With The House of Lost and Found he delivers once again an enchanting and spellbinding text for younger children and pairs up with the Polish illustrator Emilia Dziubak.
Reviews
"Undisputably a lovely story about changing seasons and moods, about community, and about a house – but above all, [it's] about an old man waking up. "

"A work of art as much as it is a book. /…/ Important […] and beautiful."

"There are picture books that you wish all children could experience. /…/Genious. /…/ Widmark and Dziubak quite simply give us picture book magic. "

"A beautifully scripted, illustrated, and uplifting picture book. "

"This is a beautifully captured story with a starting point for discussion about loneliness, old age and the joys of living. "

"This week I have read one of the loveliest children's books ever. The book is a beautiful reflection on how important it is to be seen and needed. And a reminder that it doesn't take much to make someone happy. "

"A book that makes you feel happy. "

"Dziubak's illustrations are magical: often dark and dense, but with a light at the center that creates depth and tension. The House of Lost and Found is a low-key and bright story about sorrow, loneliness and how a kindling of new life can mean just that. "

"Widmark's melancholy story about loneliness gains atmosphere and, ultimately, lift from Dziubak's beautiful illustrations, hand-drawn using colored pencils. Children will pore over the details and delight as Niles banishes murky darkness with light. Lovely."

"Emilia Dziubak's illustrations contrast the gloom and doom of the old man's sorrowful and lacking life in his rundown house with the life and comfort that just one flower and one little boy can bring. The old man's despair is common in life and the story of his renewal is told and illustrated with compassion and hope. "

"Hand-drawn illustrations done in colored pencils are rendered in gloomy drab colors until the plant sprouts – then the light comes in. The illustrations are dreamy, reminding me of Rembrandt, each one a work of art… Perfect."

"This is a wonderfully uplifting book about coming to terms with grief and loss, and the power of nature."
Author

Martin Widmark

Published

2017

Genre

Pages

40

Rights sold

Denmark, Lindhardt og Ringhof

Estonia, Rahva Raamat

Germany, arsEdition GmbH

Italy, Atmosphere Libri

Korea, Whale Story Publishing

Lithuania, Nieko Rimto

North Macedonia, Gavroche Dooel

Poland, Wydawnictwo Mamania

Russia, Polyandria Print LLC

Sweden, Bonnier Carlsen

UK, Floris Books