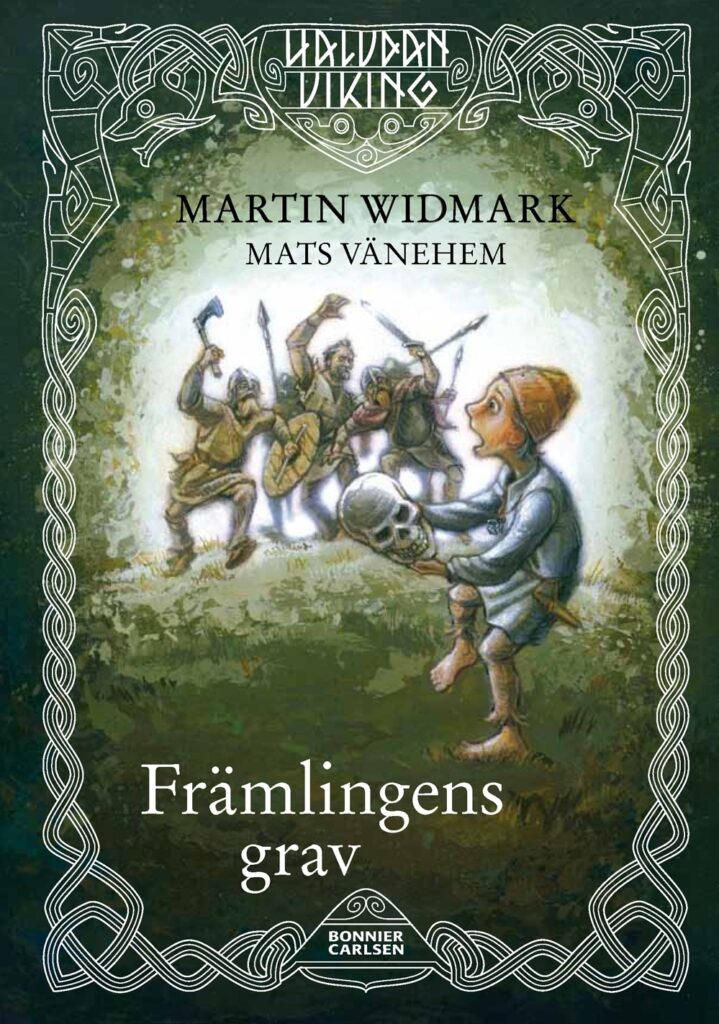 Främlingens grav
The Stranger's grave
Halvdan Viking #2
The stranger's grave is the second part of the series Halvdan the Viking. Halvdan has been living in Östbyn for a few years. He was actually supposed to have gone with his dad on a Viking voyage, but a serious injury to his foot meant that he was left behind in the village, with the smith Björn. Halvdan is not very big and walks with a limp but he is brilliant at writing poetry. Which is something he has a lot of scope for on his many adventures, where he has to win the trust of some brutish Vikings.
In The stranger's grave Halvdan hears talk of the Stranger who came to Östbyn one blustery autumn day a long time ago. And who left behind a treasure that was buried somewhere in the graveyard but nobody knows where. Halvdan sneaks out there one night but he is not alone…
Halvdan is taken prisoner and when he finds out who is behind it – and why – he needs to save the village from devastation. And in order to do that he first has to find the Stranger's grave. And fast!
Halvdan the Viking is a series by Martin Widmark and illustrator Mats Vänehem, about the young boy Halvdan who finds himself in one adventure after the other, together with his friend Meia.
Author

Martin Widmark

Published

2012

Genre

Pages

128

Reading material

Swedish edition

Rights sold

Poland, Wydawnictwo Mamania

Sweden, Bonnier Carlsen