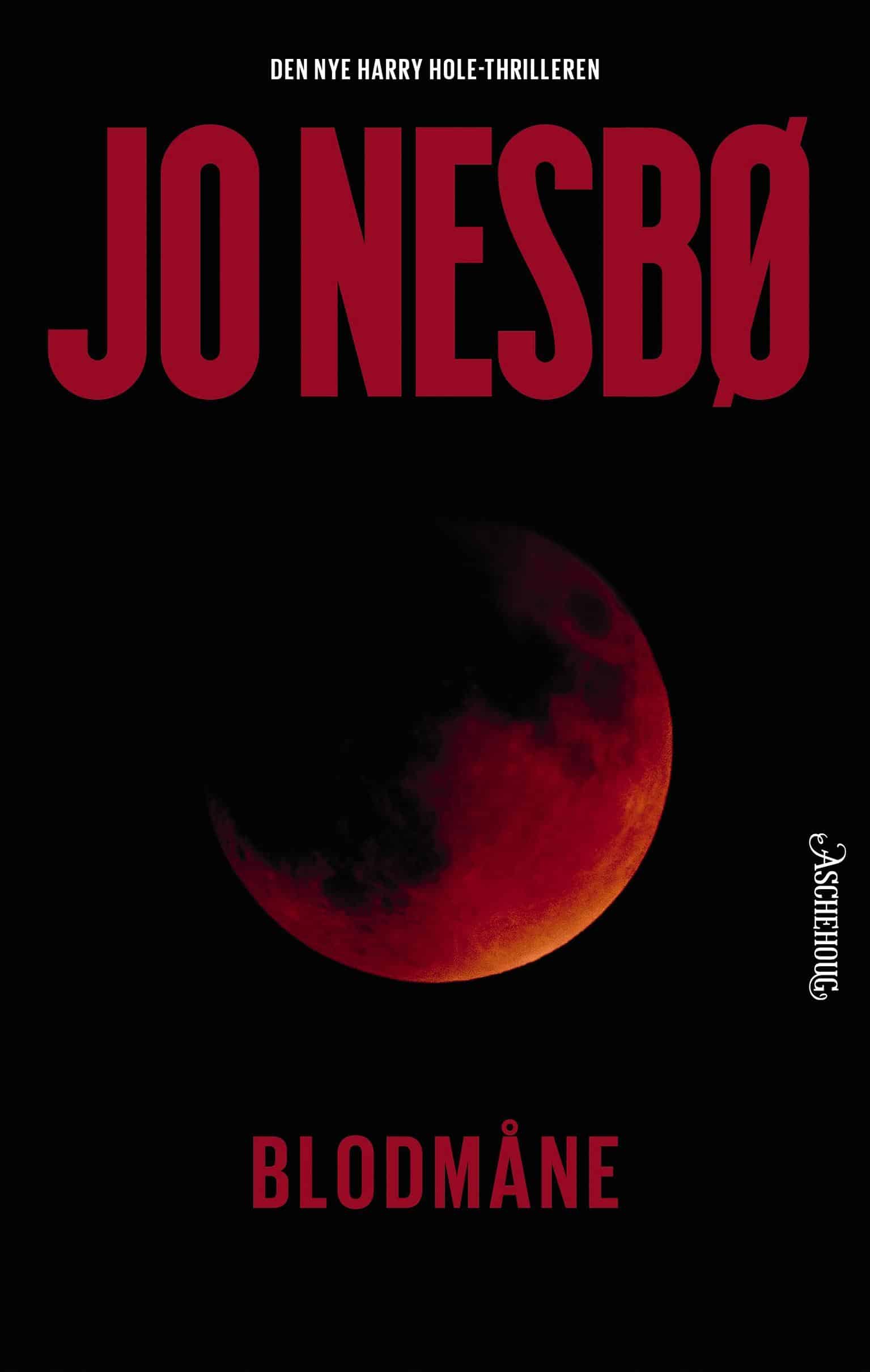 Blodmåne
Killing Moon
Harry Hole #13
Harry has gone to Los Angeles to drink himself to death, in the wake of his life back in Oslo falling to pieces. He's nearly managed to, but thus far failed. Harry has been helping an older film actress, Lucille, to get away from the grips of a drug cartel to which she owes one million dollars, and in return she's given him shelter, company and a tailored suit.
In Oslo, two girls have disappeared and been found murdered and one of the suspects is a well-known real estate magnate. Katrine Bratt wants to bring in the country's foremost serial killings expert, but the idea of collaborating with Harry Hole is out of the question for the chiefs of police. The real-estate magnate under suspicion on the other hand wants to hire Harry as a private investigator to clear his name from the case. Harry declines, but that's before the drug cartel takes Lucille hostage. If Harry achieves the task, the real estate magnate will award him a bonus enough to cover Lucille's debt.
Back home in Oslo, Harry puts together a team consisting of a cocaine-dealing childhood friend, a corrupt police officer and a cancer-stricken psychologist. The drug cartel has given them ten days. The clock is ticking, and a blood moon has been forecast over Oslo.
"Jo Nesbø is one of today's most interesting thriller writers, and Harry Hole is an all-time great character – for me, a 100% buy-today-read-tonight delight."
– Lee Child
A Sunday Times "Best Crime Novels of the Year"
A Sunday Times "Crime Book of the Month"
A The Times "Crime Book of the Month"
A The Times "One of the 4 hottest books of the summer"
Awards
Shortlisted for the Swedish Academy of Crime Writers' Award

(Best Translated Crime Novel of the Year) Sweden
2023
Close award list
Reviews
"Readers are privy to the doings of a man calling himself Prim, who emerges as the creepiest villain this side of a Thomas Harris novel /…/ Nesbø excels at manipulating this sort of ghoulish material. He can heighten suspense with a single word and wrong-foot the most attentive customer."

"Like the old pro he is, Nesbø doles out some teasing details about the killer, who calls himself Prim, early on while withholding enough information about Prim's modus operandi, motive, and true identity to keep the pages fluttering long past bedtime. A battered hero, a memorably creepy villain, a series of false endings worthy of Jeffery Deaver: What's not to love?"

"[Harry Hole] is the coolest, smartest, most complex, least orthodox crime fighter around. /…/ Even if you're accustomed to fictional cops who are brilliant but deeply flawed, Harry hits new highs – or lows – in this chilling example of Nordic Noir. /…/ In plotting this book, Nesbø gives us a heap of misleading clues, mistaken arrests, red herrings and blind alleys. He is a master of misdirection."

"Killing Moon is very much Nordic noir, deeply dark and graphically gruesome (no kidding) while also drily funny at times. Nesbø plunges readers into the twisted mind of the killer, with some details you may wish you were spared. /…/ Nesbø is a master of wry. /…/ Riveting."

"Not just an unbearably tense thriller, but another of Jo Nesbo's piercing studies in love and loneliness."

"Killing Moon is not just an unbearably tense thriller but another of Nesbo's studies in love and loneliness. At his best, as he is here, there are few greater crime writers."

"Jo Nesbo has always had a taste for the macabre. It takes a breathtaking turn in Killing Moon /…/ Detective Harry Hole returns in cracking form. /…/ The most unusual method of murder in contemporary crime fiction."

"Nesbø is unassailably the reigning king of Nordic noir as well as a global crime-writing superstar. /…/ Nesbø [is] back on gruesome form."

"This is one of the darkest entries in the series, with a serial killer whose methods are inventively macabre even by Nesbo's standards. But with Harry in the unfamiliar role of private eye, assembling an eccentric team to help him, and rubbing his old police colleagues up the wrong way, it's also one of the most fun."

"[Killing Moon is] classic Nesbo but even by his standards the killer's creepy. "

"Inventively gruesome /…/ Satisfying, it ticks all the boxes. /…/ [Jo Nesbø] is such a reliable writer and [Killing Moon] is defintely one of those books where you keep turning the page to see what happens next."

"In Killing Moon, Jo Nesbo breathes new life into the tired trope of the renegade cop. If you're not familiar with the multimillion bestselling crime writer Jo Nesbo, you're in for a treat as he takes the hard-drinking, suicidal Harry Hole for his latest outing. /…/ A plot that has more twists than a slinky going down a steep set of stairs. If you're a Hole fan, you know what you're getting, and if you're new to Nesbo then you're in for a treat – because nobody does this kind of thing better."

"The new Jo Nesbø crime thriller is riveting all the way through. Killing Moon once again cements Nesbø as the best crime writer in the Nordics."

"As always, Nesbø tells a dire story with a superb mastery of the genre conventions of crime fiction. There are surprises and twists on almost every page, whilst life in the Norwegian welfare society receives both stinging jabs and loving caresses."

"Jo Nesbø always takes the right approach, performing elegant high jumps and with full spin and a vigorous composition, and then landing with both feet in a stable stance. This is also the case with his thirteenth Harry Hole novel, Killing Moon. /…/ Here Nesbø once again shines with his stylish balance act between hard-hitting suspense, the intimately human, and social and everyday issues, without any of the parts suffering."

"There are many policemen with drinking problems and other addictions in fiction, but rarely is it depicted with such darkness and nakedness as in Nesbø's Harry Hole series. /…/ You never know where things will go with Nesbø. He leads us onto to different tracks, twists his story to the max and likes to pull the rug out from under you just when think you're on safe ground. It is is a guaranteed page-turner that will register on the heart rate monitor."

"[Nesbø] has clearly done some very impressive research to be able to allow these very small organisms to grow into such a large and interesting, sometimes macabre, component of the story. And all the while the quote from Doctor Glass echoes in the background without ever being put to paper. How far will we go to feel loved, or maybe even be loved? A magnificent story, the master Nesbø has done it again; just lean back and admire and enjoy a fantastic text."

"Jo Nesbø slowly but surely proves what a superb master of suspense he is. /…/ Nesbø simply manages to confuse the reader so thoroughly that this on its own warrants the highest score. /…/ Killing Moon is a Harry Hole novel of the highest class. The cliffhanger for the next installment is already in place, so there is little doubt here. Harry Hole is back to stay."

"Jo Nesbø's writing lets the horror creep into the brain. /…/ Yes, Jo Nesbø has done it again."

"Jo Nesbø's new Harry Hole novel has a drive that demands a complete reading."

"Killing Moon has everything one expects – or hopes for – in a Nesbø crime novel. /…/ Pure entertainment."

"Jo Nesbø and Harry Hole in top form! With his brilliant linguistic drive, ability to make the plot increasingly difficult to unravel, and with a repertoire of tricks, possibly inspired by [Molde soccer player] Harry Hestad, Nesbø plays Harry Hole as only Harry at his best can."

"It's hard to reinvent the crime story, but Jesus does this one pack a punch! Harry Hole is finally back after a three-year hiatus and there isn't a single dull second when the murder mystery has to be solved at record speed in Killing Moon. Jo Nesbø is just wild."

"It is still much more fun to read Jo Nesbø than any other Norwegian crime writer. Jo Nesbø is an ingenious plotter and tricks the reader time and time again. /…/ The twisted universe bustles with life and suspense from the first page on and you almost compulsively keep turning the pages."

"[Jo Nesbø] has done it again. The thirteenth Harry Hole is more Harry Hole than ever. And he's never been more raw. /…/ A masterpiece within the genre."

"Nesbø has a sense of flair, a finesse, a wealth of ideas and plot construction that puts him in his own league among his crime writer colleagues. /…/ The 'murder weapon' itself is so cunning that hardly anyone but Nesbø would have been able to think it up. It will probably end up highly ranked in the listings of international crime literature's most original murder methods throughout history."

"A modern folk tale. Killing Moon is the thirteenth novel in Jo Nesbø's series about Harry Hole. It turns out to be a lucky number for its many fans. /../ The plots in [the Harry Hole] novels are better than in most others. They are more elaborately structured, still without becoming bewildering. Jo Nesbø has a sense for details which, in addition to being entertaining in itself, serves to make the plots exceptional."
Author

Jo Nesbø

Published

2022

Genre

Pages

487

Reading material

Norwegian edition

Rights sold

Arab World, Masr El Arabia

Brazil, Record

Bulgaria, Emas

Canada, Penguin Random House

Catalonia, Proa

Croatia, Fokus

Czech Republic, Zlin

Denmark, Modtryk

Estonia, Varrak

Finland, Johnny Kniga

France, Gallimard

Germany, Ullstein

Greece, Metaixmio

Hungary, Animus

Iceland, Forlagid

Israel, Babel

Italy, Einaudi

Korea, Viche

Latvia, Zvaigzne

Netherlands, Cargo

North Macedonia, TRI

Norway, Aschehoug

Poland, Dolnoslaskie

Portugal, Dom Quixote

Romania, Trei

Serbia, Laguna

Slovakia, Ikar

Slovenia, Mladinska

Spain, Mondadori

Sweden, Albert Bonniers

UK, Harvill Secker

Ukraine, KM Books

US, Knopf

Film rights sold

UK/US, Working Title