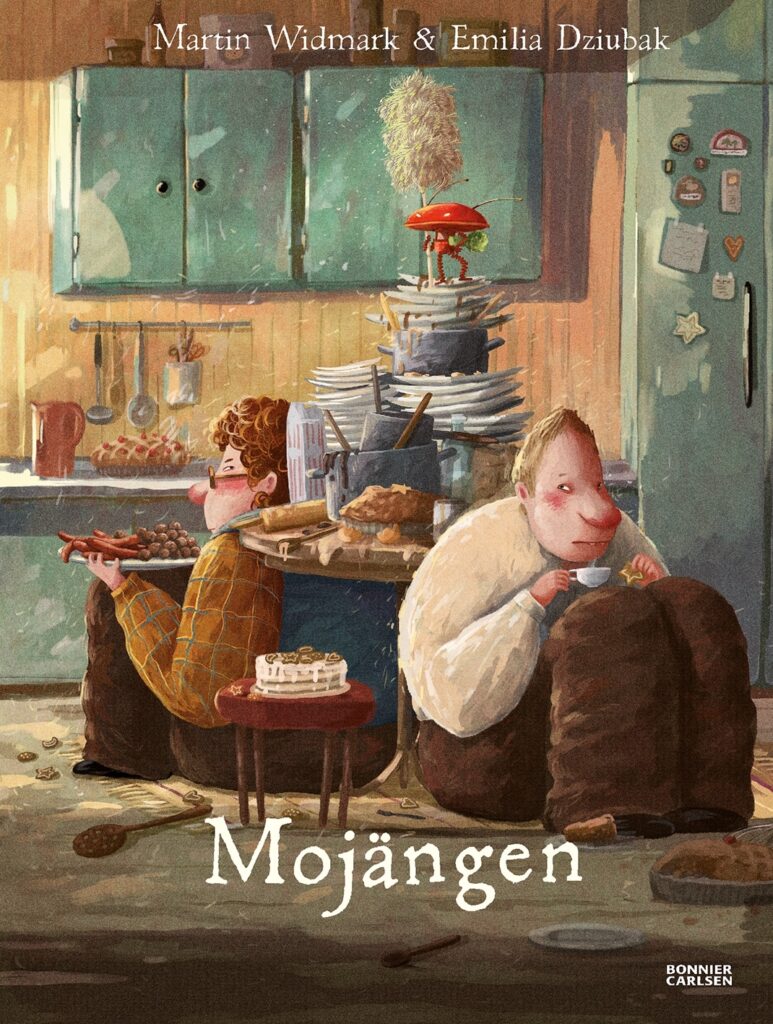 Mojängen
The Gizmo
Picture books #
Rutger and Valter are two brothers who live together. Rutger is an inventor and one day, he invents the best invention of all time; a little gizmo which cleans, wipes and takes care of all the boring, time-consuming household chores!
The little gizmo proves to be very effective indeed! It's not long before it's cleaned the whole house and cooked the most wonderful food that Rutger and Valter could ever have imagined. However, when the house is clean and the washing up has been done, the gizmo starts to turn its attention to the two brothers themselves. They shouldn't eat so many sweets! They should stop being so cranky and forgetful. Above all, they should get out of the house more and go for walks in the fresh air. It's then that the brothers realize, far too late, that instead of just cleaning up their home, they are actually cleaning up themselves.
Martin Widmark delivers a humourous picture about longing for something you might not actually want in the end. The book, filled with wonderful illustrations by the Polish artist Emilia Dziubak, tackles the topical subject of artificial intelligence.
Reviews
"A fun and thought-provoking picture book about the backsides of the new technology."

"A crazy, smart, thought-provoking depiction for pre-school children about robots and artificial intelligence – suitable for every future engineer."

"Dziubak's illustrations are atmospheric and convey the stillness both inside the house and in the surrounding nature, as well as the Gizmo's menacing metamorphosis as it becomes increasingly clever and dictatorial. The contrasts are powerful and the almost unreal light that permeate several of the illustrations, as if an invisible spotlight has been placed just outside the image, brings to mind Shaun Tan. /…/ The text has many layers and can be read both as a thought-provoking depiction of artificial intelligence as well as an allegory of a movement, like climate change, that continues on despite our awkward attempts to restrain them. With The Gizmo, Widmark proves that he masters both the ability to create a thrilling story and fill it with symbolic undertones."
Author

Martin Widmark

Published

2020

Genre

Pages

32

Rights sold

Belarus, Popuri Ltd.

Germany, arsEdition GmbH

Lithuania, Nieko Rimto

Poland, Wydawnictwo Mamania

Russia, Popuri Ltd.

Sweden, Bonnier Carlsen