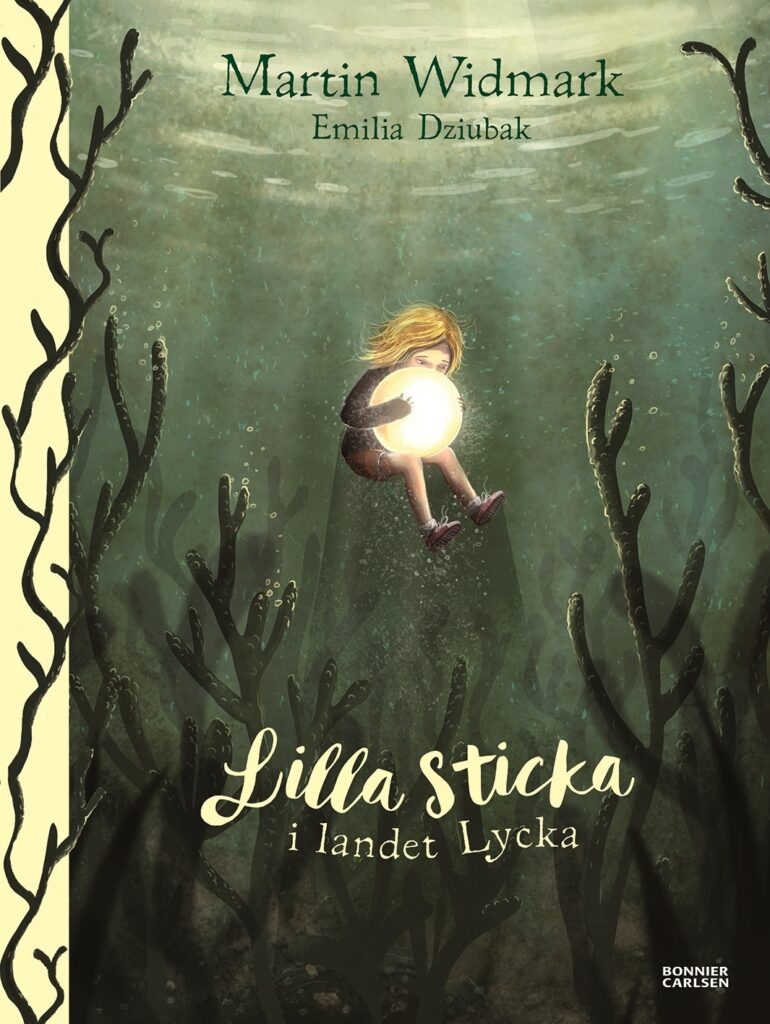 Lilla Sticka i landet Lycka
Little Pearl
Picture books #
One night when Daniel is going to bed, Aunt Julia tell s him a fantastic story. When she was a small and rather unhappy little girl who missed her brother, she happened to run her sledge into a tree and down into a long tunnel made of ice, landing with a bump in Happyland. Here she met some fantastic creatures including Mr. Jacobi – a beetle wearing tails and a bow tie who calls her Little Pearl and greedy Crabben who collects pearls. She also meets her brother again and saves him.
Bestselling author Martin Widmark has with LasseMaja and Nelly Rapp consolidated his position as one of Sweden's favorite children's author. With Little Pearl he delivers once again an enchanting and spellbinding text for younger children and pairs up with the Polish illustrator Emilia Dziubak.
Little Pearl is Emilia and Martin Widmark's first book together.
Reviews
"Together with Polish illustrator Emilia Dziubak, Martin Widmark has created a magical tale and picture book… "

"A classic bedtime story with just the right amount of excitement and a happy ending. Richly illustrated with wonderful poetic pictures. "

"A delightful and beautiful picture book. Martin Widmark writes better than ever "

"An imaginatively illustrated fantasy with a dreamlike feel… Dziubak's romantic colored pencil illustrations place doll-like images of children and creatures against dramatic, moody backdrops of flowers and waterside foliage. Grace is a resourceful hero, and her fanciful, The Water-Babies–esque story packs a lot of adventure into the picture book format."

"Surreal adventures are brought to life in Dziubak's stunning, colored pencil illustrations. With dark backgrounds showcasing bright botanical and floral details, the intriguing scenes have a classically romantic appearance. Densely written paragraphs relay Grace's reunion with her missing sibling, and a triumphant escape from the clutches of their captor."

"A delightful story… With gorgeous illustrations, and full of emotions, danger, humour and fantastical characters, this is a great book to read aloud."

"With themes of sibling love, friendship and teamwork, there are some great messages when reading with kids and some poignant moments you'll find for yourself too."

"[A] beautifully illustrated, imaginative story."

"This is a magical story combined with beautiful pencil illustrations – a real treat! /…/ The drawings are in muted colors and are complete works of art –Dziubak raises the bar on how children's books should be illustrated with incredible talent using simple tools."

"This riveting bedtime story follows Grace into an alternate world where she must escape the menacing claws of a giant crab that forces lost children to gather pearls from snapping clam shells. Hauntingly wild, captivating artwork depicts Grace's surreal journey as she rallies a group of ragtag children to lead them home again. Because of this instant classic, imaginations will soar; whether it's bedtime, daytime, or any time else, a bit of fantasy is in order."
Author

Martin Widmark

Published

2016

Genre

Pages

40

Rights sold

Belgium, Zuidnederlandse Uitgeverij

Bulgaria, Timelines

Germany, arsEdition GmbH

Italy, Atmosphere Libri

Lithuania, Nieko Rimto

Norway, Cappelen Damm

Poland, Wydawnictwo Mamania

Romania, Editura Univers

Russia, Popuri Ltd.

Sweden, Bonnier Carlsen

UK, Floris Books