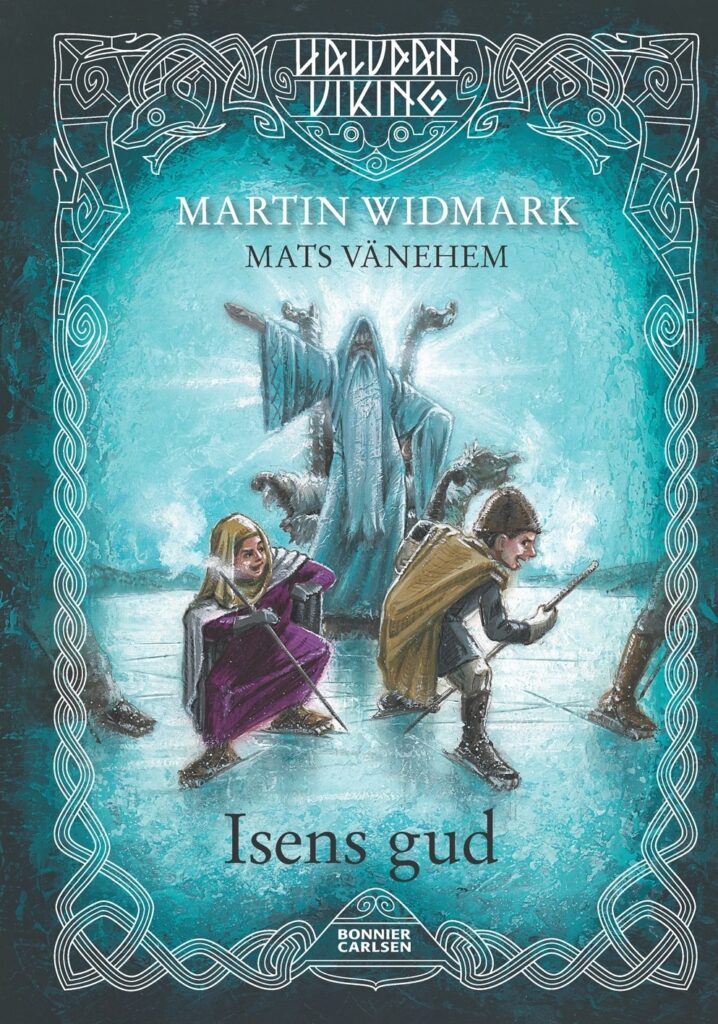 Isens gud
God of the Ice
Halvdan Viking #6
Halvdan and Meja are home again af ter the long journey from Miklagård. Now it is winter and ice is forming on the river. The two headmen of the East and West villages want to celebrate their homecoming with festivities. But as the villages worship different gods the long table is set up between the two on the ice. The fun and games are held on the same day that the Vikings celebrate Christmas and the midwinter sacrifice, so there are bound to be complications. Alarik takes the opportunity to play tricks on Ragnar with the food and he drinks far too much mead. And a sleigh carrying a stranger with a long white beard approaches. He challenges everyone to a ska ting contest where the winner will receive silver and the tide God of the lee.
Everyone wants to take part of course and quickest off is Halvdan. But when he looks back over his shoulder the mysterious stranger has disappeared. Halvdan is immediately suspicious and suddenly realises that there was something familiar about the bearded man with the big gap between his front teeth …
Halvdan the Viking is a series by Martin Widmark and illustrator Mats Vänehem, about the young boy Halvdan who finds himself in one adventure after the other, together with his friend Meia.
Author

Martin Widmark

Published

2014

Genre

Pages

128

Reading material

Swedish edition

Rights sold

Sweden, Bonnier Carlsen