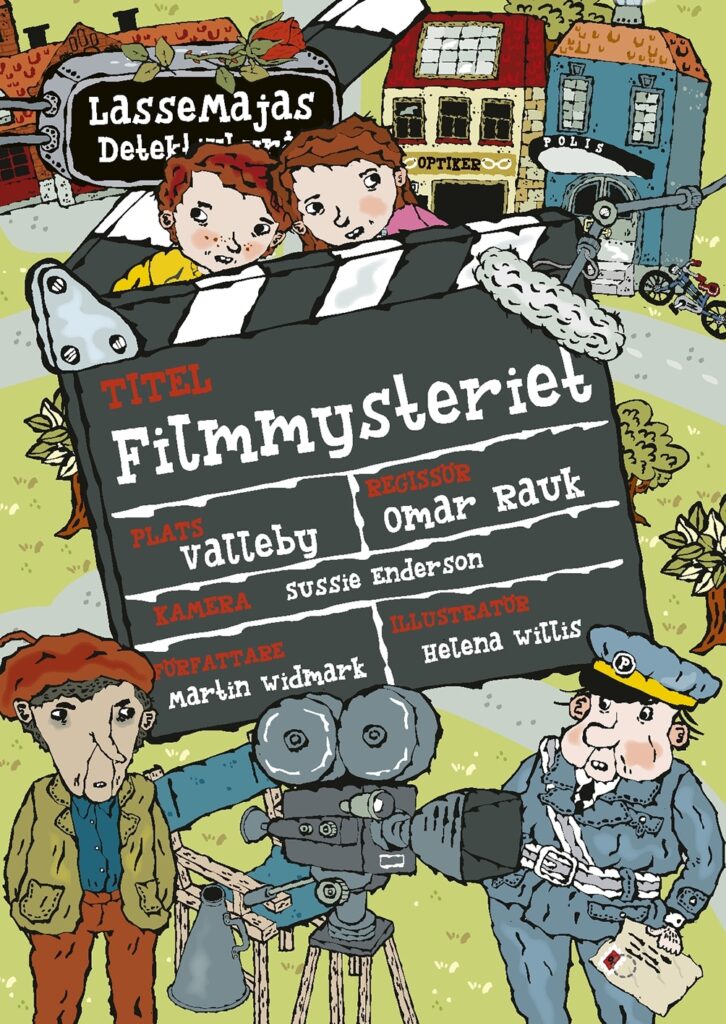 Filmmysteriet
The Movie Mystery
The Whodunit Detective Agency #28
The famous film director Omar Rauk is coming to Valleby to make a movie, and he invites the Valleby residents to an audition. Muhammed Karat, Dino Panini and Rune Andersson are competing for the same extra role, but the film team puts them down. Instead, the role is offered to the chief constable if he agrees to be locked in a cage overnight to get in contact with his own feelings. The constable hesitantly agrees. On that very night, there is a burglary at the optician store. Nothing was stolen except for one watch, but the cellar floor has been opened. And the surveillance camera film is too blurry to show what really happened. Was the burglar looking for something? Lasse and Maja are suspicious. And it gets even weirder as an old letter is discovered, shedding light on the situation. Time for some detective work!
Martin Widmark and Helena Willis bestselling The Whodunit Detective Agency series has sold over 12 million copys worldwide. Meet Lasse and Maja, who runs a small detective agency together, in a series of puzzling mysteries for primary school readers. The stories are set in and around the small town of Valleby, and have a rich gallery of characters to be captivated by on the exciting road to solving the mystery.

The Movie Mystery is the twenty-eighth installment in the series with Lasse and Maja.
Author

Martin Widmark

Published

2019

Genre

Pages

96

Reading material

Swedish edition