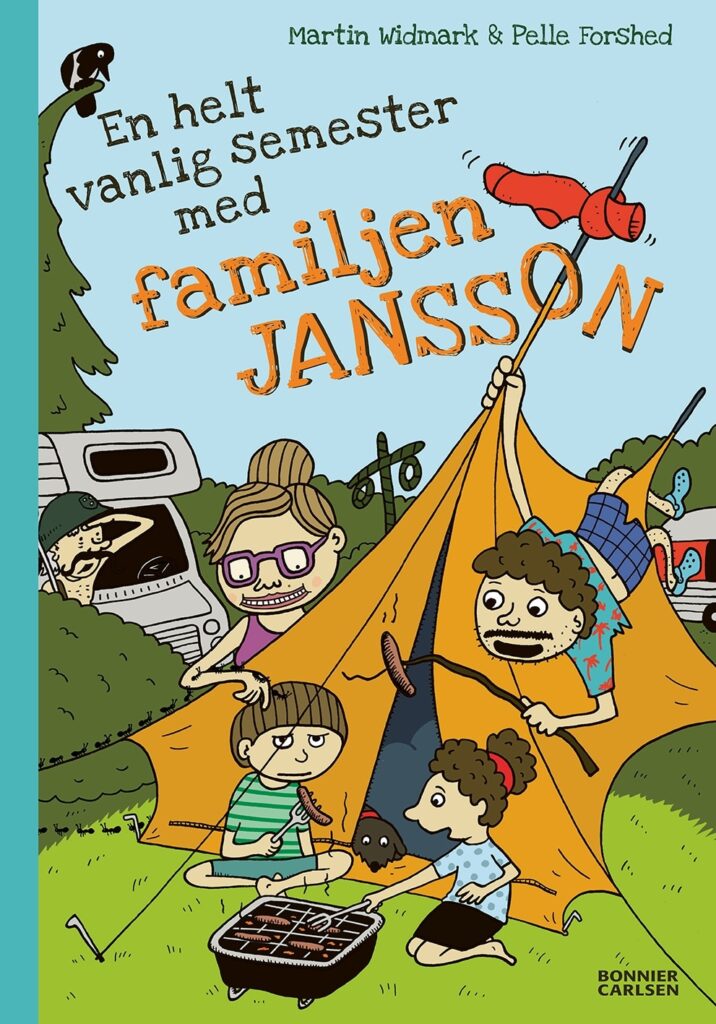 En helt vanlig semester med familjen Jansson
A Completely Normal Holiday with the Jansson Family
The Jansson Family #2
Hold on tight! In Martin Widmark's book about the upside-down Jansson family, anything can happen!
The Jansson family is going on a cycling holiday to Palletofta campsite. But once there, the children Kajsa and Alvin have their hands full trying to keep track of their teasing, playful, and hopelessly rambunctious parents. Wait, does that sound strange to you? Well it shouldn't, as this is the funny and kooky story of a family where kids and adults have switched places. The children Kajsa and Alvin have taken on the role of parents while their mum and dad have shrugged it off! What they are doing instead is building ant prisons, arranging a game of Cow Bingo and (to the campsite manager's horror) mowing the grass at the campsite willy-nilly. It's lucky that the Yolmaz family, their neighbors, have also shown up at the campsite; their family situation is just as crazy!
And let's not forget about the general – the one crazy about hot dogs with shrimp salad on top. In this story he goes off for a swim only to return as "General Amour."
The books about the Jansson family are a clever play with role reversals and expectations, originally created as a collaboration between the authors Martin Widmark and Petter Lidbeck. This book, the second in the series, offers just as many opportunities for recognition that the whole family can laugh at.
Author

Martin Widmark

Published

2020

Genre

Pages

128

Reading material

Swedish edition

Rights sold

China, Beijing White Horse Time (Simplified Chinese)

Poland, Wydawnictwo Mamania

Sweden, Bonnier Carlsen