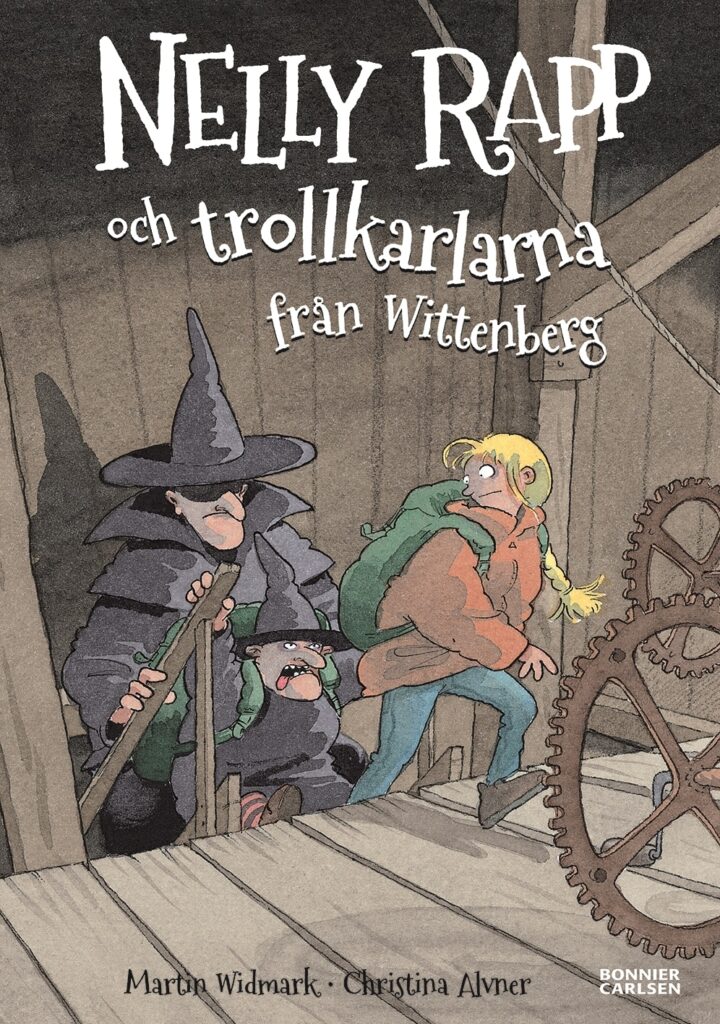 Nelly Rapp och trollkarlarna från Wittenberg
Nelly Rapp and the Wizards of Wittenberg
Nelly Rapp, illustrated by Christina Alvner #4
Nelly and her parents are getting ready to celebrate Halloween. Everything is calm and quiet and London the dog is lying under the table, asleep across Nelly's feet. Then the doorbell rings and outside are two strange men who introduce themselves as vacuum cleaner salesmen. They would like to demonstrate their product inside, they say. But when they're done vacuuming, they're suddenly not at all interested in selling anything. As the front door closes behind the salesmen, the calm has suddenly transformed into a stressful chaos.
In Nelly Rapp and the Wizards of Wittenberg, Nelly Rapp receives her third mission as a monster agent. And things very nearly go bad, really bad. Not just for Nelly, but for many, many others too. What does Lena-Sleva, Nelly's teacher at the Monster Academy, really mean when she says that there seems to be a connection between shooting stars and stressed-out people?
Nelly Rapp and the Wizards of Wittenberg is the fourth standalone book in the series about monster agent Nelly Rapp and her dog, London.
Author

Martin Widmark

Published

2005

Genre

Rights sold

China, Citic Press (Simplified Chinese)

Norway, Cappelen Damm

Poland, Wydawnictwo Mamania

Romania, Litera

Russia, Azbooka

Sweden, Bonnier Carlsen