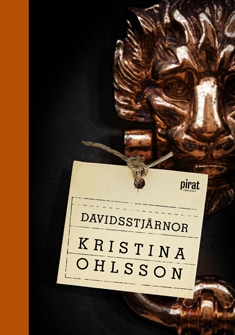 Davidsstjärnor
The Chosen
Fredrika Bergman #5
According to an old Israeli urban legend, the Paper Boy comes alive at night. He arrives with the darkness and no one can stop him from taking his victims. Nowadays not many remember the story about the Paper Boy.
On a cold winter's day, a pre-school teacher is shot to death in front of parents and children at the Jewish Congregation in Stockholm. Just a few hours later two Jewish boys go missing on their way to tennis practice. A heavy snowstorm hits Stockholm and the traces of the perpetrator are few and far between.
Fredrika Bergman and Alex Recht are faced with one of their toughest challenges ever as they hunt for a killer that seems as merciless as he is effective. The leads in the investigation are many and diverse but in the end they all point to the same place: Israel. Someone or something called the Paper Boy keeps popping up in the police investigation. But who was he really? And could he possibly have resurfaced in Stockholm, now claiming new victims?
In the periphery of the investigation is Efraim Kiel. He has traveled from Jerusalem to Stockholm on an obscure mission. Eden Lundell of the Swedish Security Service, who previously had an affair with Efraim Kiel, is relentlessly drawn into the game the killer has created. Fueled by her wish to once and for all get Efraim Kiel out of her life, she forces herself to dig into her own past. And it doesn't take long before she is about to reveal an old, well-kept secret…
Reviews
"For those of you who have not yet discovered Kristina Ohlsson, it's about time. /…/ …she is surpassing Camilla Läckberg and other Swedish crime queens with several lengths. /../ Kristina Ohlsson's language is straightforward, her protagonists strong. /…/ I was totally absorbed by this book. I rarely shed a tear when reading a crime novel, but now I had to get hold of a Kleenex, due to the moving ending. A clear five out of five."

"Ohlsson is one of the best new Swedish crime writers. She is confident and sure of hand, manages to keep the interest and suspense alive throughout, and her cast of characters is pleasingly multifaceted."

"Kristina Ohlsson gets better and better for each book she writes. In The Chosen she excels in switching between present, past and future – a real page-turner. /…/ A master of building up suspense towards a dramatic crescendo."

"Kristina Ohlsson is good, that much I knew. And she just gets better and better… [She] really knows how to portray, tell a story, and provide tremendous suspense. /../ Oh how great she is, Kristina Ohlsson!"

"The Chosen is an intelligent story where both characters and plot are sharpened to the max and where the reader feels both challenged and entertained simultaneously. A new favorite in crime fiction."

"[Ohlsson] weaves a complicated plot, yet easy to follow. In an intelligent way she connects events in Israel to a difficult, yet normal, murder investigation in Sweden. /…/ She is good at clearly portraying her characters, and also at maintaining several stories lines simultaneously."

"Kristina Ohlsson consolidates her top position among Swedish crime writers… This is a phenomenal suspense novel to drown in… Intelligent plot with a twist at the end."

"[Ohlsson] continues as confidently as before and offers a suspenseful story that maintains the interest and tempts the reader to go on. /…/ The story is well paced and the level of suspense is high. /…/ Ohlsson simply continues to create strong, well written suspense novels that leave the reader asking for more."

"One of Sweden's best crime writers right now; above all she creates great plots."

"As usual Ohlsson's writing is crisp and charged with suspense. Don't forget to breathe."

"Intelligent and highly suspenseful reading; a successful combination."

"[Ohlsson writes] so believable that the reader thinks it's true (it is not). As usual it is utterly impossible to let go of her plot; Kristina Ohlsson is the ruling queen of crime right now."

"A steady top position in the Swedish crime writer elite – the combination of narrative joy, the warmth around her protagonists, and the gradually accelerating suspense makes the book hard to put down."

"The threads are cleverly held together by Kristina Ohlsson, who has surprises in store until the very end. /…/ This is Kristina Ohlssons's fifth novel about the police team in Stockholm, and in my opinion the very best. Her ability to connect a drama from the Eastern Mediterranean to the everyday life of Swedish police is fascinating and captivating to say the least. What happens when someone drives revenge too far? When it is no longer just an eye for an eye. You have the answer in The Chosen."

"Once again Ohlsson presents an extremely skilled plot construction where various investigation leads run in parallel and where the end already from the beginning meanders in and out between them and creates a nearly unbearable suspense. /…/ With her fifth crime novel Kristina Ohlsson continues to impress. Her series is tightly held together and built on classic Swedish police procedure ground at the same time as it has that unique enchanting and frightening dark tone that makes at least my associations go in the direction of the Grimm brothers' cruel fairytale world."

"Finally! A truly good crime novel in which none of the heroes are addicts or on the verge of a breakdown. /…/ The story is thought-provoking and logical, and the pace is powerful."

"Watch out Leif GW Persson! Kristina Ohlsson is your main competitor. /…/ Kristina Ohlsson not only knows the art of driving a suspenseful story forward. Her language and sentence structure occasionally brings shivers. She is simply phenomenal."

"One is propelled toward the inevitable ending and wants to do everything to stop the chain of events. That you have part of the answers doesn't make it less nerve jangling, quite the opposite. Kristina Ohlsson skillfully escalates the suspense and manages to insert a few surprising last twists. It is often difficult to achieve dramatic endings, but here she succeeds."

"In The Chosen Ohlsson demonstrates that she by no means is a rookie in the genre anymore… Probably Ohlsson's best novel."

"One of the better mysteries I have read. Kristina Ohlsson has written a true page-turner and a story that takes place in both Sweden and Israel… The suspense is maintained throughout the novel. /…/ Kristina Ohlsson joins the ranks of our best crime writers… simply brilliant!"

"I like it when old legends are mixed with a contemporary story, and Kristina Ohlsson does it very elegantly."

"Now [Kristina Ohlsson] has reached book five, and unlike far too many others she has managed to gradually raise herself and, not least, refine the level of authencity; the text is for real, the author has a broader perspective than most. /…/ …Ohlsson – who despite her modest age (born in 1979) has a solid background as a security analyst – develops her main characters Fredrika Bergman and Alex Recht's private situations without resorting to clichés. /…/ The Chosen is suspenseful, thought-provoking and to some extent also innovative; one of the strongest books in the genre so far this year."

"The motive is very well constructed. The plot is superb."

"It's been a long time since since I've read such an engrossing thriller. It is intelligently written, complicated enough for you to shape up in order not to lose the thread, and it is extremely well-knitted."

"Thriller in the top. Swedish Kristina Ohlsson's The Chosen is the classic international thriller's contribution to the spring's crime fiction supply."

"Ohlsson, with a background in the Swedish Security Services and OSCE, mixes big political and familial conflicts in a genius way, resulting in a high-paced story with a smart plot. /…/ A really good crime novel with an effective interaction between past and present, where the reader – in a specious manner – is served the ending at the very beginning of the book."

"Suspenseful and challenging. And the characters in the book are compelling. /…/ Throughout the entire book Ohlsson makes you long for the next paragraph. The book is repulsively good."

"[Kristina Ohlsson] knows how to masterfully build tension and create an atmosphere that refuses to let go of the reader."

"Gripping! /…/ The bestselling author ties everything together in a thriller where the reader gazes deep into the soul of victims and investigator."

"A tangled, gripping, memorable, and ultimately shattering tale. Warning to the squeamish: things turn out much worse than you could have expected."
Author

Kristina Ohlsson

Published

2013

Genre

Pages

491

Reading material

Swedish edition

Rights sold

Denmark, Modtryk

Finland, WSOY

France, J'ai lu

Germany, Blanvalet

Iceland, Forlagid

Netherlands, House of Books

Norway, Gyldendal

Sweden, Piratförlaget

UK & Commonwealth, Simon & Schuster

US & Canada, Emily Bestler Books

Film rights sold

Sweden, Black Spark Film & TV