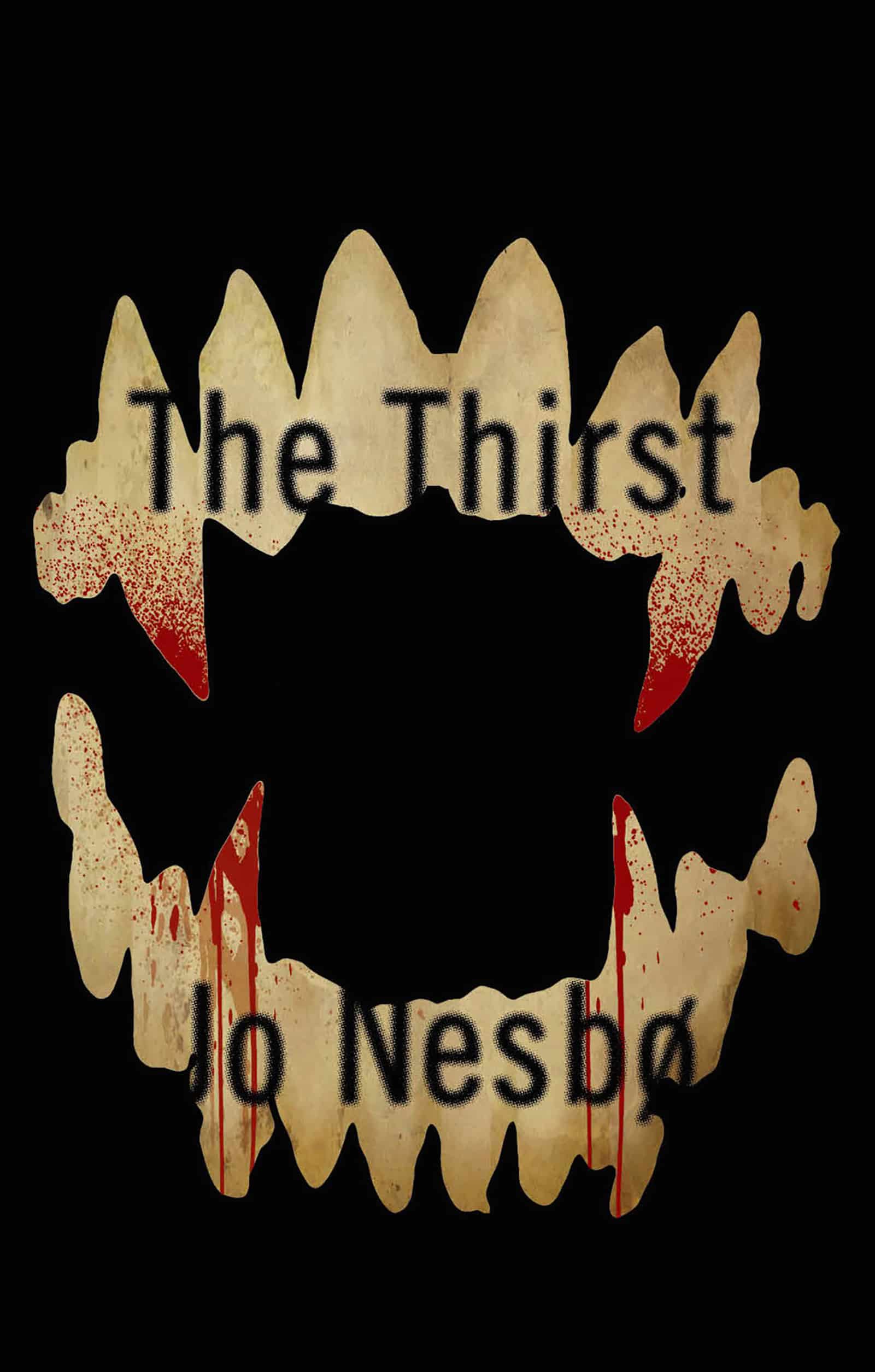 Tørst
The Thirst
Harry Hole #11
The Thirst continues the story of No. 1 bestseller Police, Harry Hole's last outing in 2013, which saw the maverick cop protecting those closest to him from a killer wreaking revenge on the police.
The Thirst will see Harry drawn back to the Oslo police force when a serial killer begins targeting Tinder daters with a signature killing method that leads Harry on the hunt of a nemesis from his past.
One of the New York Times' "Top 10 crime novels of 2017".
One of the Globe and Mail's "Top 10 crime novels of 2017".
Awards
Shortlisted for LovelyBooks' Der Leserpreis

(Best Crime & Thriller of 2017) Germany
2017

Nordic Noir Thriller of the Year Award

Sweden
2017

Shortlisted for the Book of the Year Award

Sweden
2017
Close award list
Reviews
"Jo Nesbo certainly has the magic touch when it comes to psycho serial killers. /…/ Nesbo is a master at this narrative sleight of hand, and if you can stand the gory details and hang on during the switchback turns, the payoff is its own reward."

"The story is filled with enough side plots — a victimized child, a sick wife and a convicted murderer — to keep readers guessing about the serial killer's identity and to keep Hole obsessed and afraid for his own family. The Thirst begins with the brutal killer sinking rusty metal teeth into a victim's neck, and with that gruesome murder, you'll want to sink your teeth into The Thirst and not let go."

"[The Thirst] features thoroughly developed characters, an intricate plot, and suspenseful twists, all hallmarks of a master storyteller."

"A gripping, way-scary crime novel. /…/ This one will keep readers awake deep into the night."

"Jo Nesbø has ripped the throat out of the serial-killer genre. He's exsanguinated it, soaking up every dark pleasure and wringing them out onto the page. There's no need to ever read another one, Nesbø has so completely deconstructed the trope with a multi-dimensional novel that blurs lines among crime, psychological, procedural and, yes, horror thrillers. /…/ And when you think you have all the answers, when the puzzle is finally unraveled about 400 pages in, that's when Nesbø shows his true mastery, offering up another 150 pages of tension before the final denouement /…/ The Thirst ends with a tantalizing promise and a new threat. What's coming will be dark and bloody, that much is certain. In the meantime, readers can clear their shelves of serial-killer books. Thomas Harris, Stieg Larsson, John Sandford. Might as well use them as door stops. Unless you are intentionally seeking disappointment. Because after this one, they just won't compare."

"Readers can rejoice that one of the most iconic protagonists of modern crime fiction is back on the beat. Credit the endlessly inventive Norwegian author Jo Nesbø for once again concocting a serial killer who outmatches the rest of the Oslo police, necessitating Hole's reluctant and potentially self-destructive return to the force. /…/ Wading into dark and deranged territory, Nesbø creates a fine balance between action and tension, with surprises lurking in unexpected corners that provide an edgy and visceral read. He's a master of structure, style and no-pages-wasted plotting. But Nesbø's greatest strength as a novelist is the way he places two opposing forces in battle: the perverse criminal and the compulsive detective. In Nesbø's consistently excellent Hole series, The Thirst may well be the pinnacle."

"It is so nice to have Harry Hole back. /…/ [Neil Smith] once again brings his very ample linguistic skill set to this book for its American publication /…/ The Thirst is a long book but does not read like one. It is more like a short story that you hope will never end, though end it does, with an unresolved plot thread that promises more novels to come from Nesbø, as well as the whisper of the possibility that Harry's peace of mind and life have an approaching sell-by date. If you are unfamiliar with this mesmerizing series, this is a terrific place to jump on."

"[The Thirst is] a big-boned, Technicolor epic in the current Nesbø style, starting adagio and ending accelerando, but with the kind of close psychological character readings that distinguished his early work."

"Fast-moving /…/ stunning."

"An extremely gruesome journey to the darker recesses of human nature, this grisly treat will delight Nesbo's fans"

"It's gory, gritty and compulsive reading, with a truly take-your-breath-away ending."

"Gripping from the get-go, deliciously dark and expertly plotted, this is Nesbo at his brilliant best."

"Resistance is futile: Nesbo has some rare, Ancient Mariner-type gift for holding his readers completely in thrall until he has finished with us."

"Nesbo's 11th Harry Hole novel is predictably excellent. The pace is swift, the regular array of characters as well-drawn as they should be after all this time, and the violence as novel and inventive as ever."

"Expertly plotted with vividly drawn characters, frenetic police chases and philosophising villains /…/ Expect to be thoroughly entertained."

"…The Thirst is Nesbo at his glorious best with even the minor characters wonderfully drawn. This tense, nerve-shredding tale is impossible to put down as it hurtles towards a stunning finale. Nesbo is one of the best thriller writers on the planet. Verdict: 5/5"

"[Jo Nesbø] not only provides a super­complex plot with plenty of twists (two within the first 12 pages) but also skilfully continues the lives of the all-too-fallible characters we have grown to love and hate. "

"This is a tense and scary tale. If you're partial to bad dreams, don't read this just before bed. With constant twists along the way, it's another gripping read from the king of Scandinavian thrillers."

"It's worth all the nights you won't sleep to read it."

"The Thirst is one of the best – if not THE best – novels written by the Norwegian master of crime."

"Jo Nesbø is one of few writers in the world, who makes you wait for his books like we used to wait for the new album by The Rolling Stones. And he delivers exactly what you wished for. Or even more."

"Nesbø is a powerful author who keeps the readers in suspense throughout the entire novel."

"Thrilling and virtually unputdownable."

"Harry Hole /…/ is indisputably one of the best-portrayed contemporary detectives /…/ and remains number one among the Scandinavians."

"One cannot but rejoice at this reunion with Jo Nesbø's Harry Hole."

"Nesbø is the guarantor of eloquent prose filled with both seriousness and humor /…/ he leaves room for suspense and speculation – and does this in his usual style – expertly."

"Jo Nesbø has the ability to write crime fiction with a psychological plot that surprises, and where solid investigative work forms the basis for the solution to the murder mystery. It's good. It's really, really good."

"Jo Nesbø does what he does best: writes social criticism. About media and the police board, about his bourgeois countrymen, about Harry Hole. That he's furthermore a linguistic equilibrist and eminent at writing sharp monologues, makes reading The Thirst a mix of pleasure, pique and horror. Horror, because of the very savage and bloodthirsty plot, which Nesbø masters so completely. Pique, because you as a reader – like Harry – let yourself be misled."

"The Thirst combines the best of American and Nordic crime fiction. /…/ Harry Hole is a criminal investigator with a steady salary and civil servant status. But he's also made of mythological hero material. Although he doesn't change his clothes in a telephone booth like Superman, or changes elegantly from a wetsuit into a smoking like James Bond does, his mission is all the same identical: He makes sure that everything goes right. As we all know, it's not like that in real life. It's fortunate that we have literature to compensate for it."

"The plot of Jo Nesbø's new Harry Hole thriller, The Thirst, is like a Russian doll. Within every answer to the novel's mystery is yet another mystery and a finely composed plot-weave filled with well-placed red herrings. /…/ The Thirst is a superb page-turner of the highest quality."

"Nesbø really is something extra /…/ A cat-and-mouse game of the spookiest kind is going on in Jo Nesbø's new crime novel The Thirst. /…/ complex and constantly suspenseful, the novel offers the whole spectrum of what we have come to demand of a good crime novel."

"Jo Nesbø is one of the most skilled crime writers I have read, both in terms of plot as well as suspense. You'll realize that he's learned a lot from Shakespeare, for the references are there and he plays with the stencils like a magician with a deck of cards. You think you figured out the trick? Think again. It's like riding a really good roller-coaster, you can be safely assured of having your heart beating like a hammer in your chest and screaming of horror multiple times before you finally, to your surprise, land unscathed"

"To make it clear: I'm impressed. I know from the previous ten Hole novels that Nesbø knows his field, a narrative field that he's book after book honed to brilliance. And in The Thirst, the brilliance is striking. What impresses me most is how many different strands he manages to interweave without it bursting, without loosing the nerve. /…/ a masterly structured dramaturgy. /…/ Linguistically, The Thirst is a delight. Nesbø is playing with words and with the reader, avoiding cliches and writes with a rhythm and variety that whirls. The transitions from one scene to another are elegant, much of a screenwriter's work is already done. That also applies to the way Nesbø tells his story – concrete, rich in details, easy to envisage."

"Everything that others do, Jo Nesbø can do better. /…/ When it seems as though everything is about to be resolved in the book, most other writers would be satisfied with their work. With Jo Nesbø, the ride will still go on for 150 more pages. It is as always now that the actual climax begins. /…/ When we're finally able to catch our breath, we can reflect on the novel's discussion of jealousy versus ambition in Shakespeare's Othello. When we get close to the real ending, we can rejoice in an Agatha Christie-like finish."

"Jo Nesbø is in top form /…/ Jo Nesbø's success is not just mere chance. Few can craft a thought-out crime fiction drama like he can. Seamlessly he moves from person to person, from heroes to villains, from one scene to another. Everything that is presented in his texts has a function and will sooner or later turn out to be meaningful to the plot. The Thirst has all of these qualities. With a spell-binding story about brutal crimes and ambitions gone astray it weaves a new chapter in the story of the severely tested hero Harry Hole. /…/ The composition is superb and symphonic."

"It starts off quietly, almost like a waltz. But as you read the pace is turned up considerably, and the new Harry Hole novel turns into a breath-taking reading experience of the best Jo Nesbø quality. /…/ Jo Nesbø is a master when it comes to building a long and increasingly steep dramatic curve. Going from seemingly everyday situations and conversations, it is as if the horror gradually sneaks up on you. The pace in The Thirst is somewhat calmer than in the previous Harry Hole books, more of a waltz than a rock and roll, until we're a bit more than halfway. But from there on, it's full on action with blood gushing and splattering until the last page is turned."
Author

Jo Nesbø

Published

2017

Genre

Pages

527

Reading material

Norwegian edition

English edition

Rights sold

Arab World, Masr El Arabia

Azerbaijan, Qanun

Brazil, Record

Bulgaria, Emas

Canada, Penguin Random House

Catalonia, Proa

China, Booky (Simplified Chinese)

Croatia, Fokus

Czech Republic, Zlin

Denmark, Modtryk

Estonia, Varrak

Finland, Johnny Kniga

France, Gallimard

Germany, Ullstein

Greece, Metaixmio

Hungary, Animus

Iceland, Forlagid

Israel, Babel

Italy, Einaudi

Korea, Viche

Latvia, Zvaigzne ABC

Lithuania, Baltos Lankos

Netherlands, Cargo

North Macedonia, TRI

Norway, Aschehoug

Poland, Dolnoslaskie

Portugal, Dom Quixote

Romania, Trei

Russia, Inostranka

Serbia, Laguna

Slovakia, Ikar

Slovenia, Didakta

Slovenia, Mladinska

Spain, Mondadori

Sweden, Albert Bonniers

Taiwan, Azoth (Complex Chinese)

Türkiye, Dogan Egmont

UK, Harvill

Ukraine, KM Books

US, Knopf

Film rights sold

UK/US, Working Title