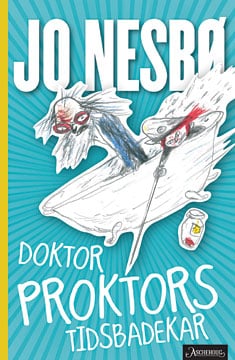 Doktor Proktors tidsbadekar
Doctor Proctor and the Time-Travel Bath Bomb
Doctor Proctor #2
Doctor Proctor has gone to Paris to reunite with the love of his life, baroness Juliette Margarine, but something seems to have gone awfully wrong along the way: one day, Nilly and Lisa receive a postcard from the mad (well, almost) professor in which he claims to have been trapped in time. Now, it is up to the fast-talking little redhead and his smart partner to get Proctor out, and quick. As Nilly and Lisa travel to Paris, little do they know that they are being followed by the frightening Raspa, Proctor's scheming former assistant. And despite their vivid imaginations, they can hardly imagine what lies ahead: an incredible adventure through time, in which the two of them will change the course of history in an almost unbelievable way.
Doctor Proctor's Time Bathtub was shortlisted for Ark's Children's Book Award (Arks barnebokpris) for 'Best Children's Book' 2008.
Click here for a video interview in English with Jo Nesbø about Doctor Proctor's Time Bathtub.
Awards
Shortlisted for the Ark's Children's Book Award

(Best Children's Book) Norway
2008
Close award list
Reviews
"This book bristles with witty inventions; it has tons of humor and linguistic playfulness. And like many other contemporary children's books, its double-edged style makes it just as enjoyable for adults."

"Delightful, nutty, and staggeringly funny. /…/ Just step on the gas and jump in the tub!"

"Among the things that make this book so delightful are Nesbo's firm handle on his prose and his vivid imagination. /…/ The richness of his writing will make this a pleasure to read for adults. My prediction is that parents will be fighting over who gets to read out loud from the book."

"The story is constantly propelled by new fancies and whims, delightful word play, elegant transitions, snappy twists and surprising solutions. Add to that a gallery of characters which matches that of the master Roald Dahl's classic children's books."

"Scandinavia's best children's fiction: funny, exciting and with ideas that are always one step ahead."

"in a very funny and suspenseful way, [Nesbø] tells of time-travel into the past."

"Genuinely suspenseful, funny and educational."

"Never before has the history of France been presented in such a funny, childish and free-wheeling way."

"Creatively competent children meet a mad scientist, all excellently written by one of Norway's most successful authors."

"An exceptional, amusing and remarkable book that also gives rise to thoughts about friendship and the course of history."

"The language is effortless and direct. The dialogue has rhythm and humor… Highly skillful and invigorating. This detective-like story stands out… and inspires further reading."

"Doctor Proctor's Time Bath Tub is an action packed suspenseful story with secret writings and characters to be deciphered. /…/ It is also an entertaining story that is bursting with imagination, narrative joy and linguistic wit. /…/ Nesbø plays with language, turning it upside down by new ways to use every words /…/ Doctor Proctor's Time Bath Tub is a vibrant story that will entertain and amuse everyone /…/ Nice layout with funny illustrations."

"There's only one problem: it is hard to read without laughing out loud. Sweet Moses, what an exciting an unpretentious play with language and European history! It serves in particular the funniest explanation of the Battle of Waterloo. /…/ Fabulously illustrated by Per Dybvig."

"Just as funny as the first adventure with the super powerful farting powder"

"This book made me laugh so hard that a colleague of mine said: "you are going to put it on your top 3, right?" Here it is! The sequel to Doctor Proctor's Fart Powder that can also be read as a stand-alone is even funnier than its predecessor. Bulle and Lise experience exciting as well as funny things when they go back in time to save Dr. Proctor from the past. A guaranteed laugh!"

"It is nice to see that an author of good thrillers is also capable of writing nice children's books. I read Doctor Proctor's Time Bath Tub with much pleasure. /…/ in this well thought-out and humorous book, Bulle and Lise are experiencing the most funny and exciting adventures. Georgien Overwater's illustrations make everything more colourful. I certainly recommend it!"

"There's plently of toilet humour, and general silliness that kids love."

"It's wacky and hilarious and I love it."

"This is a real fun, laugh aloud story – the title alone guarantees it instant appeal. And a bit of history thrown in on the side! Great fun for seven year olds and above."

"A fabulous book for vivid imaginations!"

"Hailed as the new Stieg Larsson for his adult crime thrillers, Nesbo's children's books are just as wickedly entertaining, proving that learning is more fun when flatulence is involved."

"Doctor Proctor, Nilly and Lisa are back in another very funny adventure… A silly, sweet and humorous tale that is perfect for readers aged 7 and over."

"Very funny, made me laugh right from the start. Nilly is a very funny character. The plot is clever because it is very unpredictable… I think all children would like this and I hope Jo Nesbo writes some more!"
Author

Jo Nesbø

Published

2008

Genre

Pages

312

Reading material

Norwegian edition

English edition

German edition

French edition

Rights sold

Bosnia and Herzegovina, Malik Books

Brazil, Martins Fontes

Bulgaria, Emas

Catalonia, La Galera

China, Dolphin Media (Simplified Chinese)

Croatia, Fokus

Czech Republic, Jota

Czech Republic, Zlin

Denmark, Alvilda

Estonia, Varrak

Finland, WSOY

Germany, Arena

Greece, Metaixmio

Hungary, Kolibri

Iceland, Forlagid

Israel, Kinneret Zmora

Italy, Salani

Japan, Hayakawa

Korea, Sakyejul

Latvia, Zvaigzne ABC

Netherlands, Lemniscaat

Norway, Aschehoug

Poland, Dolnoslaskie

Portugal, Planeta

Romania, RAO

Romania, Trei

Russia, Azbooka

Serbia, Odiseja

Slovakia, Iron Libri

Slovenia, Didakta

Slovenia, Mladinska

Spain, La Galera (World Spanish)

Sweden, Bonnier Carlsen

Turkey, Pegasus

UK & Commonwealth, Simon & Schuster

Ukraine, Bohdan

US incl. Canada, Aladdin

Vietnam, Tre Publishing

Film rights sold

Norway, Maipo