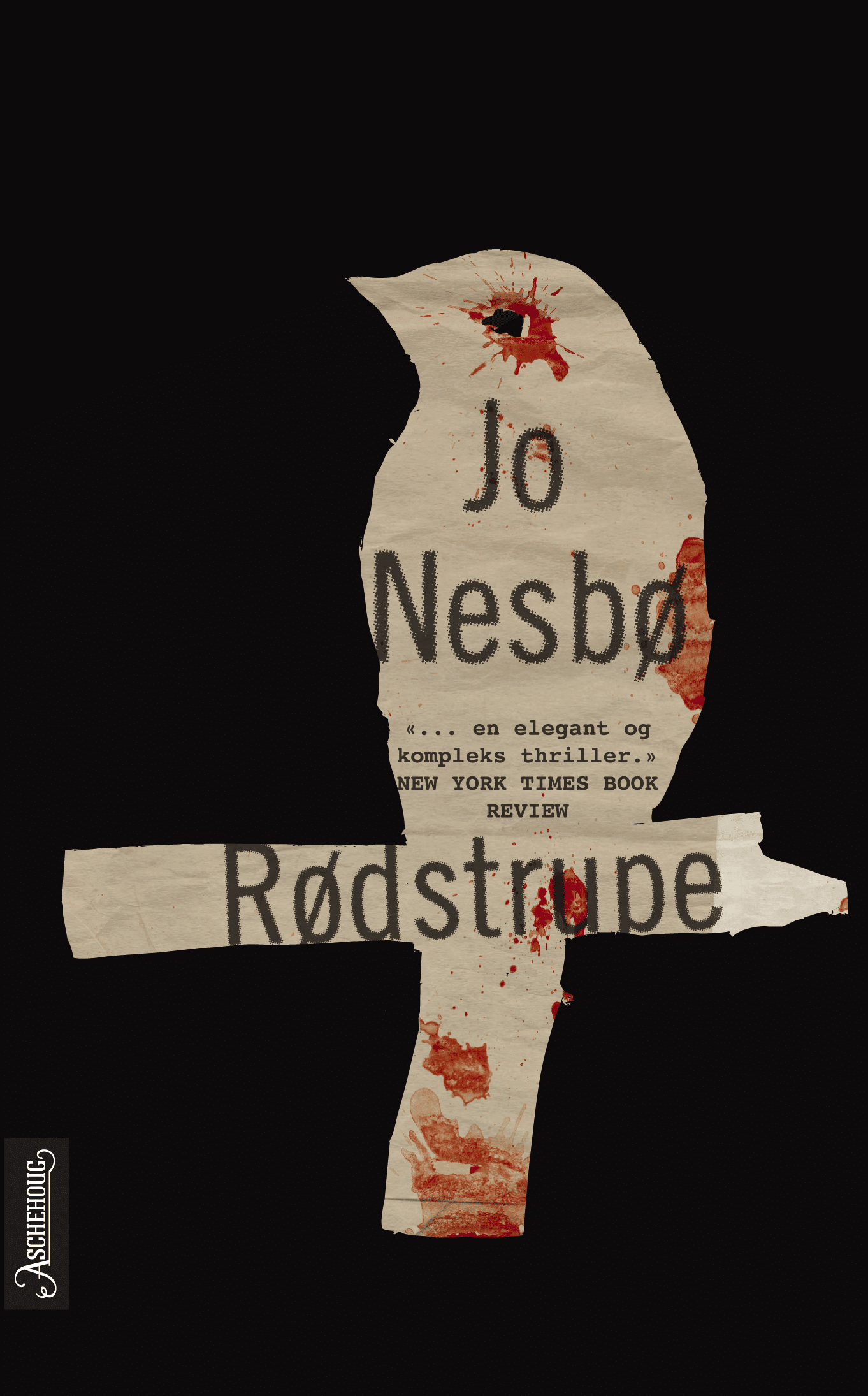 Rødstrupe
The Redbreast
Harry Hole #3
In one of the most ambitious and broad-scoped crime novels ever written in Scandinavia, Jo Nesbø tells a heartbreaking story of war, love and betrayal. Touching the sordid part of Norway's past with a boldness that few other writers possess, Nesbø spins a fantastic detective story around the "front men" – the young Norwegians who fought for Hitler, and their idealism that was punished by their countrymen. Thus, this thriller – a chase-against-the-clock, as exciting as The Jackal – also becomes a deep and fearless investigation of the true meaning of betrayal.
The Redbreast was awarded with the Booksellers' Prize (Bokhandlerprisen) 2000, as well as the special award 'Best Norwegian Crime Novel of All Time' (Tidenes Beste Norske Krimroman). In addition, it was shortlisted for The CWA International Dagger 2007.
Click here for a video interview in English with Jo Nesbø about The Redbreast.
Click here to watch a book trailer on The Redbreast made by Jo Nesbø's UK publisher Harvill Secker.
A TIME "One of the 100 Best Mystery and Thriller Books of All Time"
Awards
Shortlisted for the CWA International Dagger

UK
2007

Best Norwegian Crime Novel Ever Written

(Awarded by the Norwegian Book Clubs) Norway
2004

The Norwegian Booksellers' Prize

(Best Novel of the Year) Norway
2000
Close award list
Reviews
"Pristinely translated by Don Bartlett, Nesbo's book eloquently uses its multiple horrors to advance a disturbing argument: suppressing history is an open invitation for history to repeat itself /…/ an elegant and complex thriller."

"This is a fine novel, ambitious in concept, skillful in execution and grown-up in its view of people and events. In important ways it's also a political novel, one concerned with the threat of fascism, in Norway and by implication everywhere. /…/ The Redbreast is an admirable meditation on how, generation after generation, the ugliest human instincts manifest themselves in a criminality that calls itself politics. /…/ [it] certainly ranks with the best of current American crime fiction."

"Reading The Redbreast is like watching a hit movie. Author Jo Nesbo's scenes are so vivid that you can imagine them playing across the big screen. The pacing is swift. The plot is precise and intricate. The characters are intriguing. And the novel combines two of the best cinematic genres: war sagas and crime thrillers. /…/ Nesbo, a Norwegian himself, has won European literary awards but is essentially unknown to Americans. That should change. In Don Bartlett's translation, Nesbo leads readers with ease from episodes of violence to romance to pathos. And sometimes he beautifully blends all three into one sequence, such as when the nurse and the soldier share their last dance while Allied bombs rain down on Vienna. Hole may resemble too much the stereotypical hard-edged but soft-hearted detective who battles his demons, but he's still worth rooting for as Nesbo deftly challenges him with expanding criminal and political intrigue. Through Hole's story, Nesbo also offers insight into a Norwegian society still coming to terms with its role in World War II. Like Harry, The Redbreast is surprisingly witty at times and often grim. But it's always smart."

"Utterly delicious. You never get the feeling Nesbo is writing by the numbers – his sense of pace is unerring, and the way he builds up suspense in parallel montages will incite Pavlovian page-turning. By the end, events happen so quickly that you barely have time to realize that one of the most sinister characters has managed to evade scrutiny. Is a sequel in the air? It can't come fast enough."

"Norwegian detective Harry Hole is immersed in a mystery with roots in World War II in this brilliant evocation of how the tentacles of the past cling to the present, and are the true instigators of action. This powerful novel delves into the complexity of belief and collaboration, and rises above the genre."

"I'm hooked on Jo Nesbo. In his home country of Norway, Nesbo is a multi award-winning crime novelist who's been on the scene for a decade. The Redbreast, his second adventure in the Harry Hole detective series, was voted 'Best Norwegian Crime Novel Ever Written' by members of Norwegian book clubs. Now it's our turn to enjoy. Imagine the very best of Michael Connelly and Ian Rankin combined; he's that good /…/ The Redbreast is a heft 520 pages, but the action keeps it going like a juggernaut. Nesbo uses history and his parent's war memories as a charred background to jumpstart political events as real as today's headlines."

"…Seriously absorbing, the novel includes several star-crossed romances, neo-Nazis, and the deliberate poisoning-by-injection of an oak tree."

"Shifting effortlessly between the last days of WWII on the Eastern front and modern day Oslo, Norwegian Nesbø (The Devil's Star) spins a complex tale of murder, revenge and betrayal. /…/ Perfectly paced and painfully suspenseful, this crime novel illuminates not only Norway's alleged Nazi ties but also its present skinhead subculture. Readers will delight in Hole, a laconic hero as doggedly stubborn as Connelly's Harry Bosch, and yet with a prickly appeal all his own."

"Nesbo has been one of Norway's leading crime-fiction authors for 10 years, and his American debut shows why. /…/ The linking of past present through alternating story lines is a common technique in crime fiction, but Nesbo uses it superbly here, with the two plots interacting dynamically and adding context to our understanding of the central theme in contemporary Scandinavian crime fiction: the rise of racism and hate crime in the post-iron curtain era. But beyond that, Nesbo has a terrific feel for character, and Hole, while sharing characteristic with so many similarly melancholic modern cops (including, of course, Mankell's Kurt Wallander), carves a place of distinction for himself in a crowed field."

"A lengthy and complex story with subplots involving an old man dying of cancer and flashbacks to World War II and the role of Norwegians who fought for Hitler on the eastern front; one of the more fascinating detectives in modern crime fiction; and a welldrawn, engaging set of secondary characters make this one of the best new series of 2007. Highly recommended for all libraries."

"[A] bold, ambitious thriller /…/ Nesbø bids fair to turn Norway into serious competition for Sweden as Scandinavia's crime center."

"A complex utterly captivating story."

"Exciting, witty, melancholy and thought-provoking…"

"Flawlessly paced, it's a page-turner you won't want to put it down, with fascinating characters to boot. Fab."

"Nesbo clearly demonstrates his skill at executing expertly-crafted, well-paced thrillers that he sustains to the very end in a compelling fashion."

"A thriller with a brilliant plot, full of surprises, and with a captivating main character."

"From the land of Knut Hamsun, a bestselling writer with an intelligent crime story. Harry Hole is a very peculiar detective, a true human being, with his weaknesses and an impressive dark side."

"To tell so much without ever losing yourself in the many tracks or slowing down the pace, to pose such sober and sound questions of moral without ever losing your sense of humor – a masterpiece from Scandinavia."

"Jo Nesbø writes grippingly and realistically. A real discovery."

"Nesbø's crime novel is a nightmare, grippingly composed and unspeakably suspenseful to the very last page."

"The Redbreast is the accurate winner, that has it all – the nuanced character descriptions, several love stories and a driven, exciting plot."

"An unbelievably well constructed and dazzling good book."

"With The Redbreast Jo Nesbø has for sure become one of the absolute best and most interesting Scandinavian thriller- and crime writers at the moment, and there will be more prizes."

"Jo Nesbø writes very convincing. /…/ The Redbreast is as Scandinavian thriller so unique that it easily will be able to drive other international famous authors out of business. This is simply a thriller in the top class."

"Jo Nesbø is a brilliant thriller author, reminiscent of John le Carré and Frederick Forsyth. The Redbreast is one of the most thrilling and hair-raising crime novels we've read in a very, very long time."

"A thick, ambitious and well succeeded crime novel about the policeman Harry Hole. The present drama that slowly but steadily unravels, and is exciting and full of surprises. Harry Hole stays as a fascinating man with many unexpected sides."

"Splendid. The Redbreast is full of excitement and surprises, the keywords being guilt, betrayal, power and love. Nesbø has written a dazzling novel."
Author

Jo Nesbø

Published

2000

Genre

Pages

481

Reading material

Norwegian edition

English edition

German edition

French edition

Spanish edition

Rights sold

Albania, Dudaj

Arab World, Arab Scientific

Azerbaijan, Qanun

Bangladesh, Chirkut Publication

Bosnia and Herzegovina, Buybook

Brazil, Record

Bulgaria, Emas

Canada, Penguin Random House

Catalonia, Proa

China, Booky (Simplified Chinese)

Croatia, Fokus

Czech Republic, Zlin

Denmark, Modtryk

Estonia, Varrak

Finland, Johnny Kniga

France, Gallimard (Paperback)

France, Gaïa (Hardcover)

Germany, Ullstein

Greece, Metaixmio

Hungary, Animus

Iceland, Forlagid

Israel, Babel

Italy, Einaudi

Japan, Shueisha

Korea, Viche

Latvia, Kontinents

Lithuania, Baltos Lankos

Netherlands, Cargo

North Macedonia, TRI

Norway, Aschehoug

Poland, Dolnoslaskie

Portugal, Dom Quixote

Romania, RAO

Romania, Trei

Russia, Inostranka

Serbia, Laguna

Slovakia, Ikar

Slovenia, Didakta

Slovenia, Mladinska

South Sami, Ord & Visor

Spain, RBA (World Spanish)

Sweden, Albert Bonniers

Taiwan, Azoth (Complex Chinese)

Thailand, WeLearn

Türkiye, Dogan Egmont

UK, Harvill

Ukraine, Folio

US, HarperCollins

Film rights sold

UK/US, Working Title