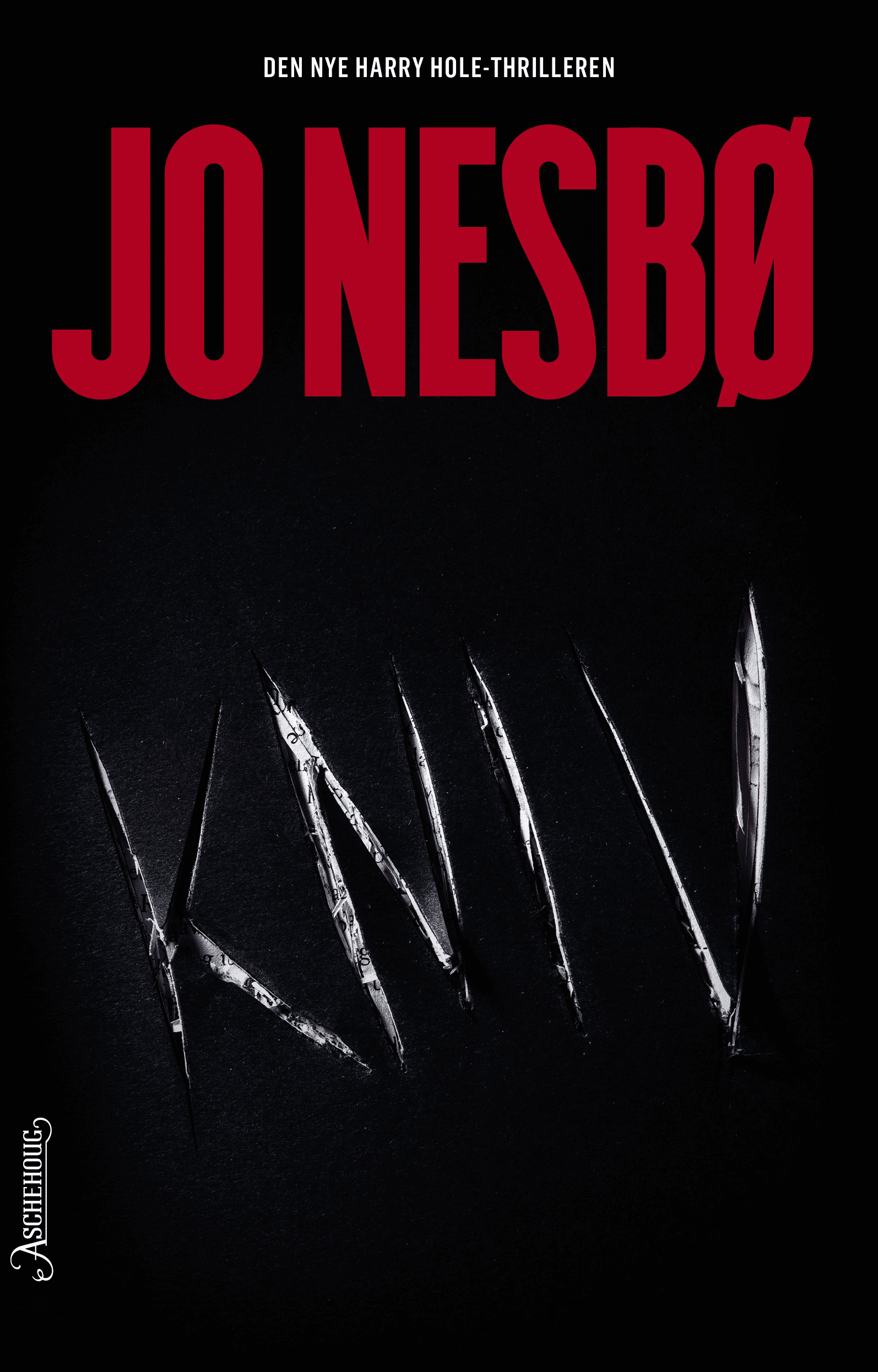 Kniv
Knife
Harry Hole #12
Harry Hole is not in a good place. Rakel – the only woman he's ever loved – has ended it with him, permanently. He's been given a chance for a new start with the Oslo Police but it's in the cold case office, when what he really wants is to be investigating cases he suspects have ties to Svein Finne, the serial rapist and murderer who Harry helped put behind bars. And now, Finne is free after a decade-plus in prison – free, and Harry is certain, unreformed and ready to take up where he left off.
But things will get worse. When Harry wakes up the morning after a drunken blackout, with blood on his hands, it's only the very beginning of what will be a waking nightmare the likes of which even he could never have imagined.
One of the The Times' "Top ten crime novels of the decade".
One of the Kirkus Reviews' "Best Books of 2019".
The No. 1 most sold book of 2019 in Norway.
Awards
Shortlisted for the Ozon Book Award

(Best Fiction) Russia
2020

The Riverton Prize

(Best Norwegian Crime Novel of the Year) Norway
2020

Shortlisted for the Storytel Awards

(Best Suspense) Sweden
2019
Close award list
Reviews
"[Knife] may be Nesbo's best storytelling yet. It's not just clever; it's diabolical, and let's be glad it is, because the corkscrewing plot provides a measure of relief from the pain on view in this uncompromisingly intense and brilliant novel."

"Does anyone write creepier villains than Jo Nesbo? /…/ No, I can't think of anyone who makes my skin crawl like Nesbo."

"Knife, Mr. Nesbo's 12th Harry Hole book, translated from the Norwegian by Neil Smith, is arguably the best entry yet in the author's outstanding series. /…/ The moral conundrums in Knife are Dostoevskian, the surprises are breathtaking, the one-liners are amusing and the suspense is unrelenting. This is that rare lengthy book that one wouldn't want shortened by even a single page."

"Knife is a reminder of why people read [Nesbo's] books. /…/ Thicker and more complex than most of the earliest Nesbo novels – including his often-slender standalone books – Knife resembles in its heft and sweep The Redbreast /…/ The novel ends with a fascinating series of shifts and reframings both dramatically satisfying as fiction and – in the real, Norwegian world of crime-fighting in which the novel is set – ethically queasy. 'It's up to you how much you want to know,' Harry tells another character near the book's close. It also leaves Harry on what can only be called a knife's edge. The bad, or at least, ambiguous news for the novel's characters is good news for the rest of us: There will, it seems, be more of these."

"I love Jo Nesbø's Harry Hole series. In Knife, Nesbø outdoes himself. "

"Stunning. Intense. Breathtaking. /…/ Jo Nesbo has written the perfect thriller. A plot thick with intense imagery and nail-biting terror, and a protagonist so broken, you can't help but want him to win."

"Knife is indeed a sharp example of its genre. The pages turn, the violence is brutal, and the characters are well-drawn and mysterious. /…/ The book is dense, but brisk. /…/ Nesbo has a great sense of pacing. Each reveal – did he do it? did she? – is meticulously laid out as he takes readers along for the ride. /…/ The final whodunit is powerful and leaves Harry – and readers – wondering what's next."

"[Knife] is well written and unfolds with a cutthroat ferocity that takes the reader by force down the darkest of corridors. The characters, antihero or despicable villains and useless bureaucratic law enforcement, are very well written. This is an ultra-satisfying, seat-of-your-pants action mystery."

"[A] first-rate installment in the [Harry Hole] series."

"[Knife leaves] Nesbo on equal footing with Michael Connelly and Hole on the same level as Harry Bosch. This is crime noir at its absolute best – edgy, dark and showcasing one of the finest detective characters in modern fiction."

"[Knife is] a book that contains at once the Harry we have come to expect and the Harry we hoped was somewhere underneath all that Hole bravado./…/ The book's abundant subplots are miraculously tied together in a violent, remarkably satisfying denouement. Most importantly, though, there's still the emphatically compassionate, stubbornly singular creation that is Harry Hole. It's good to find him still on our side."

"Knife is a sterling example of Jo Nesbo's considerable literary talent. /…/ Knife is a critical book in a series that is one of the most important in contemporary crime and police procedural fiction. Don't miss it."

"In this exceptional novel that manages to be both philosophical and suspenseful, Norwegian detective Harry Hole goes from bad to worse to an entirely new place as his life is upended."

"Knife by Jo Nesbo is an extremely tense, twisty and enthralling police procedural. /…/ The tension is at a breakneck speed, and the plot falls together in a very believable story."

"Infusing Knife with the series' customary blend of forensic science, psychological excavation, ingenious plotting and wince-inducing brutality, Nesbø continues to show why he is considered the prime mover behind modern-day Scandi noir."

"The constant struggle that is life for the hard-bitten, alcoholic Oslo police detective Harry Hole turns tragic in Knife, the 12th entry in Norwegian writer Jo Nesbo's excellent series. /…/ Nesbo has no qualms about messing with readers' preconceptions. The plot zigzags tensely back and forth as Harry explores his suspects' motivations, relationships, and skills, never excluding himself from the list. /…/ A happy Harry, surrounded by a picket fence and loving family, was never in the cards that Nesbo so masterfully and unsparingly continues to deal his antihero."

"Knife is something really special. It's got everything Nesbø readers have come to expect from Scandinavia's reigning crime fiction king: a layered plot, a gritty atmosphere, immersive pacing, plenty of very convincing red herrings, and, of course, our beloved troubled detective Harry Hole. /…/ Nesbø gives his razor-sharp prose and superb character development room to shine in Knife. This is undoubtedly Nesbø's darkest story yet, and it's also his most emotionally affecting – a potent combination that will get under your skin as much as it will keep you turning pages. Nesbø is at his best when putting Norwegian detective Harry Hole through his worst, and Knife might just be the best installment yet in this exceptional crime series. Nothing will be the same for Harry – or Harry's loyal readers – after Knife."

"[Nesbo] never disappoints, of course, but Knife may well be his masterpiece. What do you want from a novel of mystery and suspense? Heavy, compelling psychological tension? You have it. Strong characterizations, not only of the Protagonist but of all the characters? You have it. Do you want novels to offer provocative observations on the human condition? Knife gives us in-depth discussions of PTSD, including but not restricted to those who have returned from war-torn parts of the world. /…/ There are only a few [books] I feel like rhapsodizing over. Knife is one of those few!"

"Complex and unexpected denouement in which every facet falls into place and seems to have been totally logical and inevitable."

"Dark, gritty, and clever, this is quintessential Nesbo, a powerhouse of a storyteller. /…/ [A] must-read."

"Harry Hole is the most intriguing detective to come out of Scandinavian noir, bar none. This book is an outstanding addition to the canon."

"Nesbo weaves the strands of his elaborate narrative with the ease of a gifted storyteller, tantalising the reader with misdirections and a plateful of red herrings. Yet it's remarkable how quickly he can disentangle an intricate plot. And momentum? He's a genius at that — the 500-plus pages just fly by. The ending is totally unexpected and deeply satisfying. But where to go from here? With Hole having been taken to such wounding extremes in Knife, it doesn't look as if there could be anything left for him to endure. Yet never underestimate Nesbo — he's a writer with a seemingly endless supply of stories to tell."

"Nesbø is on top form. /…/ [He] delivers a perfect blend of thriller and police procedural packed with suspense, heartbreak and intrigue, never going where you expect it to. Knife will leave you craving more as you miss meals and sleep to race to the magnificent finale. Nesbø is one of the best thriller writers on the planet and Knife may well be his best novel yet. Yes, it's that good. "

"Jo Nesbo says that 'he's been brutal to Harry before but never this brutal' He's not kidding /…/ The twists play out brilliantly; the translation by Neil Smith is flawless. This is the king of Norwegian crime on top form. Fans might only ask he give his protagonist a little less of a brutal ride next time round."

"In the 12th Harry Hole thriller, Jo Nesbo surpasses his own dark standards /…/ Nesbo indulges his unique, deliciously horrible vision of the world once again."

"Not many thriller writers can move you to tears but Nesbø can /…/ Nesbø, sharp-witted as ever, keeps the complex, burnished narrative on, um, a knife-edge as Harry, suicidal and sober, tries to find out the horrible truth. Nesbø remains the king of Scandinavian noir."

"Knife sees the return of Harry's old nemesis Svein Finne /…/ The plot never goes the way you think it will, as Nesbo delights in playing tricks on the reader."

"The 12th instalment of the Harry Hole series is arguably Nesbo's best yet. /…/ Knife is the perfect blend of police procedural and a thriller packed with suspense, heartbreak and intrigue."

"Jo Nesbø brilliantly makes the reader believe one version of the crime and then in another, which makes the ending dynamic and unexpected. The drama, the psychological reliability of the characters and the plot with numerous twists – all of it makes the new book of the Scandinavian author a really good gift for true crime novel lovers"

"You can imagine the worst (and you will probably be right), but the brilliant Jo Nesbø will surprise you anyway. Knife is the most unpredictable novel in the book series about the six-foot tall Harry Hole, a detective with heightened instincts and a difficult personality."

"In the search for truth Harry Hole considers a dozen of highly plausible versions. Each of them is a full novel inside а novel with а dramatic start, intense internal dynamics, vivid heroes and an impressive culmination"

"It should be noted that the books by Jo Nesbø, an ex-soccer player and now one of the most popular writers of continental Europe, are not just simple detective stories. Jo Nesbø's books are a whole cultural phenomenon."

"Naturally, like in other novels by the Norwegian writer Jo Nesbø, you will find in Knife liters of blood, twisted intrigues and ingenious maniacs. It's a perfect thriller for suspense lovers"

"Jo Nesbø and his new crime novel Knife […] is in top form. "

"Knife is fantastic /…/ Jo Nesbø once again proves why he is the king of this genre. "

"Knife will shock you several times because of the big twists you won't expect/…/ Nesbø has so masterfully executed the twelfth book in the series about Harry Hole /…/ You will enjoy it until the last page."

"A diabolically crafted crime novel."

"Once again, Nesbo succeeds in gripping his readers by introducing them to a stunning range of characters without losing his grip. Good job!"

"Let it be said immediately: Knife does not disappoint. It certainly doesn't! /…/ Expect sleep deprivation!"

"Knife is about murder and evil, but also about pain, love, power, desire, sorrow, revenge, jealousy and ambition. All of the things that we imagine that we can control or hide, but which are part of being human. Therefore, Knife is not only suspenseful and surprising, but also relevant. And it is in addition written in a wonderfully fluid and atmospheric prose."

"A crime novel of class. /…/ Nesbø writes concentratedly and fluently; he knows his craft."

"Harry Hole has never had it worse – and Jo Nesbø has never been better. /…/ In Harry Hole no. 12 […] we probably have the most ambitious crime novel, emphasis on novel, in the series and also the most accomplished one. /…/ Nesbø has outdone himself both in the construction of the plot, which almost teasingly plays with the conventions and tropes of classical crime novel, and in [the portrayals of] existential-psychological depths that do not replace, but support, a formidably successful plot."

"With Knife, Norwegian author Jo Nesbo delivers inspector Harry Hole's most heartbreaking but equally strongest case."

"[Nesbø] is linguistically elegant […] and his stories are far more sophistically wrapped than those by any other contemporary Norwegian crime writer"

"This is insight and suspense of high class."

"Solid crime novel-craft by Jo Nesbø."

"Jo Nesbø has once again written a brilliantly thrilling crime novel where both Harry Hole and the reader are whirled into countless mazes looking for the perpetrator. Nesbø is a master of suspense and manages to keep a high level of excitement throughout the novel. "

"Suspense that cuts like a knife! /…/ Jo Nesbø is a master tailor within the field of crime fiction design. Or, to perhaps use a more accurate metaphor: Nesbø's literary transitions are like a well-composed pop song. /…/ In a literary sense, the most interesting aspect of Knife is that Nesbø distances himself from the most graphic, some would say larger than life, violence and action that have characterized previous Harry Hole novels. With that said, the external suspense continues to be well incorporated, but at the same time it is also very much a story of the killer' psychology and criminal profile, and about understanding both the motives of others and oneself."

"Jo Nesbø is a master. There's no doubt about it. The twelfth novel about Harry Hole is just as good as you would expect. /…/ Nesbø is an artisan who has fully mastered his craft. He propels the story forward by elegantly alternating between quiet (and often quite beautiful, and even more often savvy) depictions and dramatic scenes full of pace and heat."

"The sharp-as-a-knife Nesbø at his best. A first-class mix of thriller and murder mystery. /…/ Nesbø has done it again. His new novel Knife is a fantastic and exhilarating suspense novel. And a high-level crime story. The graphic violence is less than usual. The novel is both a thriller and a good, old-fashioned brand murder mystery where all the loose threads are elegantly woven together by the end of the 519-page-long drama. /…/ Nesbø writes with a strong and hard-boiled momentum, especially in the action sequences. Down to the very minor bi-figures, he makes his characters come to life with great credibility."
Author

Jo Nesbø

Published

2019

Genre

Pages

520

Reading material

Norwegian edition

English edition

Rights sold

Arab World, Masr El Arabia

Azerbaijan, Qanun

Brazil, Record

Bulgaria, Emas

Canada, Penguin Random House

Catalonia, Proa

China, Booky (Simplified Chinese)

Croatia, Fokus

Czech Republic, Zlin

Denmark, Modtryk

Estonia, Varrak

Finland, Johnny Kniga

France, Gallimard

Germany, Ullstein

Greece, Metaixmio

Hungary, Animus

Iceland, Forlagid

Israel, Babel

Italy, Einaudi

Korea, Viche

Latvia, Zvaigzne ABC

Lithuania, Baltos Lankos

Netherlands, Cargo

North Macedonia, TRI

Norway, Aschehoug

Poland, Dolnoslaskie

Portugal, Dom Quixote

Romania, Trei

Russia, Inostranka

Serbia, Laguna

Slovakia, Ikar

Slovenia, Mladinska

Spain, Mondadori

Sweden, Albert Bonniers

Taiwan, Azoth (Complex Chinese)

Türkiye, Dogan Egmont

UK, Harvill

Ukraine, KM Books

US, Knopf

Film rights sold

UK/US, Working Title