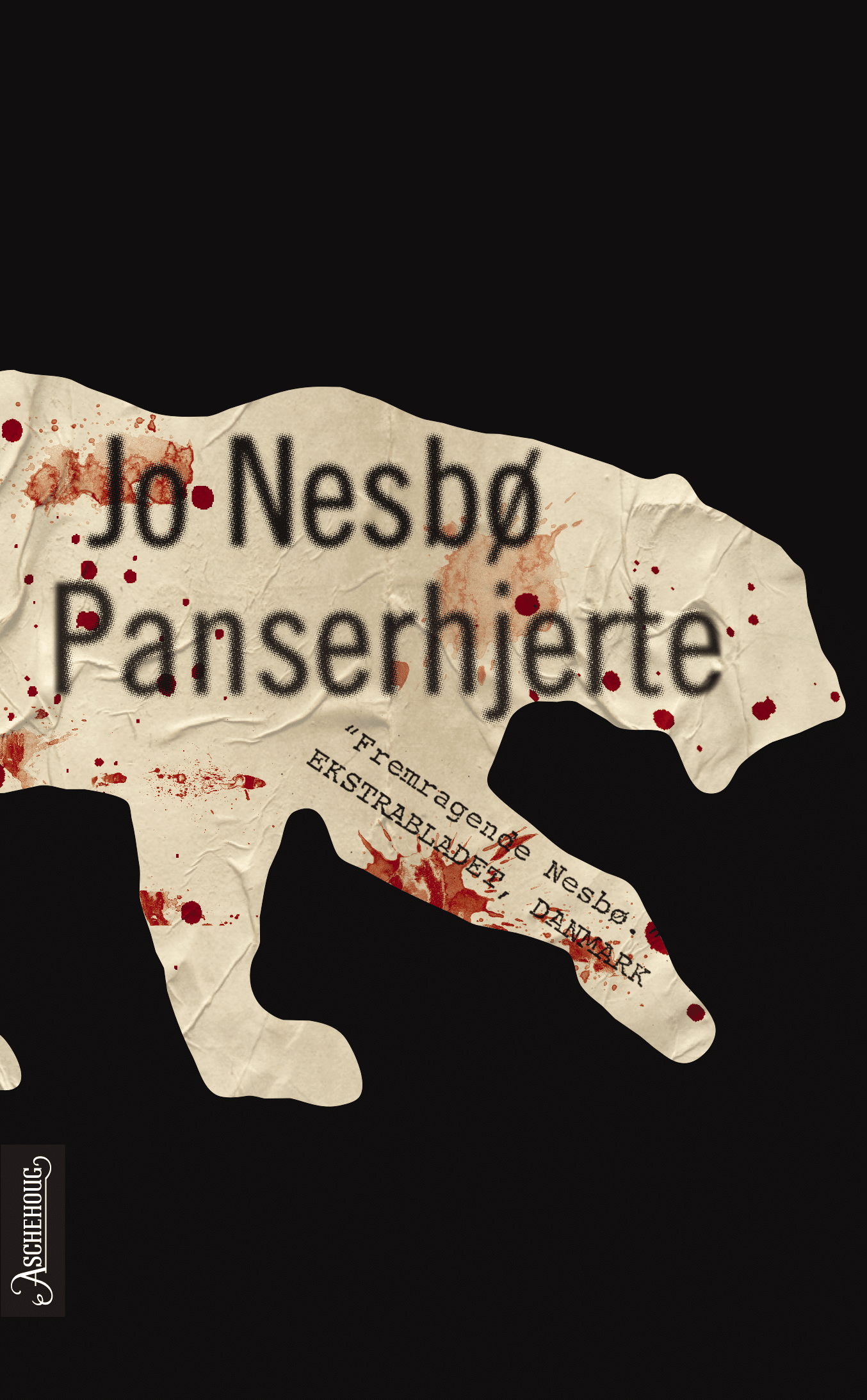 Panserhjerte
The Leopard
Harry Hole #8
Two women are found murdered in Oslo – both of whom have drowned in their own blood. What further mystifies the police is that the puncture wounds on the victims' faces appears to have been caused from inside their own mouths.
Kaja Solness from Homicide is sent to Hong Kong to track down the man who is the Oslo Police Department's only specialist on serial killers – a severely addicted detective, trying to disappear in the vast, anonymous city. He is on the run and haunted by his last case, the woman he loves, and creditors alike. His name is Harry Hole.
The Leopard was awarded with The Danish Academy of Crime Writers' Award (Palle Rosenkrantz Prisen) 2009 for 'Best Crime Novel of the Year', with the motivation: "Jo Nesbø has, with the anarchic and alcoholic Harry Hole, revitalized the classic Chandler-esque investigator, who with self-destructive honesty gets in with the ladies and out with nearly everyone else. Especially serial killers and superiors. The Leopard is the latest example of Jo Nesbø's exceptionally skillful and ebullient writing."
Click here for a video interview in English with Jo Nesbø about The Leopard.
Click here to watch a book trailer on The Leopard made by Jo Nesbø's UK publisher Harvill Secker.
Click here to watch a book trailer on The Leopard made by Jo Nesbø's German publisher Ullstein.
Awards
Shortlisted for The IcePick Award

(Best Translated Crime Novel of the Year) Iceland
2014

The Danish Academy of Crime Writers' Award

(Best Crime Novel of the Year) Denmark
2009
Close award list
Reviews
"Nesbø knows exactly what he's doing [in] this gripping, intricately plotted tale /…/ Like all intelligent crime fiction, this book is not only about multiple murders by heinous means. It is also about legacies, most specifically about the good and evil, love and hate, passed from one generation to the next. This vivid, violent novel promises to speak on many levels to many readers and will be snatched up by Scandinavian crime fiction fans."

"What Harry [Hole] craves, he tells us, is "an armored heart." We could use one, too, if we ever hope to turn away from the adventures of crime fiction's most tortured and compelling hero. Alas, no armor exists strong enough to keep Harry from his demons, or the rest of us from Harry. /…/ This one stands to up the ante one more time."

"Outstanding /…/ Nesbø moves the action easily from Hong Kong to Norway, with side trips to the Democratic Republic of Congo, without ever losing the plot's sense of urgency. Hole, put through the emotional wringer in The Snowman, doesn't get much of a reprieve in this intense outing."

"A taut, fast-paced thriller with wrenching twists and turns."

"Mr. Nesbø, despite what would be tragic flaws in lesser hands, takes these flaws and uses them to his advantage to make for a hell of a good book. How? His powers of description and mastery of the written word are both eloquent and elegant. His control of pacing is exquisite. He's a writer of great talent, an excellent craftsman /…/ The Leopard is conceptually a huge undertaking for an author, an unusual, eccentric, and excellent work. Highly recommended."

"The Leopard begins with a grisly, sadistic murder and doesn't slow down for more than 500 pages. /…/ Each of the dozens of characters – almost all of whom come under suspicion, often justly, at one point or another – is carefully described /…/ The novel has a classic hard-boiled mystery structure, with clever clues, red herrings and shocking twists galore."

"This dark thriller reminds readers why Nesbo is often favorably compared to Sweden's Stieg Larsson. Nesbo's novels are a great find for fans of The Millennium Trilogy looking to expand into other Scandinavian thrillers."

"The Leopard rewards you with a finale as unexpected and thought-provoking as any in recent mystery-fiction memory."

"[Nesbø] can spin a good tale. The Leopard is meaty, gripping, full of tantalizing twists"

"[The Leopard] is one of those books that makes one want to start tossing off terms like compelling, startling and riveting in the hopes that if enough superlatives are piled one atop another that the speaker or writer can communicate just how high this work stands above its peers."

"The writing in The Leopard is awesome. The ironic deflations, twisty plot, and grisly action keep a reader riveted to the page. /…/ I have never read a more suspenseful book. /…/ Nesbø plays with ironic deflation like no author I've ever seen. He sets you up to believe a terrible thing is going to happen and then – it's not Freddy Krueger about to stab you to death, it's the cat knocking a bowl of milk off the counter. You laugh at your nervousness, and relax. Five pages later, Krueger impales you. Nor will you be able to figure out who the killer is. Nesbø has more twists in his repertoire than Chubby Checker. /…/ The Leopard is a great novel, and if it doesn't presage the end of Western civilization, I don't know what does."

"Nesbo keeps the plot ripping along for the book's 500-some pages."

"Jo Nesbø has perfected his formula for crime novels, and it's on full display in The Leopard /…/ While Nesbø has a formula, he is not formulaic. There's always a twist, always a surprise, always a variation on a theme. Harry Hole still has a long literary life ahead."

"Seemingly at the drop of a fedora, Nesbo can evoke a world-weary gloom that fits neatly in the noir tradition. But his prose has a wistfulness that sometimes lifts it into something loftier because he mixes bleak existential dread with an awareness of fragile, heart-stopping beauty. And that's what distinguishes Nesbo from a crowded field of Nordic crime writers."

"[The Leopard] contains real pleasures, with three fantastic twists and a final 150 pages that run by at a blistering pace."

"Moves at a pace as breathless as a cold Norwegian winter's night /…/ When it comes to action, Nesbo has a trick or two up his sleeve. /…/ And the author knows how to surprise with his choice of exotic locales /…/ Hole is a flawed but compelling character."

"If any lingering doubts remain about the congruity of 'literary' and genre worthiness, Jo Nesbo's The Leopard will surely dispel all but the most curmudgeonly of reservations. /…/ There may be more subtle characterizers, superior plotters, finer conveyers of substance, or more skilful conjurers of mood and place than Nesbo, but no one springs to mind. In any case, none deliver all of these literary essentials so well. The Leopard once again offers convincing evidence that Nesbo is, arguably, the best crime practitioner on the planet – and one of the best novelists of any stripe."

"The Leopard leaves readers as breathless as a cold Norwegian winter's night."

"Nesbø is such a terrific action writer that one's heart leaps when the running-about starts."

"The Leopard's unflagging narrative tension, breathtaking surprises and many confrontations with half-suspected treachery are superb."

"Nesbo ratchets up the tension with a relentless urgency."

"The Leopard, the sixth Harry Hole novel to be published in Britain, is a big and meaty, but easily digestible, slab of a read, ably translated by Don Bartlett. /…/ Nesbø deploys all the key ingredients of a cracking good thriller with expertise and verve. The ticking clock, the tension expertly racheted ever upwards, the changing scenery, the constantly shifting goalposts and his effortless, triumphant outpacing of the reader's ability to guess what's going to happen will keep you gripped to the last page. Suspend disbelief, immerse yourself and enjoy the ride."

"There are passages [which are] so anatomically gruesome that they can only be properly read through the gaps between protecting fingers."

"It's fascinating to discover, from the incident details, what it is like to live for much of the time in a world under snow /…/ Nesbo writes beautifully."

"The plot of The Leopard is intriguing, and Nesbo's writing is as taut as ever."

"Powerful writing, a plot of chilling, gripping grimness, and the hero Oslo cop Harry Hole descending even farther into his emotional maelstrom."

"Outstanding /…/ Probably the best big crime novel you could lay your hands on this year."

"Nesbo's novels keep going when you think there can't be any more twists to follow. Scenes switch from the avalanche-threatened ravines and mountain cabins of back-country Norway, close to oil-rich Stavanger and metropolitan Oslo, to an active volcano in Africa."

"This has all the nasty, edge-of-your-seat creepiness and intrigue to keep you hooked to the end."

"The Leopard is the darkest and most intense literary bestseller to have come out of Scandinavia."

"A complex thriller, addictive and in many ways also brutal."

"Nesbø is not the next Stieg Larsson. There is no comparison between the two Scandinavian crime writers: Nesbø is infinitely better. /…/ There are lots of good reasons to love Nesbø, who was once a major-league footballer, then became a chart-topping musician. He doesn't try to blind with science or bore with ballistics. The killings are shocking but not senseless. The detective work is slow but very clever. You won't see the killer a mile off, and there are as many red herrings as you might expect in that part of the world. No detail is wasted, so you must pay attention from page one if you want to understand the fabulously satisfying puzzle that is a Nesbø novel."

"If you like detective fiction, you'll love this. /…/ Nesbo writes smart blockbuster fiction but with a melancholy and intelligent edge."

"In 699 pages that are devoured at a furious speed, the master of red herrings once again manages to convince us that love and murder are the only subjects worth writing about."

"Jo Nesbø's The Leopard displays truly thorough crime novel craftsmanship."

"Joseph Conrad in his days revealed Heart of Darkness but Nesbø, in his most hard-boiled thriller to date, shows us that the same heart will also beat in a Norwegian mountain lodge."

"A man with multiple talents: a successful stockbroker, a successful rock musician and by far the most successful Norwegian writer. Jo Nesbø's crime novels about inspector Harry Hole belong to the very best of its genre. /…/ The book is as sharp as a predator's claws!"

"With his novels, Jo Nesbø effortlessly fills the void left by Henning Mankell."

"Jo Nesbø's book is just as good as its Swedish equivalents: thorough, complex and refined. The Leopard is one of those great, thick novels that make one spend a highly productive weekend on the couch reading."

"With The Leopard, the Norwegian writer Jo Nesbø has once again succeeded in writing an ultra-suspenseful thriller. Nesbø consistently surprises his readers with new, unexpected twists. The plot is minutely chiseled and never loses its grip on the reader. A real hair-raiser from the far North!"

"Jo Nesbø strongly aspires to the title of the best Nordic crime writer. /…/ He also writes fantastic dialogue, suspenseful as hell and the text is dense, dense /…/ Jo Nesbø continues toward the very top of European crime writers."

"Thrilling, well-written and very surprising."

"Both Harry and Kaja are so well described that they appear to be completely real, and combined with a perfect language for the genre, this is a crime novel that beats the vast majority."

"[Harry] Hole has for each book developed to become one of the most interesting and diverse heroes of contemporary crime literature… The Leopard rewards its readers with an experience that can accommodate many levels, in addition to the straightforward page-turner mystery."

"There is good reason that his crime novels are multiply awarded. Nesbø blossoms a bit more for every book about Detective Harry Hole. In The Leopard, the eighth novel about the brilliant, ice cold and yet so vulnerable Harry Hole, Nesbø has created a more or less complete crime story. Everything is there: the complex plot, the annoying red herrings and dead-end alleys that Nesbø lures the reader into, only to make a U-turn and spin the story 180° to show us another side. Deftly and skillfully he seduces us straight into the violent story with his direct, well-written language."

"Jo Nesbø has done it again. This eighth book in the Harry Hole series is just as nerve-wracking and thrilling as the books that precede it. The fact that Jo Nesbø is regarded as one of the best crime authors in Europe is not at all surprising."

"A sleep-depriving suspense novel in which the pages turn themselves, while the readers are on a marathon of curiosity."

"There are numerous reasons to be fond of Jo Nesbø and his Harry Hole. Unlike many of his colleagues, Harry Hole never becomes sophisticated. He is just as addicted and unreliable in private matters as always – contrary to crime-colleagues like Mathew Scudder in Lawrence Block's New Yorker books, Dave Robicheaux in James Lee Burke's Deep South thrillers, and the nameless [investigator] in Dan Turèll's local thrillers, who get sweet wives and not too much alcohol. In addition, Jo Nesbø writes better than most, and that says a lot in a Scandinavian context. /…/ It is lethally entertaining with the unexpected twists that are Nesbø's trademark."

"The opening chapter with an African torture [device] is so hair-raising that the readers heart, from the very first line, hardens like that of the victim of an avalanche, wherein the organs of the inhumed sleep armor-clad /…/ With Jo Nesbø one is not only buried in snow, but also in suspense until the very last page. In addition, one is introduced to an array of both murderers and investigators bearing an uncanny resemblance to those of real life."

"An explosive and fast-paced crime novel. A brick of 639 pages that one with excitement and expectation devours with blind and almost childish conviction that the joy of expectation will be met. Nesbø and [Detective] Hole do not disappoint. /…/ A terrifyingly intelligent and surprising plot that captivates form the first page, and surprises and drags the reader through [his or her] entire catalogue of emotions until the last page. /…/ Jo Nesbø keeps his reader enthralled in an astonishing way, as he together with Harry searches for an explanation to the madness – an answer obscured in darkness."

"The story drags [Detective] Hole from Hong Kong to Oslo, to sizzling Congolese volcanoes and to snow-capped mountains, and it occurs in a pace and with an elegance that makes the English expression page-turner the most precise description of The Leopard. But readers who expect a happy ending will, as always with Nesbø, be disappointed. That, however, only makes [his] novels better. It is beyond solid craftsmanship to be able to maintain the suspense in a story over so many pages. And where the greatest bestseller of our times – the deceased Stieg Larsson – despite the success barely managed to hold the plot-lines together the entire way, Nesbø commands the art until the very last page. Thus, the book is both long and captivating."

"Ruthlessly suspenseful."

"A crime novel of significant proportions. /…/ One turns page after page, and not one single word feels excessive."

"Another top-quality crime novel. /…/ Jo Nesbø has once again crafted a scintillating and literary piece of fiction."

"The eighth Harry Hole-novel competes with the very best in the genre. The Leopard is a veritable hyperbole of a suspense novel, six hundred pages with an intrigue that both grips and rattles the reader from the very first moment."

"All crime fans that have waited in breathless suspense for Jo Nesbø's new novel can exhale in relief. The next installment in the Harry Hole series – The Leopard – is finally here. Once again the author has managed to fill an extensive crime novel with his characteristic prose, an impressive ensemble, and above all an extraordinarily ingenious plot. /…/ Also in this new novel Jo Nesbø proves that all the acclaim he has received in the form of awards and sales is certainly not out of mere serendipity. His greatest achievement as an author is [his] highly eloquent style. As a raconteur, he quickly ascends to the highest stratum of Norwegian literature. At his finest, the prose is nothing short of dazzling."

"This is not only Norway's best crime novel. It may be the world's best."
Author

Jo Nesbø

Published

2009

Genre

Pages

639

Reading material

Norwegian edition

English edition

German edition

French edition

Rights sold

Albania, Dudaj

Arab World, Arab Scientific

Azerbaijan, Qanun

Bosnia and Herzegovina, Buybook

Brazil, Record

Bulgaria, Emas

Canada, Penguin Random House

Catalonia, Proa

China, Booky (Simplified Chinese)

Croatia, Fokus

Czech Republic, Zlin

Denmark, Modtryk

Estonia, Varrak

Finland, Johnny Kniga

France, Gallimard

Germany, Ullstein

Greece, Metaixmio

Hungary, Animus

Iceland, Forlagid

Israel, Babel

Italy, Einaudi

Japan, Shueisha

Korea, Viche

Latvia, Zvaigzne ABC

Lithuania, Baltos Lankos

Netherlands, Cargo

North Macedonia, TRI

Norway, Aschehoug

Poland, Dolnoslaskie

Portugal, Dom Quixote

Romania, Trei

Russia, Inostranka

Serbia, Laguna

Slovakia, Ikar

Slovenia, Didakta

Slovenia, Mladinska

Spain, Mondadori

Sweden, Albert Bonniers

Taiwan, Azoth (Complex Chinese)

Thailand, WeLearn

Türkiye, Dogan Egmont

UK, Harvill

Ukraine, Folio

US, Knopf

Film rights sold

UK/US, Working Title