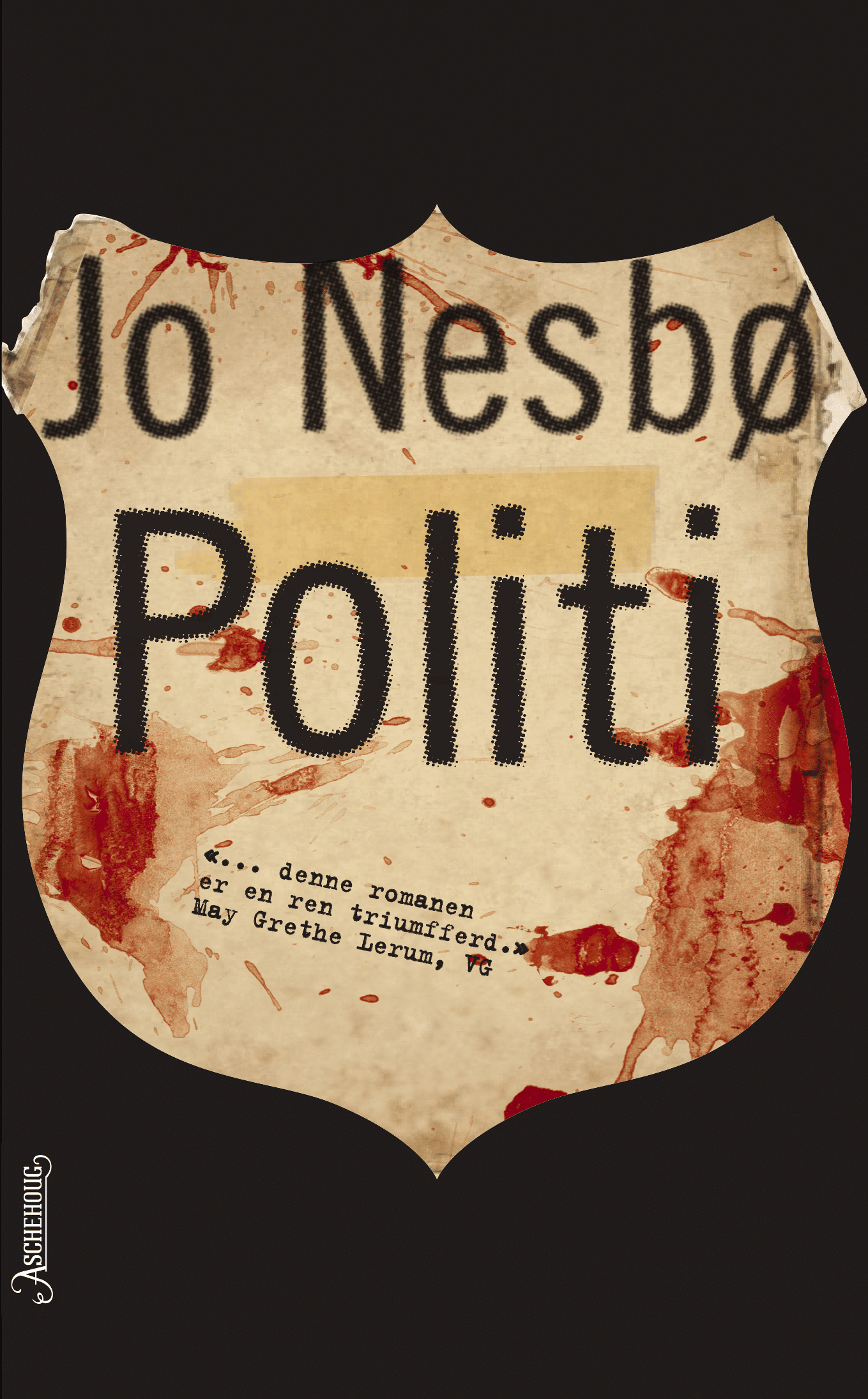 Politi
Police
Harry Hole #10
When a police officer is found murdered at the scene of an old unsolved murder case that he was involved in investigating, it can hardly be a coincidence. When the same thing happens to two other officers in a matter of months the pattern is as clear as it is terrifying. None of the old cases were ever solved. The killings are extremely brutal and the police have no leads. What's more, they're missing their best investigator.
At the same time, a severely wounded man is in a coma and kept alive at a hospital in Oslo. The police guard the room and the identity of the patient is kept secret.
Once again Jo Nesbø delivers a devilishly clever story about the scope of human evil; a cat-and-mouse game that involves not only the victims and the police, but also the reader.
Reviews
"This densely plotted story, is one of Nesbo's darkest and most disturbing /…/ The chills are palpable in this nerve-racking thriller"

"One hell of a thriller. /…/ Nesbø cunningly plays with the reader throughout this devilishly plotted tale, introducing multiple corkscrewing twists and, while we're worrying about Harry, slipping in a horrifying shocker from another direction together. The narrative is ingenious, but it grips us the way it does because, after nine novels, we've formed abiding relationships with these characters and don't like to seem them messed with. Nesbø messes with everyone here, especially the reader, but furious as we'd like to be, in the end we're willing supplicants."

"Having upped the ante with the previous novel in the Harry Hole series, the author goes for broke here. Arguably the most densely packed and ambitiously plotted novel in a series that has been getting darker with each volume /…/ There's a religious dimension to the plot twists of death and rebirth, of man playing god, both the redeemer and the avenger. /…/ a surprise ending promises a fresh start for a series that had appeared to end with its previous novel."

"Nordic noir at its darkest. /…/ [The] latest and best of the ten-book Harry Hole series. /…/ Enormous tension."

"Police is at heart a completely satisfying, deeply principled novel. /…/ Once again, Nesbø proves himself to be the real thing."

"This is a Harry Hole thriller. Yes, it's dark. Yes it's thoughtful. Yes, it has plot twists worthy of a Mobius strip."

"It's a dizzyingly taut feat of storytelling. The murders are grisly, gruesome, and gory without overwhelming the narrative, and Nesbo deftly juggles multiple plotlines using terrific sleights of hand to gradually reveal where they might intersect while lovingly rounding out each of his characters, heroes and villains alike. /…/ Nesbo's got mesmerizing descriptive powers /…/ Nesbo's trademark intensity never flags throughout the roller-coaster waves of this highly enjoyable ride."

"Mr. Nesbo's work is so dark, intense and bone chilling that immersion in his world for an extended period is not for the sensitive. /…/ It will be no surprise to Mr. Nesbo's admirers that the plot is intricate and surprising, with blind alleys and misdirection, but not far-fetched. Harry is a compelling hero/antihero whose ongoing influence on his police comrades and friends is demonstrated throughout Police."

"A hugely enjoyable game of cat-and-mouse /…/ In fact, Nesbo manages the book's unnervingly scary scenes so well he should consider tackling a horror novel"

"Policeman Harry Hole is flawed in many ways, but he's all the more perfect because of it. /…/ Right to the very end, it is unclear if the case has ended in triumph or tragedy. Nesbo keeps everything hanging in the balance, just the way his fans like it."

"Scandinavian crime thrillers don't come much darker or more tense than the best-selling Harry Hole series, and this tenth outing for the Norwegian detective is the best yet."

"Nesbø is a clever writer and plotter. Over the years he has built up a brilliant cast of supporting characters to orbit Hole and now it is their time to shine. /…/ They are such brilliantly drawn characters, layered by a shared history that you do not even miss Hole that much at first. Not to mention that the plot will keep you far too occupied to mourn his absence. Yet again, Nesbø has succeeded in producing a multi-layered and intertwining story that makes your head spin, while delivering a masterclass in suspenseful writing."

"Nesbo lays out the plot slowly, throwing in plenty of red herrings on the way while building the tension to an unbearable pitch, then plunges the reader into a maelstroem of mayhem and murder before the story is finally and violently resolved. The formula is addictive…"

"[Jo Nesbø is] the doyen of Scandinavian crime fiction /…/ Nesbø has succeeded in producing a multi-layered and intertwining story that makes your head spin, while delivering a masterclass in suspenseful writing. /…/ Simply sit back and enjoy every twist and turn."

"[So] cleverly beguiling that it should come with a dustcover advisory: 'Warning: May be harmful to your job, marriage, sleep and blood pressure.' /…/ Nesbø has, over the course of ten Hole books, conjured up one of the most magnetic detectives—some say, character of any stripe—in modern fiction."

"Ten books on, Jo Nesbo's Harry Hole series just keeps getting better. /…/ This plot has people, pacing and place that keep the action moving right up to the final chapter. A must for Harry Hole fans and a great place to start for those who haven't discovered this superb series."

"It's a mark of how deceitfully artful Nesbo is that he can lead readers so completely down the rabbit hole or make their jaws literally drop with the shock of a development. You can follow the mocking trail back, convinced he's lying—only to find out he never actually said what you thought you read. If that isn't masterful storytelling, I don't know what is. But it makes you want to laugh and cry, applaud him and punch him at the same time. And there's no way not to fall for the trick every time: no assurance that he won't knock off a key character because you think most authors don't have the guts to. Well, this one does, in a cruel imitation of real life. /…/ It's been four weeks since I turned that last page. I'm still waiting for the suspense to die down."

"Police is a brilliant showcase of modern life in Oslo. /…/ Nesbo shows us a wonderful Oslo, and how the investigators balance gruesome jobs with complicated family lives. He masterfully cranks the suspense as some likeable characters end up chopped into tiny pieces. It's not all brutality and horror, though. Harry is a forty-something 'kidult' who likes having fun, but wrestles with commitment and alcohol issues. The plot twists are rapid and gut-wrenching."

"Harry Hole is great. He is heavy, sharp as a scythe, and as uncompromising as Norwegian cold and darkness. But he is not only good company, for he drinks, makes mistakes, is very unpopular with his bosses, and screws up his private life. Therefore you as a reader love him. This novel is darker than the nine previous ones in the series and the roles are reversed: an absent Harry Hole, a vulnerable Beate Lønn, a full-blown killer, and a bunch of sick and corrupt policemen. A knockout of a Nordic crime novel."

"The master of all masters in the art of creating nerve jangling cliffhangers… /…/ Serial killers, psychopathic villains, empathetic policemen, eccentric minor characters – Police contains all of this and more, and naturally Nesbø unfolds his story with the usual sense of extremely complex investigation process, with additional unbearable suspense, and solved by the world's best and cutest detective – the readers will be glued to their seats."

"Police is a tour de force of what Nesbø is capable of: to write with no holds barred and spectacularly excellence with several plot lines in play."

"[Nesbø] brilliantly tricks the reader"

"Nesbø's super effective, new crime novel is of course extremely suspenseful /…/ The tenth installment in the series about Harry Hole fully lives up to all the expectations of a Nesbø classic /…/ there is no doubt that Nesbø is definitely among the best when it comes to constructing a mind-blowing plot."

"Nesbø simply has all the tools in his hand. He builds, he tightens the screws, he drills – he smashes. /…/ Police is nothing less than outstanding"

"Nesbø conjures up the darkest and most brutal crimes. Something that he is very aware of and therefore takes pleasure in tricking the readers. Sometimes he builds up the tension so much that the heart almost stops and the hair stands on end only to let everything take a somewhat bizarre twist. /…/ Jo Nesbø once again delivers a thriller that beats many others in the genre."

"There's the hand of a master behind this novel. Jo Nesbø weaves an intricate and complex web of all the characters that appear and disappear in the plot. Many times he completely tricks me, especially the final chapters that thoroughly shook me. /…/ I'll conclude with a commandment: buy or borrow and read! You won't find a better summer read in the crime genre right now."

"The plot of Police is constructed with standard Nesboian skill – the suspense is increased to an almost unbearable level, while the premise and the characters roles are twisted and turned in a way that both unnerves and misleads."

"All Nesbø fans that have already read The Bat and the other novels won't be disappointed by Police. The novels by the Norwegian king of crime are actually only getting better and better."

"Nesbø dazzles with small and large diversions throughout the book, and like a magician, the author makes us believe completely in things we cannot really know. /…/ Police is full of bizarre antics, with many original characters, and even some facetious moves."

"With this novel, Jo Nesbø proves that the crime genre can be elevated to new levels, both in literary terms and when it comes to an innovative, sublime, suspenseful and surprising plot. /…/ [Police] is a pure triumph: not only does Nesbø surpass his past successes; he also shows that he has incorporated some sort of plan since 1997, when the first Harry Hole novel was published. /…/ This is not only an intelligent crime novel; it is also perfectly composed and can be enjoyed with gusto."

"Police is a fast-paced crime novel with a great deal of exhilaration and suspense /…/ As Phantom was more subdued and less violent, Police is more similar to the two previous smash hits The Leopard and The Snowman. /…/ A spiral of action that never seems to end. It is impressively executed and as a craftsmanship considered to be superb. If you are a fan of Nesbø, Police will not dismay. Further to the eternal question as to why this man sells so many crime novels: for the simple reason that he is an extremely talented crime author?"

"Nesbø makes use of the reader's expectations and prejudices to the max /…/ I know of no other writer in Norway who has mastered that art as well [as Nesbø]. In addition, the level of detail, and now I'm not talking about the brutality, is impressively well placed. Nothing is random, and that is of course how it should be in a properly edited text. Surprisingly often I'm struck by how dull much of today's crime fiction is. Jo Nesbø alone makes up for a lot of sighs in that regard."

"Police has all the traits that we have come to expect from a Harry Hole novel: a story that works entirely and where the reader more than once may wonder if Nesbø is playing a joke on us, a story that is told at a pace and with a built-in pressure that almost forces the text on the reader. The language is distinct and direct /…/ with the dialogues as its strongest suite. The suspense is impeccable."

"Police consolidates, and probably also reinforces, Jo Nesbø's position as the world champion of crime fiction"
Author

Jo Nesbø

Published

2013

Genre

Pages

528

Reading material

Norwegian edition

English edition

Rights sold

Arab World, Arab Scientific

Azerbaijan, Qanun

Brazil, Record

Bulgaria, Emas

Canada, Penguin Random House

Catalonia, Proa

China, Booky (Simplified Chinese)

Croatia, Fokus

Czech Republic, Zlin

Denmark, Modtryk

Estonia, Varrak

Finland, Johnny Kniga

France, Gallimard

Germany, Ullstein

Greece, Metaixmio

Hungary, Animus

Iceland, Forlagid

Israel, Babel

Italy, Einaudi

Korea, Viche

Latvia, Zvaigzne ABC

Lithuania, Baltos Lankos

Netherlands, Cargo

North Macedonia, TRI

Norway, Aschehoug

Poland, Dolnoslaskie

Portugal, Dom Quixote

Romania, Trei

Russia, Inostranka

Serbia, Laguna

Slovakia, Ikar

Slovenia, Didakta

Slovenia, Mladinska

Spain, Mondadori

Sweden, Albert Bonniers

Taiwan, Azoth (Complex Chinese)

Türkiye, Dogan Egmont

UK, Harvill

Ukraine, Folio

US, Knopf

Film rights sold

UK/US, Working Title