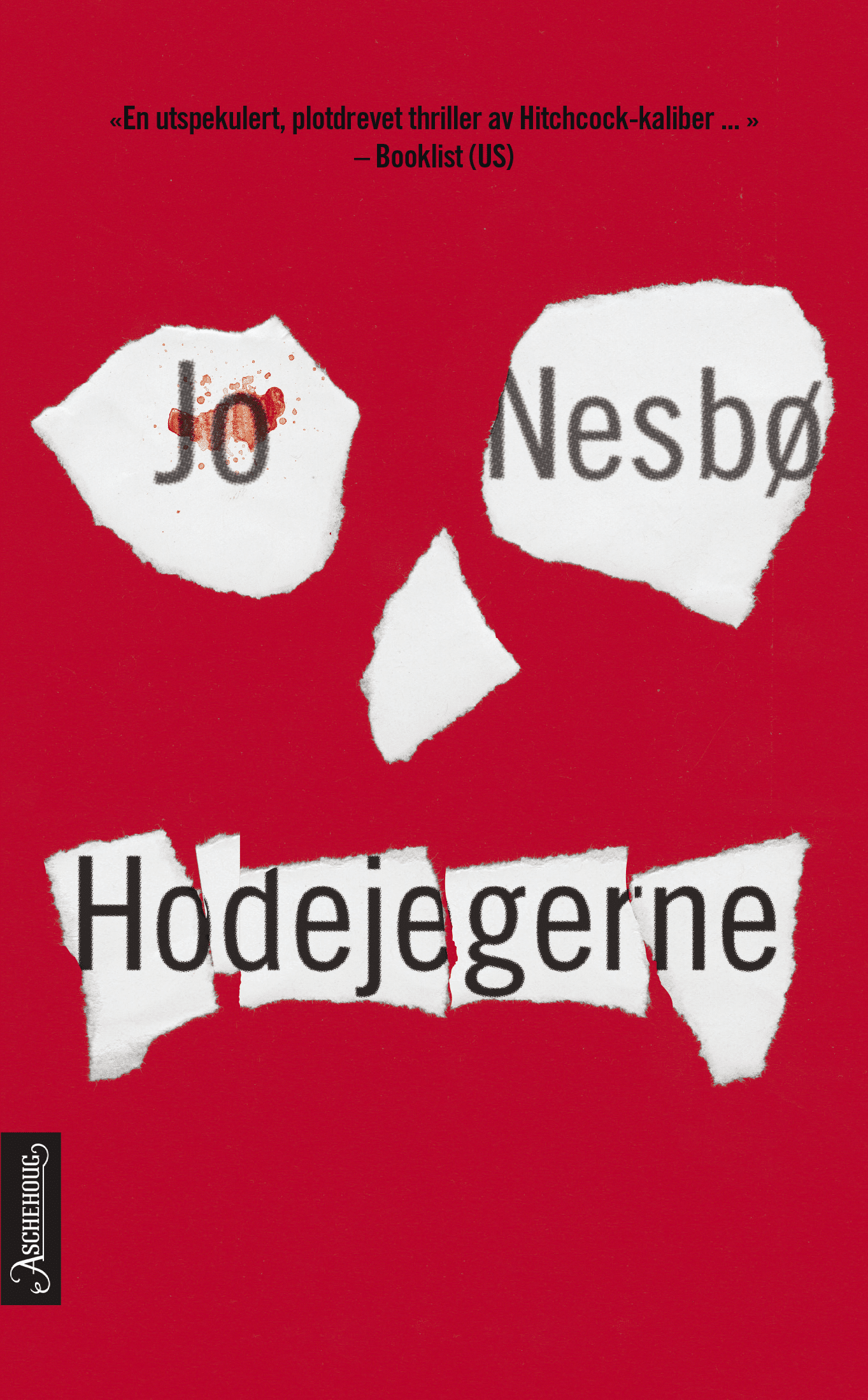 Headhunters introduces the charming villain Roger Brown, a man who seems to have it all: he is Norway's most successful headhunter, married to the beautiful gallery owner Diana, owns a magnificent house, and is living larger than he should. Meanwhile, he is playing at the dangerous game of art theft. At a gallery opening, his wife introduces him to the Dutchman Clas Greve. Not only is Greve the perfect candidate for the CEO position of the GPS company Pathfinder for which Brown is recruiting – he is also in possession of "The Calydonian Boar Hunt" by Peter Paul Rubens, one of the most sought-after paintings in modern art history. Roger sees his chance to become financially independent, and starts planning his biggest hit ever. However, he soon runs into trouble – and this time around it's not financial problems that are threatening to knock him over…
The winding, explosive plot takes us from society's financial and industrial elite to an underworld of contract killers and swindlers, offering Nesbo's variations on the most spectacular murders, car chases and escapes that the genre has to offer on the way.
When Headhunters was published in 2008, Jo Nesbø established the Harry Hole Foundation – a charity to reduce illiteracy among children in the third world. All proceeds from Headhunters, in all editions and formats including the movie adaptation, go directly to the Harry Hole Foundation.
Yellow Bird Productions (the company behind the adaptations of Stieg Larsson's Millennium and Henning Mankell's Wallander) produced the Scandinavian movie adaptation of Headhunters. The film opened in Oslo in August 2011, and the distribution rights are sold to more than 30 countries, with an American remake in the works.
In March 2013 Headhunters was awarded 'Best Thriller' at Empire Awards.
Headhunters was awarded the 2008 Norwegian Book Club Prize for 'Best Novel of the Year'.
"Hilarious and creepy, too! Couldn't put it down."
–Stephen King
Click here for a video interview in English with Jo Nesbø about Headhunters.
Click here to watch a book trailer on Headhunters made by Jo Nesbø's Swedish publisher Piratförlaget.
Click here to watch a book trailer on Headhunters made by Jo Nesbø's German publisher Ullstein.
Click here to watch a book trailer on Headhunters made by Jo Nesbø's Norwegian publisher Aschehoug.
Reviews
"A twisty, plot-driven Hitchcockian thriller /…/ Nesbo delivers one shock after the other, culminating with a doozy of a switcheroo at the finish. It's gripping reading."

"This stand-alone gives us a brilliant array of variously flawed human beings involved in a tale of intricate plotting, excellent characterization, made-for-the-movies effects and images, and a multifaceted surprise ending. /…/ this is a true thriller from start to finish. Sure to be enjoyed by devotees of Stieg Larsson, Henning Mankell, and even the post–Cold War oeuvre of John le Carré."

"[The] dizzying reversals of fortune and situations that would be over-the-top in lesser hands make for a delightful roller-coaster ride. Carl Hiaasen and Elmore Leonard fans will be delighted."

"There's a reason Jo Nesbø has been dubbed 'the next Stieg Larsson': his gripping Harry Hole detective series, including this year's The Snowman, read like cinematic thrillers. The pace of Nesbø's novels draws comparisons to Larsson, but his pithy, intellectual prose distinguishes Headhunters from The Girl with the Dragon Tattoo. With Nabokovian skill, Nesbø cunningly manipulates the reader to sympathize with an unsympathetic protagonist in this invigorating must-read."

"a darkly comic caper story"

"Nesbo is a master storyteller, gripping the reader from the first page and ratcheting up the suspense in a thrilling finale with several satisfying twists."

"The result is a masterclass in obfuscation and psychological parrying. /…/ Nesbo has that rare talent for turning the tables on readers, confounding expectations and revealing only what is intended."

"Just as well-executed as his regular police procedurals. Based around an art theft it's written in the Norwegian author's typical no-nonsense prose, and plotted with precision to create a relentless and breakneck tale that keeps the reader hungrily turning the pages for more."

"Nesbo is a master storyteller, gripping the reader from the first page and ratcheting up the suspense in a thrilling finale with several satisfying twists. Any readers coming to Nesbo for the first time will find this a cracking, if slightly far-fetched read while his fans will find plenty to entertain them."

"Don't miss this thriller from the UK's second biggest-selling fiction author about an ambitious art thief."

"With echoes of The Thomas Crown Affair, spectacular storytelling and a beautifully judged super-twist, it confirms Nesbo's place at the pinnacle of thriller writers and, inevitably, a film version will be with us next year. It's that good."

"An accomplished novel from a first-rate author."

"Headhunters rapidly turns into a gripping read with strangely authentic characters, who are as dislikeable as they are loveable… Nesbo made these characters real, troubled and emotionally engaging. And, what's more, this book is a million miles away from his serial character, Harry Hole. Don't be fooled though, there is plenty of violence and action here too. Nesbo just takes his time, lulling us into a sense of false security before bringing the whole delicate chandelier crashing down. Technically, the novel works brilliantly. /…/ I got lost in this book and hours skipped by as the chapters got shorter, more tense and the pace quickened to an almost unbearable crescendo… A thoroughly satisfying read."

"Nesbo proves there's life beyond his dour detective with his pithy, thrill a minute tale Headhunters, set in the cut-throat world of executive placement. /…/ I truly enjoyed this fast paced and at times extremely tense romp – it reminded me very much of Douglas Kennedy/…/ Plus like Kennedy, Nesbo employs the first person narrative so you really share in the roller-coaster ride of his character's story. The twists and turns in Headhunters will keep you hooked from the first line to the last. /…/ A terrific book with an ending you might not expect."

"Headhunters also has the typical undercurrents of all his stories, written in a matter-of-fact and sharp-witted style and tempts readers to spend many sleepless nights. /…/ As always, he leads his readers along ever-changing paths, only to turn at lightning speed. The plot is so cleverly and convincingly composed that… the only real difficulty is to put away the book before it's finished."

"Headhunters is so perfectly constructed and so deftly conveyed that it is impossible not to be carried away."

"Nesbø is in great shape in this page-turner: the text flows, dynamic and suspenseful – full of drastic turns and crude humor. Splendid!"

"That this brilliant storyteller should let a thriller about the financial world develop into a concrete murder mystery isn't really surprising. What surprises, though, is his talent for presenting new leads and tying them all together in a convincing finale. Headhunter is guaranteed to give you top quality excitement, horror, humor. /…/ Deliciously dangerous!"

"The positions continuously change under the daring hunt; the thriller is concluded in a brilliant finale."

"Once again Jo Nesbø proves his keen sense of absurdity and horror. /…/ Nesbø's jeering description of life and custom is very enjoyable."

"This book is one you absolutely have to read /…/ The outrageous storytelling is so engaging it makes James Ellroy look like a boy scout and Bret Easton Ellis like a sunday school boy."

"Headhunters is, just as Nesbø's other novels, extremely well-written."

"Nesbø can out-write most of his Scandinavian colleagues /…/ [Headhunters is] cleverly written and effectively composed, and you can easily devour it in one ravenous read."

"Suspense, genuine creepiness, macabre murders and a great deal of humor /…/ One of this year's best."

"Tarantino meets the Coen brothers in Nesbø's crime novel."

"Headhunters is a raging, talented and clever con comedy."

"Headhunters has everything that makes a good crime novel: strange murders, inventive disappearing acts, and above all brilliant fraud for all you're worth."

"Headhunters is a breathtaking thriller with fraud and murder in international settings, and Jo Nesbø can both maintain the suspense and store some cunning surprises."

"Superior, ingenious, and even credible. /…/ Hats off for the Norwegian rogue who obviously knows his stuff. From heavy crime novels to a playful appropriation of the genre."

"In Headhunters, Jo Nesbø has wound an intrigue around a fable axis that gradually increases the suspense to the very limit of what a thriller can contain."

"Charming, suspenseful and very entertaining. /…/ Nesbø demonstrates what a skilled author he is and how well he knows the genre… It's also clear that he has had fun leaving the habitual framework of the police procedural, and the reader will have at least as much fun."

"An exuberant, sparkling story with epic equilibristic qualities."

"Nesbø knows how to create suspense, something he readily demonstrates in Headhunters: a mind-blowing story that captivates the reader from the very first page. /…/ Nesbø's humor has simply flowed in the absence of [Harry] Hole. He has found a delightfully terse, hard-boiled tone reminiscent of Raymond Chandler and Dashiell Hammett's, excelling exactly where it should: when circumstances are the worst, bullets whizz by and the corpses pile up. He also provides glimpses of cultural depths: art history is present and in one particular get away-scene I think Nesbø is even channeling August Strindberg. All in all, it's entertaining, sharp and suspenseful, with an interesting, twisted love story as the plot's engine."

"Outdoes most in the Nordic crime wave."

"Headhunters is simply a remarkably captivating page-turner, like a bowl of cheez doodles that one can't help but devour all at once. Such pacey and surprising writing is an art form. The plot is ingenious… In addition, Nesbø is a master at blending terror, gravity and humor."

"The book is extraordinarily cinematically constructed from the very start, with a powerfully suspenseful narrative pace and cliffhangers in nearly every chapter. /…/ Jo Nesbø knows how to raise the pace and tension, and also spices it up with dark humor… There is not one boring moment in the story."

"It's full throttle from the very first page… [Nesbø's] clever intrigue is brilliant"

"Patrcia Highsmith's world famous psychopath Tom Ripley has gotten a contemporary challenger… a dark story in which our time's constant hunt for more – more money, more stuff, more happiness – is central. At the same time Jo Nesbø allows himself to twist and stretch genre formulae and dares to be funny. The result is an insanely entertaining and highly well-written thriller – definitely on par with Highsmith."

"A higly entertaining, first-rate crime novel, where Nesbo uses his entire catalogue of narrative techniques and devices to tell a story that is wilder and more zany than ever."

"…while this rather unlikely, entertaining and at times both humorous and imaginative story snakes its way forward, toward its inexorably tragic outcome, the reader is glued to the pages like gum to the street. /…/ With Headhunters, Nesbo has accomplished an easily digested, but nevertheless brilliant and elegant thriller."

"…a safe investment for anyone looking for a suspenseful summer read of top-notch quality."
Author

Jo Nesbø

Published

2008

Genre

Pages

240

Reading material

Norwegian edition

English edition

Rights sold

Arab World, Masr El Arabia

Armenia, Guitank

Brazil, Record

Bulgaria, Emas

Canada, Penguin Random House

Catalonia, Proa

China, Booky (Simplified Chinese)

Croatia, Fokus

Czech Republic, Zlin

Denmark, Modtryk

Estonia, Varrak

Finland, Johnny Kniga

France, Gallimard

Georgia, Palitra

Germany, Ullstein

Greece, Metaixmio

Hungary, Animus

Iceland, Forlagid

Israel, Babel

Italy, Einaudi

Japan, Kodansha Bunko

Korea, Sallim

Lithuania, Baltos Lankos

Netherlands, Cargo

North Macedonia, TRI

Norway, Aschehoug

Poland, Dolnoslaskie

Portugal, Dom Quixote

Romania, Trei

Russia, Inostranka

Serbia, Laguna

Slovakia, Ikar

Spain, Mondadori (World Spanish)

Sweden, Albert Bonniers

Taiwan, Azoth (Complex Chinese)

UK, Harvill Secker

Ukraine, Folio

US, Vintage

Film rights sold

Sweden, Yellow Bird