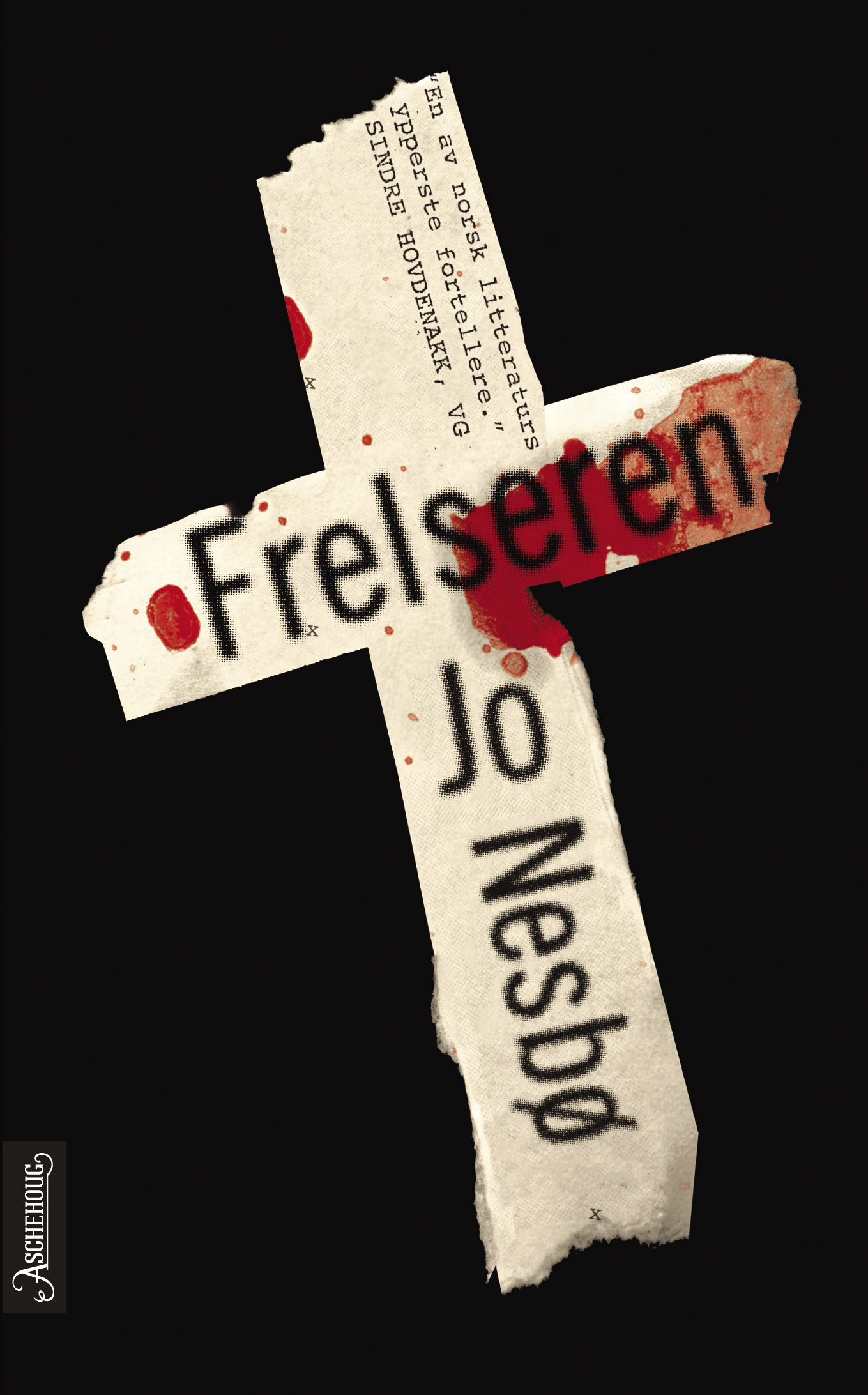 Frelseren
The Redeemer
Harry Hole #6
A mixture of religion, urban misery, modern European history and grisly horror, The Redeemer takes the crime writing of Jo Nesbø to yet another level, establishing him firmly as one of the international top names in crime fiction. Through a snow-swept Oslo decked for Christmas, Inspector Harry Hole chases a faceless contract killer from former Yugoslavia. A chase that has the troubled detective sift through depraved vagrants and Salvationists, eagerly awaiting a new saviour to deliver them from misery – whether it be through resurrection or demise.
The international bestseller, The Redeemer, is the best selling book ever in hardback for Aschehoug (est. 1872). (Aschehoug is one of Norway's leading publishing houses.)
The Redeemer was shortlisted for The CWA International Dagger 2009.
"The Redeemer rocks! Jo Nesbo is my new favorite thriller writer and Harry Hole my new hero. This book had my pulse in the red zone from start to finish."
–Michael Connelly
Click here for a video interview in English with Jo Nesbø about The Redeemer.
Click here to watch a book trailer on The Redeemer made by Jo Nesbø's Slovakian publisher Ikar.
Reviews
"Rarely does a mystery novel succeed on so many levels, as the intricate plotting explores psychological and theological dimensions that go deeper than standard notions of good and evil. As a literary stylist as well as as a master of mystery, Nesbø has established himself as the king of Scandinavian crime fiction. /…/ [The Redeemer] may be the best, or at least the richest, in its evocation of a sinister plot /…/ Ultimately, a story with a lot of pieces to its puzzle hurtles toward a climax that is not merely sad, but tragic."

"The deeply flawed Hole is his familiar self: difficult and disrespectful, brilliant and intuitive. /…/ The primary narrative, told in powerful prose, never fails to grip."

"This intense, atmospheric and satisfyingly intelligent installment continues a strong series."

"[A] breathtaking police thriller /…/ [A] swift novel, full of shocking chance and nuance, unforeseen twists and ice-crystal-clear views of Oslo in winter. /…/ From the grotesque to the poignant, from shootout to hangover, Mr. Nesbo has the prose style to keep a reader entranced. There are tension-breaking moments of humor and scenes of subtle emotion as the taciturn Harry comforts or congratulates comrades."

"If you are looking for a new addiction, I suggest picking a book from the Harry Hole series by Jo Nesbø. /…/ The Redeemer is possibly Nesbø's most complex and fully realized work to date. /…/ By the time you reach the conclusion, you'll be amazed by and a little dizzy from all of the twists and turns that Nesbø has put you through, but you'll be the more entertained for it. /…/ Taken as a whole, The Redeemer just might be the ultimate hitman novel."

"Written in Nesbø's distinctive fast-and-furious style, The Redeemer offers insight to the surly attitude that defines Harry Hole, Nesbø's abbrasive Oslo detective, who functions best when he's flying solo. /…/ The plot is nice and tricky."

"Speaking of grim, if you haven't met Harry Hole, the dark, disturbed and often-drunk hero of Norwegian musician/crime novelist Jo Nesbo, the 417-page The Redeemer is the perfect chance. Nesbo's Hole novels – this is his seventh – are packed with details about life in Norway and usually feature particularly sadistic anti-heroes."

"Jo Nesbo is the successor to the late Swedish author Stieg Larsson as the go-to guy for Scandanavian crime writing. Nesbo's Oslo detective Harry Hole is far from perfect — that is, he's human — and the Norwegian ace's plots (who knew nice little Norway had so many diabolical serial killers?) are complex without becoming overheated. /…/ As always in a Nesbo novel, the pace is relentless."

"The Redeemer is Nesbø's fourth novel and it proves to be as brilliant as his other three. It provides a grimly realistic portrait of the Norwegian capital – druggies shooting up in public; refugees being exploited in private – as well as an engrossing mystery, full of twists. /…/ The Croatian assassin is a fascinating character – a former hero with a truly fatal gay charm – who has the advantage of 'hyperelasticity', a face so mobile no one can remember it. Nesbø's work is full of such idiosyncratic detail and it is to be hoped that he won't let the world-weary Hole retire or get fired any time soon."

"The killer's boyhood in the war-torn Balkans gives added depth to a complex story, impossible to second-guess, which proves that greed, lust and a desire for revenge lurk within the saintliest of folk."

"The new [Raymond] Chandler."

"Nesbø has been gradually climbing up the competitive league of Nordic crime writers. With The Redeemer he's touching the summit, and his hero, the stubborn, insubordinate Oslo detective Harry Hole, has become my favorite copper from those parts… Terrific shocks, tension and atmosphere."

"A tour de force. Nesbø has a plot here that is so tightly constructed and compelling that it is impossible to put the book down. This is a serial-killer story, and one with a punch."

"Jo Nesbo has created the perfect police detective. Probably the best of recent times. Just as honorable as flawed. A lone wolf, full of edge and defect. Extremely authentic. [Harry Hole] recognizes himself in all the misery around him. He doesn't laugh at ghost stories, because he believes in them. He doesn't believe in photographs, because he knows that they have a destructive effect on the ability to forget. He is a hero to the core with a dream of a life that he knows he will never reach, perhaps because his misfortune is that he's better at coping with ghosts and demons than with human beings."

"Nesbø has proven to have found his calling in life: to write page-turners."

"The extraordinary Nesbø plays his usual game, on an exceptionally high level… [his stories are] addictive puzzles."

"Fascinating characters, interesting storyline inversions. The Redeemer has got it all."

"Splendid and intelligent /…/ A magnificent and thrilling story."

"Hole in one. /…/ Jo Nesbø has done it again. This autumn's Harry Hole crime novel is conceived on a large scale and masterfully executed. /…/ One of Norwegian literature's most outstanding storytellers just happens to be named Jo Nesbø."

"Nesbø is in a league of his own. /…/ Better thrillers are hardly being written in Norway these days. Jo Nesbø is completely supreme at this time as the Norwegian mystery series leader. /…/ Jo Nesbø is on a par with American thriller writers like Corben, Connelly, Deaver, Grisham and whatever their names are…"

"Exquisite fast-paced crime novel by Jo Nesbø."

"Right on the mark from Jo Nesbø. /…/ Jo Nesbø draws his bow, takes aim and hits a bull's eye. He has the language, he has the suspense — and he has Harry Hole. Jo Nesbø delivers an unusually sterling crime product with The Redeemer. He is a storyteller who doesn't give the reader a moment's breathing room, it's full-bore 464 pages to the end. /…/ In case you haven't already been saved by Jo Nesbø, it's high time you were."

"The best Harry Hole novel."

"Jo Nesbø's The Redeemer is a superb crime novel. /…/ Nesbø is Scandinavia's best crime author. /…/ The Redeemer is the type of book that possesses you from the first page. After only a few sentences you feel that this is going to be a true rush. And it is! /…/ In a masterful fashion Jo Nesbø is able to hold the narrative drive in highest gear from start to finish."

"Sparkling performance from Nesbø!"

"464 pages go by, believe it or not, like a dream, while your nails get steadily shorter. /…/ Nesbø's story-telling and depiction are among the most elegant of their kind."

"Jo Nesbø confirms his place as Norway's best crime author. /…/ Today Nesbø stands out as one of the two or three best crime authors in the Nordic countries."

"With The Redeemer Nesbø has once again confirmed his position as one of our most prominent and bestselling authors, regardless of genre."

"No one writes better thrillers in Norway than Jo Nesbø. His sixth Harry Hole book is one of his very best. /…/ Jo Nesbø holds the reins with a steady hand; the production is taut in this violent suspense novel which also forms a believable and well-done city portrait of the Oslo where drug addicts, thieves and prostitutes reign. /…/ I don't see how anyone will be able to start reading this without becoming obsessed about figuring out the plot and following it to the end."
Author

Jo Nesbø

Published

2005

Genre

Pages

464

Reading material

Norwegian edition

English edition

German edition

French edition

Spanish edition

Rights sold

Albania, Dudaj

Arab World, Arab Scientific

Azerbaijan, Qanun

Bosnia and Herzegovina, Buybook

Brazil, Record

Bulgaria, Emas

Canada, Penguin Random House

Catalonia, Proa

China, Booky (Simplified Chinese)

Croatia, Fokus

Czech Republic, Zlin

Denmark, Modtryk

Estonia, Varrak

Finland, Johnny Kniga

France, Gallimard

Germany, Ullstein

Greece, Metaixmio

Hungary, Animus

Iceland, Forlagid

Indonesia, Gradien Mediatama

Israel, Babel

Italy, Einaudi

Japan, Shueisha

Korea, Viche

Latvia, Zvaigzne ABC

Lithuania, Baltos Lankos

Netherlands, Cargo

North Macedonia, TRI

Norway, Aschehoug

Poland, Dolnoslaskie

Portugal, Dom Quixote

Romania, RAO

Romania, Trei

Russia, Inostranka

Serbia, Laguna

Slovakia, Ikar

Slovenia, Didakta

Slovenia, Mladinska

Spain, Mondadori

Sweden, Albert Bonniers

Taiwan, Azoth (Complex Chinese)

Thailand, WeLearn

Türkiye, Dogan Egmont

UK, Harvill

Ukraine, Folio

US, Knopf

Film rights sold

UK/US, Working Title