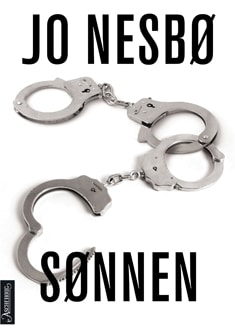 Drug addict Sonny Lofthus has been in prison since he was eighteen and finances his habit by atoning for the crimes of others. Thanks to his special status among the inmates, prisoners confess their sins to him. Sonny's late father, Ab Lofthus, was a policeman. When Simon Kefas, a close friend and former colleague of Ab, shows up, it is to investigate a murder that is linked to Sonny. But Sonny escapes from prison, and he has much to avenge.
The Son is a thriller that proves Nesbø's immense talent yet again. At Nesbø's expert hands, Oslo is painted in noir tones once more, as, behind the scenes, local politicians, big business, the police, and courthouses engage in a dance with the power-players of society's underbelly – those far from the reaches of the law. At the same time, the novel revolves around characteristic Nesbø-themes such as father-son, law-justice, revenge-prejudice, and guilt-atonement. And, at the very core of the story about Sonny is a great love story.
Corruption and organized crime are at the root of the great dramas playing out on these pages, whether set at the Oslo police station, in city hall, in a dingy hotel room at Kvadraturen or among the pushers along Akerselva. This is a Scandinavian The Wire in a heightened, hyper-realistic Sin City-Oslo.
Awards
The Icepick Award

(Best Translated Crime Novel of the Year) Iceland
2018

Shortlisted for LovelyBooks' Der Leserpreis

(Best Crime & Thriller of 2015) Germany
2015
Close award list
Reviews
"Excellent standalone from Nesbø /…/ Nesbø takes the reader on a chilling ride with many unexpected twists."

"A deftly plotted novel that probes the deepest mysteries: sin, redemption, love, evil, the human condition. /…/ One of Nesbø's best, deepest and richest novels, even without Harry Hole."

"A terrific thriller but also a tragic, very moving story of intertwined characters swerving desperately to avoid the dead ends in their paths."

"Nesbø is great at rapidly sketching the kind of juicy characters, peripheral or not, that propel an already fast-moving story forward at a pleasing pace. /…/ In a novel that's both deadly serious and seriously sentimental, Nesbø ably rides the slimmest of lines between humanity's uglier mug and unusual manners of redemption."

"Every bit as intricately disturbing is Jo Nesbo's The Son … with its creepy, sinister, purgatorial cops and crooks in an extravagant universe you keep waiting to see light poking through. The characters pour forth in a Dickensian torrent. And as you'd expect from the Norwegian crime author of the moment – perhaps the crime author of the moment, period – Nesbo presents Oslo as a dwindling star that disappoints its Oslovians. The city reflects their private miseries."

"Readers in several countries are well-acquainted by now with the formidable talents of Norse author Jo Nesbo, mostly through his books featuring loose-cannon police detective Harry Hole. But Mr. Nesbo's latest work to be translated from the Norwegian, The Son, is a stand-alone novel in which those talents seem to be on even brighter display. /…/ Religious symbolism gives this thrilling book a veneer of higher seriousness; well-drawn characters in crisis tug at the mind and heart; and sheer storytelling brilliance keeps the pages turning at a speed reader's pace."

"If you are tired of U.S.-English thrillers that begin to sound alike, start reading Jo Nesbo. Although you'll have to employ and use all your wits, dust off those nerves of steel you'd forgotten you have and put your mind to the challenge. Nesbo is too smart to go off the tracks with Commie-Nazi international business plotting that afflicts The Girl with the Dragon Tattoo series. And parts of those books were quite good, sadistic and grim, with a great female lead character. But Nesbo is better than that! Give him a try when you aren't alone at home!"

"Nesbo delivers a revved-up, entertaining red harvest, another guaranteed hit from a forceful thriller machine."

"Aimed at fans of tautatsmospheric thrillers that run from Stieg Larsson to Turow who have yet not discovered Nesbo, a budding superstar in the U.S"

"An exceptional, gritty, fast-paced stand-alone thriller; the smooth transitions among each character's perspectives lure readers in, and Barslund's translation is accessible to American readers. Fans of the most recent Hole novels as well as of Stieg Larsson's "Millennium" trilogy will enjoy Nesbø's tightly knit plot."

"Despite its ornately orchestrated killings, The Son isn't a slow-burning fuse to a bucket-of-blood finale. For a writer who might be the king of Nordic noir (an expansive kingdom, these days), Nesbø has a sentimental side. In between the killings, he explores the idea of salvation – of being washed clean by love – with a sensitivity that you might not expect from a Nordic noir king."

"Jo Nesbo's The Son is a grisly, gripping thriller /…/ The novel is fast, the characters (especially Inspector Kefas) complex and well drawn, and the plot smart and tricky. Mr. Nesbo, unlike most of the Scandinavian authors whose works are being imported in mass quantities, has the ability to draw attention to social issues without dropping the plot ball."

"Nesbø has given his series character, Harry Hole, the year off. In The Son, he has crafted an elegant stand-alone novel full of vengeance and redemption."

"Jo Nesbø's mysteries routinely describe scenes of incredible brutality and vicious vengeance. /…/ This mystery is pure Nesbø – complex with a dim view of human nature and the morality of human beings – and he doesn't have to take into account all of his neurotic protagonist Harry Hole's past to tell this story. It's great Nesbø without falling back on his ace in the Hole."

"The perfect holiday read for fans of Nordic noir and gritty thrillers. Bestselling author Nesbo is on top form with this crime novel, a book that you quite rightfully can't put down."

"Nesbø is a master storyteller, intertwining multilayered, clever and suspenseful plots, unveiled at a frantic pace, keeping readers guessing until the last page. However, The Son is all this and more, standing out as a truly remarkable achievement. As Nesbø's fans have grown to expect, it is an expertly plotted, compelling and gripping white-knuckle ride with unexpected twists to savour … Yet The Son also contains beautifully written passages about love, guilt and redemption and its characters are impressively developed /…/ With The Son, the author has shown that he no longer needs Harry Hole to weave a masterpiece. He deserves to be crowned the king of all crime thrillers."

"A cat-and-mouse chase between a young prisoner and a troubled detective, this is a tense, violent and hugely absorbing walk on the murky side of Oslo."

"Gripping from start to finish"

"Jo Nesbø is an excellent novelist even if he's not writing about Harry Hole."

"Fast-paced and imaginatively violent, this latest example of Nesbo's Nordic noir hurtles like an express train towards a last act of almost operatic extravagance that leaves dead bodies and carefully nurtured reputations littering the stage. Great stuff altogether."

"Why is Jo Nesbo one of the hottest names in current crime fiction? Read this brilliant standalone thriller and you'll know. Nesbo's Harry Hole series is great but his standalones are even better. The Son is one of his best books yet."

"There is not one false step in Nesbo's novel. His complex, fully realised characters all resonate, vividly coming to life (and often dying) on the page thanks to telling, often haunting descriptions, crisp, credible dialogue, and bold, inspired pacing."

"With The Son, Jo Nesbø has created an updated version of Dumas' The Count of Monte Cristo. As Edmond Dantès once did, Sonny Lofthus shows no mercy in the punishment of his tormentors, but unlike his forerunner from the 19th century Sonny also shows no remorse in the end. /…/ The story contains a pedophile priest, corrupt cops, mythical criminals, a broken hero, and a beautiful heroine. There are also many twists and turns, some pretty nasty murders and a perfectly choreographed finale – The Son really has everything that an enthralling genre novel needs. But Nesbø is not content with only telling an action-driven story, he wants to make profound statements about the human condition, about the nature of good and evil, guilt and atonement, and the hope of salvation."

"The Son is an excellent thriller that you won't be able to put down. Nesbø knows how to drive up the suspense to the maxi. And yet his writing is thoughtful, sensitive, and sometimes very melancholic. His characters are mysterious and leave room for discoveries and unexpected turns. And yet, from the very first moment, they seem so familiar, as if The Son was the latest installment in a long series. Although you have a good 500 pages with the characters, you never quite know where the line between good and evil runs. The Son definitely constitutes a highlight of this crime autumn."

"The 54-year-old Jo Nesbø creates interesting characters /…/ And more powerful than the suspense in this story of revenge, are the conflicts at the hearts of the characters; how they succumb to temptation, but also how they give and receive forgiveness."

"The Son is a typical Jo Nesbø novel: brutal, disturbing, thrilling, and incredibly well written. /…/ And it is no surprise that Hollywood has been interested in Jo Nesbø for a long time now. One of his novels is currently being made into film. The Son could be next – that's how good the novel is."

"More than half a thousand pages of pitch-dark crime novel perfection."

"The greatest talent of the 54-year-old author is his ability to breathe life into complex characters in only a few sentences /…/ the characters remain in the memory of the reader for a long time. Because despite Jo Nesbø's austerity and his determination to depict the dark side of Oslo, optimism shines through: a belief that not all people are egoists, or apathetic to people around them. And the belief that courtesy, empathy, and thoughtfulness can still lead to positive consequences."

"Nesbo writes in a powerful style with a lot of sharp dialogue. /…/ Delectable Scandinavian crime."

"The best Scandinavian thriller writer!"

"The Son, Jo Nesbø's new thriller, is brutal and violent, but also longs for love, compassion and forgiveness. No matter how violent, Nesbø puts so much love into The Son that the book is much more than a Saturday night thriller."

"Violence, corruption and revenge, that is what this captivating thriller is all about. /…/ Nesbø once again proves what a great writer he is."

"The Son is not only a cleverly written crime novel, it also poses some important questions. Does insight actually provide salvation? Don't innocence and ignorance feel better than a gnawing sense of duty? Nesbø cements his place at the top with a complex, dark thriller."

"The Son is an unusually good thriller: credible plot, clear characters, very suspenseful, impossible to put down. /…/ Nesbø has written a fantastic thriller."

"Jo Nesbø has with The Son written a dark, suspenseful and sometimes raw thriller. /…/ [Nesbø] reaffirms that he is one of the top Scandinavian crime authors. A must for Nesbø fans."

"Yet another powerful demonstration of Nesbø's talent for creating a story that plays on all nerve strands and with so much intensity that it embodies both the Bible and Batman at once. It is really well done. It is still early in the year, but I wouldn't be surprised if someone should dub The Son as the crime novel of the year."

"Fast-paced and rip-roaring suspenseful"

"A high level of suspense all the way and limitless brutality. The bad guys get what they deserves and Nesbø's writing is almost more cynical and concrete than usual. There are also a few love stories along the way, that – almost – ends happily."

"It is so dense and so dark and so earnestly brutal that it requires an exceptionally good pen to get the reader to persevere The Son, the latest crime novel from Jo Nesbø. So it's good that his writing style makes even the darkest worth reading. /…/ A pitch-black plot and forceful suspense, that Nesbøs Headhunters also had – without the satirical prose. Here are just ruthless consistency and a matter-of-fact, crisp writing style that intensifies page by page."

"It is a formidable, diabolically clever and devilishly good book that is well put together down to the smallest detail."

"Crime novels are rarely so skilfully told and at the same time so much more than pure entertainment. But Nesbø is a master."

"The Son is a modern take on the story about Christ, that tackles the corruption in Oslo /…/ Jo Nesbø's writing is incredible as usual."

"Nesbø's story is, through and through, intense, suggestive and gripping in its scrutinizing depiction of contemporary society. The suspense accelerates and the novel surprises at every turn. The characters are nuanced and convincing, both in details and as a whole. The language is characterized by a conscious simplicity, which contributes forcefully to making environments and portraits of people come alive. The Son is a masterpiece and a unique reading experience."

"The scenes are exactly what we expect from Nesbø: Empathetic. Exact. Small jewels."

"The latest novel from Nesbø is a glorious page-turner. The story is told at an appealing pace and as usual, the author plays games with his readers. Nothing is predictable and no one knows what is black, white or something in-between."

"… this [is] a brilliant story that you happily read all the way to the violent unraveling in one sitting. Nesbø is great at atmospheres and character portraits. All threads in this complex story about corruption, revenge and treason are tied together and make sense. And, against your will, you will be fascinated by both Sonny Lofthus, in spite of his orgy of revenge, and by Police Superintendent Simon Kefas, who breaks all rules."

"A nerve-wrecking story /…/ It's very cleverly done. Nesbø draws you in from the first page to the last. The Son is impossible to put down."

"The Son is breathlessly enthralling from the very first page to the last. You want to know what happens next, how the story is tied together, and it's difficult to stop reading."

"Jo Nesbø delivers, as usual, his full repertoire of terrifying crooks. And, as always, he does so terrifyingly well."

"Norwegian Jo Nesbø is one of the smartest in this genre."

"The Son is a crime novel that has pretty much everything – suspense, gallow humor, high pace, social criticism, well drawn character portraits, even some love – except maybe self-distance. At the same time, this very lack is actually a quality. Had Nesbø doubted his story for a moment, it all would have fallen apart."

"The pace proves to be on top in the new book, in a positive sense. This remains Norwegian crime literature in a class by itself. A plot that stretches and spreads out like great mathematical formulas, with many unfamiliar characters in the equation, but without being arcane or excessive in his fantastic interpretations. /…/ Jo Nesbø prevails once again."

"When the core is set and the story takes its pace, it is propelled with great force and an unerring sense of detail, dialogue and for where intervals and scene chenges should be located. It is simply thrilling to read."

"No one at our latitudes knows the game like Nesbø does. No one is even close to his craftmanship in writing crime novels that hold such international standard."

"Tremendously well written by Nesbø /…/ There is something unstoppably vital about Jo Nesbø as a designer of crime stories in the baroque style. His pen is on fire and although it may be noted that it goes too fast sometimes linguistically, the stories he creates has so many staggering twists and turns that it is almost physically impossible not to get hooked."

"Nesbø's new book makes all the hype before publication seem like false modesty, and is quite simply a fantastic piece of crime literature. /…/ First and foremost, this is a clever, enthralling and driven story that is impossible to put down."

"No Norwegian crime writer can create such complex crime plots without loosing in detail lika Nesbø can. You might say that Nesbø is both high and low in his texts, and that is one of the main reasons why they rise above most other novels in this genre."
Author

Jo Nesbø

Published

2014

Genre

Pages

512

Reading material

Norwegian edition

English edition

Rights sold

Bosnia and Herzegovina, Buybook

Brazil, Record

Bulgaria, Emas

Canada, Penguin Random House

Catalonia, Proa

China, Booky (Simplified Chinese)

Croatia, Fokus

Czech Republic, Zlin

Denmark, Modtryk

Estonia, Varrak

Finland, Johnny Kniga

France, Gallimard

Germany, Ullstein

Greece, Metaixmio

Hungary, Animus

Iceland, Forlagid

Italy, Einaudi

Japan, Shueisha

Korea, Viche

Latvia, Zvaigzne ABC

Lithuania, Baltos Lankos

Netherlands, Cargo

Norway, Aschehoug

Poland, Dolnoslaskie

Portugal, Dom Quixote

Romania, Trei

Russia, Inostranka

Serbia, Laguna

Slovakia, Ikar

Slovenia, Didakta

Spain, Mondadori

Sweden, Albert Bonniers

Türkiye, Dogan Egmont

UK, Harvill Secker

Ukraine, Folio

US, Knopf

Film rights sold

US, Nine Stories / Bold