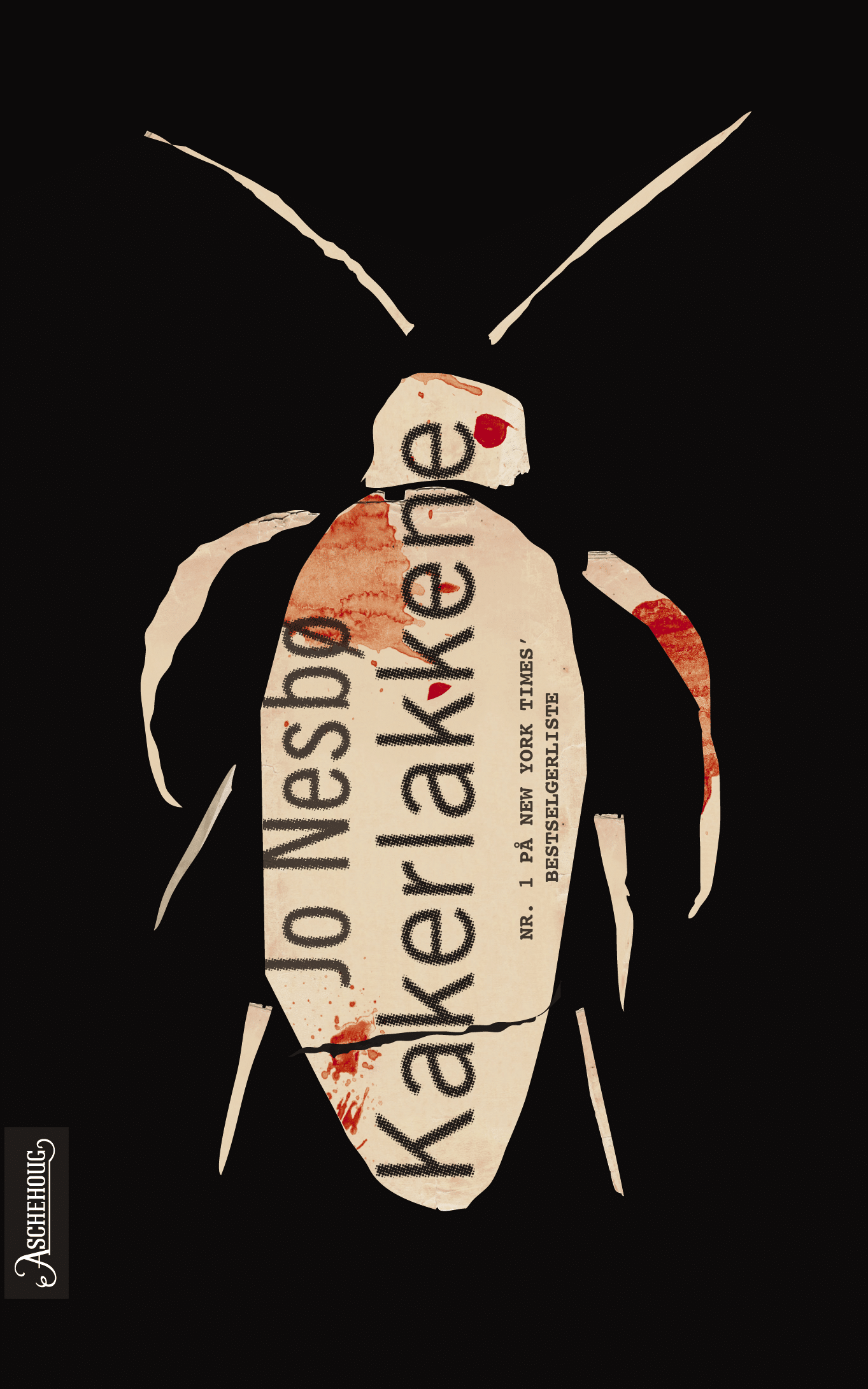 Kakerlakkene
The Cockroaches
Harry Hole #2
A murder investigation takes Harry Hole of the Oslo police on a journey through the heart of darkness. Through the seedy strip bars, brothels, betting places and ex-pat clubs of Bangkok, Harry chases a merciless killer, confronting the shady underworlds of high finance, international espionage and paedophile networks. The writing of Jo Nesbø follows the palpitations of Harry's heart, racing faster and faster through the streets of Bangkok where mankind is debased, on a long and dark journey towards redemption.
The Cockroaches is a No.1 New York Times bestseller
Click here for a video interview in English with Jo Nesbø about The Cockroaches.
Reviews
"Cockroaches was originally published in Nesbo's native Norway in 1998, but the intervening 16 years has not diminished in any way the strength of the book, which is easily one of his best. /…/ Cockroaches is much more than a book for Nesbo completists. Some of his best writing and plotting are contained within its pages, which also provide insight into the tangled web of Harry's personality, which has affected him over the subsequent novels in the series. There is great, powerful and unsettling prose and character development to be found here, whether you have been with the series since its first publication in the United States or are new to it. Don't miss this one."

"Nesbø never lets a page go by without making characters and situations vivid."

"Cockroaches, organised with greater concentration than its predecessor, turns out to be one of Nesbo's most accomplished novels."

"The complex narrative and large dramatic personae are handled with steely authority, but what really makes the novel work is the fact that the picturesque seediness of Bangkok and Thailand turn out to be Harry Hole's natural element, with Nesbo plumping his hero down in a very non-Norwegian setting."

"A tight plot that keeps you guessing till the end and an intriguing collection of sidekicks and suspects and the result is an absolute treat."

"In this game Nesbø has a hand that cleans the whole table. Regardless of who in the whole world of crime writing sits on the other side of that table."

"How come one feels, that every time after having finished a new Hole story, one has read what might be best"

"The Cockroaches is surprisingly fresh, compelling and radiant with the joy of writing."

"Totally exciting, original plot and really good entrances and sorties. /…/ The Cockroaches is a top crime novel with believable depiction of Thai environment, quick dialogue and credible characters – and a very well calculated plot!"

"Norwegian crime novels have for the past ten to fifteen years held high quality. Jo Nesbø's latest novel lives up to this high national level."

"With the novel The Cockroaches Jo Nesbø has written a substantial and well constructed crime novel with a true Nordic hero as main character. /…/ As in best international style of writing-spirit, the plot is so complicated that you have no chance at figuring out the murderer until the last page. Hang on to it with great pleasure – Jo Nesbø writes so well and incisively about the crowds in the streets, and about a socially blighted Bangkok."

"Last year's debut novel The Bat wasn't just a fluke. Nesbø continues with The Cockroaches, a true ex-pat mixture of the creepy and gruesome kind. /…/ Look forward to a great read with Nesbø's The Cockroaches."

"There's a sense of grandeur and near-extravagance in Nesbo's novel."

"As crime novel, The Cockroaches offers excitement to the very last straw. However, this is not the only reason it is a pleasure to read it: Jo Nesbø is a master of language, and offers vivid descriptions owing to thorough research"

"The author is extremely talented, he proved that already in his first novel. /…/ Nesbø knows how a successful crime novel shall be constructed: deliver a grotesque and surprising but credible crime within the first couple of pages, put a cynical policeman on the case, draw a realistic and correct environmental surrounding – altogether with a great deal of self-irony and humour. The good use of language and the natural dialogues are of course obvious ingredients. This is Nesbø in a nutshell."
Author

Jo Nesbø

Published

1998

Genre

Pages

339

Reading material

Norwegian edition

English edition

German edition

French edition

Rights sold

Brazil, Record

Canada, Penguin Random House

Catalonia, Proa

China, Booky (Simplified Chinese)

Croatia, Fokus

Czech Republic, Zlin

Denmark, Modtryk

Estonia, Varrak

Finland, Johnny Kniga

France, Gaïa (Hardcover)

France, Gallimard (Paperback)

Germany, Ullstein

Greece, Metaixmio

Hungary, Animus

Iceland, Forlagid

Israel, Babel

Italy, Einaudi

Korea, Viche

Latvia, Zvaigzne ABC

Lithuania, Baltos Lankos

Netherlands, Cargo

Norway, Aschehoug

Poland, Dolnoslaskie

Portugal, Dom Quixote

Romania, Trei

Russia, Inostranka

Serbia, Laguna

Slovakia, Ikar

Slovenia, Didakta

Slovenia, Mladinska

Spain, Mondadori

Sweden, Albert Bonniers

Taiwan, Azoth (Complex Chinese)

Türkiye, Dogan Egmont

UK, Harvill Secker

Ukraine, Folio

US, Knopf

Film rights sold

UK/US, Working Title