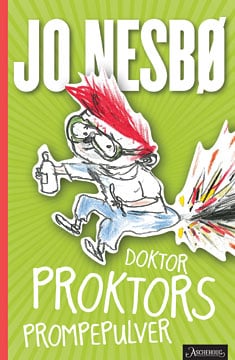 Doktor Proktors prompepulver
Doctor Proctor's Fart Powder
Doctor Proctor #1
Doctor Proctor is a crazy professor. Well, almost. Actually, he is an aging inventor waiting for his big break. When he teams up with his next-door neighbor Lisa and her peculiar friend Nilly in making the world's most powerful farting powder, it seems like his dream is about to come true. But in the background lurk the ruthless twins Truls and Trym Thrane. The drama that is sparked on Cannon Avenue will have repercussions that stretch beyond the imaginable, involving a wild chase through the sewer system of Oslo, anacondas, and NASA. With a great deal of humor and witty dialogs, Jo Nesbo chisels out his wonderfully weird characters and lets his imagination run wild in this delightful children's book début reminiscent of Roald Dahl.
Through a fantastic story that contains an equal amount of suspense, laughs and colorful characters, Jo Nesbø offers a deftly veiled moral to his young readers: all in all, Doctor Proctor's Fart Powder is a story about the importance of being yourself, and how the required courage is bestowed through creativity and imagination.
Doctor Proctor's Fart Powder was shortlisted for Ark's Children's Book Award (Arks barnebokpris) for 'Best Children's Book' 2007 and was selected for The Richard and Judy Children's Book Club in 2011.
"Hilarious and original /…/ An unforeseeable and irresistible way to face the world as only Roald Dahl has done so far."
–Roberto Denti
"This terrific book will make you laugh, and cherish your friends, and value fair play."
–James Patterson
Click here for a video interview in English with Jo Nesbø about Doctor Proctor's Fart Powder.
Awards
Shortlisted for the Ark's Children's Book Award

(Best Children's Book) Norway
2007
Close award list
Reviews
"Doctor Proctor's Fart Powder, a hilarious story about a professor who invents a flatulence-inducing powder strong enough to send it´s recipients up into outer space. Great to see real talent emerge in a category often dominated by formulaic series."

"In this well-knit crossover debut for young audiences, a popular Norwegian author crafts an airy farce from elements both familiar and offbeat. /…/ Readers will have blasts of their own cheering on the sturdy protagonists [in] this rib-tickling tale."

"Norwegian author Nesbø's children´s book debut is a sweet, silly, and often amusing tale. /…/ The over-the-top story eventually ties in the toughest prison in Norway and a vicious sewer anaconda, but Nesbø writes with an appropriately silly tone to justify these twists."

"A comical, imaginative, talented and not least effortless story, that in addition is entertaining for adults to read aloud."

"Doctor Proctor's Fart Powder takes the reader, among other places, down into the sewer system under the streets of Oslo, where an anaconda by the name of Anna Konda rules and makes life dangerous for sewer rats and other small folks. But primarily the book is about friendship, loyalty and compassion."

"Forget about the hard-boiled, hard drinking detective Harry Hole, and welcome instead the tiny, cheeky school boy Nilly, with an Elvis hair-do, in Doctor Proctor's Fart Powder… a completely normal Oslo, where huge anacondas live in the sewers, and where little boys can have sideburns."

"A wonderful and unpretentious book to read aloud for all kids of fart-humor age."

"If you love humor, you have to read this book. /…/ The story is so bizarre and funny, that you have to put down the book at times just to laugh out loud."

"Hilarious and exciting!"

"A rumbling, thundering children´s book debut!"

"Nesbo brilliantly hits the mark with his target group."

"A luxuriant, spirited and hilarious children's book debut."

"An incredibly entertaining story… reads like one of those fantastic adventure stories of the old days."

"The book is Jo Nesbo's début writing for children, and he handles the transition splendidly. The story of Lise, the tiny little Bulle and the professor who is just a little bit mad, is told with ease and humor. /…/ Nesbo's style is warm and humorous. Fortunately, he refrains from using a simplified adult language and aptly balances the well-known with the new."

"Doctor Proctor's Fart Powder is more than delightful. It is a burlesque and wildly funny story from beginning to end. His writing is as enjoyable for adults as for the little ones. /…/ I have seldom enjoyed reading fiction as much as I did while following the unusually small Bulle, his friend Lise, professor Proctor, the obese twins Truls and Trym Thrane and all the others in Canon Drive through an adventure that flies so high and ducks so low that real life can hardly be as exciting. /…/ Jo Nesbo deserves the Brage Prize for this book!"

"These days, Pippi Longstocking lives in Norway and is called Nilli – a quirky children's book, that offers a lot more than just hot air."

"A tremendously entertaining story mixing elements of reality, fantasy and adventure, full of witty illustrations."

"Jo Nesbo is, as we know, previously known for his crime novels. Now he has written a children's book, and I must say that he does this almost even better. /…/ Nothing short of a true reader's delight. A first-rate nonsensical book, which all children above six years of age deserve to have read out loud to them. And as quickly as possible."

"Jo Nesbo is well versed in the art of creating suspense. The book owes its true charm less to the shamelessness in the descriptions of various body gases, and more to the vulgarities and absurdities which follow in a logical sequence, one after the other, all described and finished off with a succinct joke. /…/ [Nesbo] simply must continue to write for children."

"(No. 2 on their list of 'The 7 Best Books for Young Readers' in the month of August) A lovely, crazy and truly comical book … Kids, kids, what a delightful read!"

"Whacky fun for boys and girls."

"Quick-witted heroes, entertaining story."

"With his cheeky debut for children, crime writer Jo Nesbo displays a great deal of wit and an inclination toward the fantastic. Kids are going to love this: the things of which you do not speak, are here allowed to quite shamelessly, and with fascination, spread across the pages."

"This Norwegian author combines a surprising story with everything that a kid expects from a book: wordplays, suspense, goose bumps!"

"An explosive reader's delight."

"A book to read together and giggle at."

"Both boys and girls will be equally delighted… the splendidly wacky illustrations appeal to the kids as well. /…/ This fart powder is educationally valuable!"

"A masterpiece of zany children's fiction, where Nesbø demonstrates his skill for suspense and playful irony. /…/ An action-packed, facetious, elegant juggling of trumpet players, animal tormentors, infatuated researchers. /…/ Funny and cheeky. I have rarely laughed so much."

"The story as a whole is exciting and excellent for reading aloud and sharing laughs. It is complemented by the innovatively irreverent illustrations."

"Exciting and extremely funny entertainment guaranteed."

"Those who are not afraid of fart stories, appreciate wacky personalities, and can handle a non-stop attack on the laughing nerve must definitely read this book."

"[Nesbø] turns out to be a master of language: it's impressive to see how he suggests and just as swiftly covers entire family dramas in sub-clauses /…/ Nesbø skillfully plays with the entire catalogue of irony."

"The Norwegian crime author Jo Nesbø has – unlike many other adult fiction writers – managed to write a children's story that is neither embarrassing nor phoney. /…/ With Nilly [the protagonist], Jo Nesbø has created a character whose radiance touches on the true classics. He has the cheek and wit of Pippi Longstocking, the positive attitude and adventurous spirit of Huckleberry Finn, the humanity and gentleness of Mumin…"

"This book triumphs with its amplifications. There is a joy in Nesbø's combinations of the grotesque and the humorous, and the wild energy in the flow of words creates a raving in it's own right. /…/ There is liberating rage in the laughter."

"Frantically funny reading for all ages… A book for reading aloud must have something for the adult reader as well, and I can guarantee that this very suspenseful and funny story does. /…/ The narrative is driven by a cheeky and outrageously funny dialogue, with numerous references to literature, history and contemporary phenomena. Intelligence, humor and cheerfulness is also found in Per Dybvig's sketches that appear here and there across the pages."

"This wild, funny, outrageous story…"

"An absurd, exciting and above all funny story /…/ Jo Nesbø is an entertaining storyteller – for both kids and adults."

"At times brutal, very playful, and never boring. One thing that I really appreciate is that every little detail in the book reappears, and it all comes together in the end, almost like in a fairytale."

"Exciting! Breathless! Read-aloudable! A real hit!"

"The book contains a lot of fart humour. The author's previous works have been in the crime genre, but this proves that he can write equally well for children."

"The book is a wonderful mix of humor, witty dialogue, adventure and deliciously quirky characters."

"Doctor Proctor's Fart Powder is a spellbinding, rip-roaring children's novel with a mischievous twist."

"Doctor Proctor's Fart Powder is a perfect book for those with a good sense of humor. It is one of the funniest children's books I have ever read, and I wanted it to go on and on and on…"

"Jo Nesbø demonstrates good intuition in his [children's fiction] début, presenting a recipe for joy. /…/ What is the purpose? To amuse. The goal is easily achieved in this book inspired by Jo's little daughter's tips."

"His name is Nilly and you won't forget it. Not just because of his stature (he is a miniature kid even though he is 10 years old), but also because of his initiative. Those are the characteristics that make him the new hero of a fresh and ingenious fiction for kids that, due to its inventiveness and amusement, belongs in the tradition of Dahl, Lindgren and Doyle. /…/ This crazy scientist [Doctor Proctor], whose creations are able to open doors and send you out in space, offers sensational developments that will make the readers want to visit Oslo, 'the small capital of a small country' where the story takes place."

"Is there anything more funny to a kid than a fart? /…/ Hilarious characters, jokes and situations à la Roald Dahl."

"Nesbo has a grotesque flair for making fun of Norwegian traditions and the police, and always brings a smile to the face of the reader. /…/ The first children's novel from Jo Nesbo has elements of both crime novels and comic fairytales. Recommended fun for dreary February days."

"This book will have no trouble enticing fans of Captain Underpants and the Wimpy Kid."

"The title promises young readers a story with a bang, and it delivers."

"A superb mix of bizarre and wacky with a little bit of off-beat thrown in. Reminiscent of Roald Dahl it has all the elements to keep children hooked, such as mystery, suspense and, yes, of course – farting."

"Lashings of silliness, quirkiness, self-deprecating humour, and a rollicking plot… Everyone will wish they were hanging out with Nilly and Lisa. Everyone will wish they knew a mad scientist who had a magic powder that could send them farting into the sky like a rocket."

"Jo Nesbø will make young readers laugh their heads off. With Doctor Proctor's Fart Powder he will enchant even the most reluctant readers."

"The first novel for young readers written by Jo Nesbø, the Norwegian master of Scandinavian crime novels, is full of humor and action."

"It's impossible not to laugh while reading this novel."

"Humor, suspense and tenderness are on the menu in this delightful novel, the first for young readers written by one of the masters of Scandinavian crime fiction."

"With short and well-paced chapters, the action bounces back and forth in each sequence. /…/ An enjoying read with delightful illustrations."

"A hilariously funny, totally crazy, and exceptionally brilliant book. Five laughs a page, brilliantly set, with some fantastic characters. And I can't wait for the next book by Jo Nesbo, the most explosive one yet!"

"A hilarious story that will make both adults and children laugh."

"Plenty of sniggers to be had, but this is a surprisingly tender book too."

"I would recommend this book to all of my friends. It is brilliant but I can't do it justice, you'll just have to read it yourself. 10/10"
Author

Jo Nesbø

Published

2007

Genre

Pages

200

Reading material

Norwegian edition

English edition

German edition

French edition

Rights sold

Bosnia and Herzegovina, Malik Books

Brazil, Martins Fontes

Bulgaria, Emas

Catalonia, La Galera

China, Dolphin Media (Simplified Chinese)

Croatia, Fokus

Czech Republic, Jota

Czech Republic, Zlin

Denmark, Alvilda

Estonia, Varrak

Finland, WSOY

Galicia, Rinoceronte

Germany, Arena

Greece, Metaixmio

Hungary, Kolibri

Iceland, Forlagid

Indonesia, Gradien Mediatama

Israel, Kinneret Zmora

Italy, Salani

Japan, Hayakawa

Korea, Sakyejul

Kvensk, Kvensk Institut

Latvia, Zvaigzne ABC

Lithuania, Alma littera

Netherlands, Lemniscaat

Norway, Aschehoug

Poland, Dolnoslaskie

Portugal, Planeta

Romania, RAO

Romania, Trei

Russia, Azbooka

Serbia, Odiseja

Slovakia, Iron Libri

Slovenia, Didakta

Slovenia, Mladinska

Spain, La Galera (World Spanish)

Sweden, Bonnier Carlsen

Turkey, Pegasus

UK & Commonwealth, Simon & Schuster

Ukraine, Bohdan

US incl. Canada, Aladdin

Vietnam, Tre Publishing

Film rights sold

Norway, Maipo