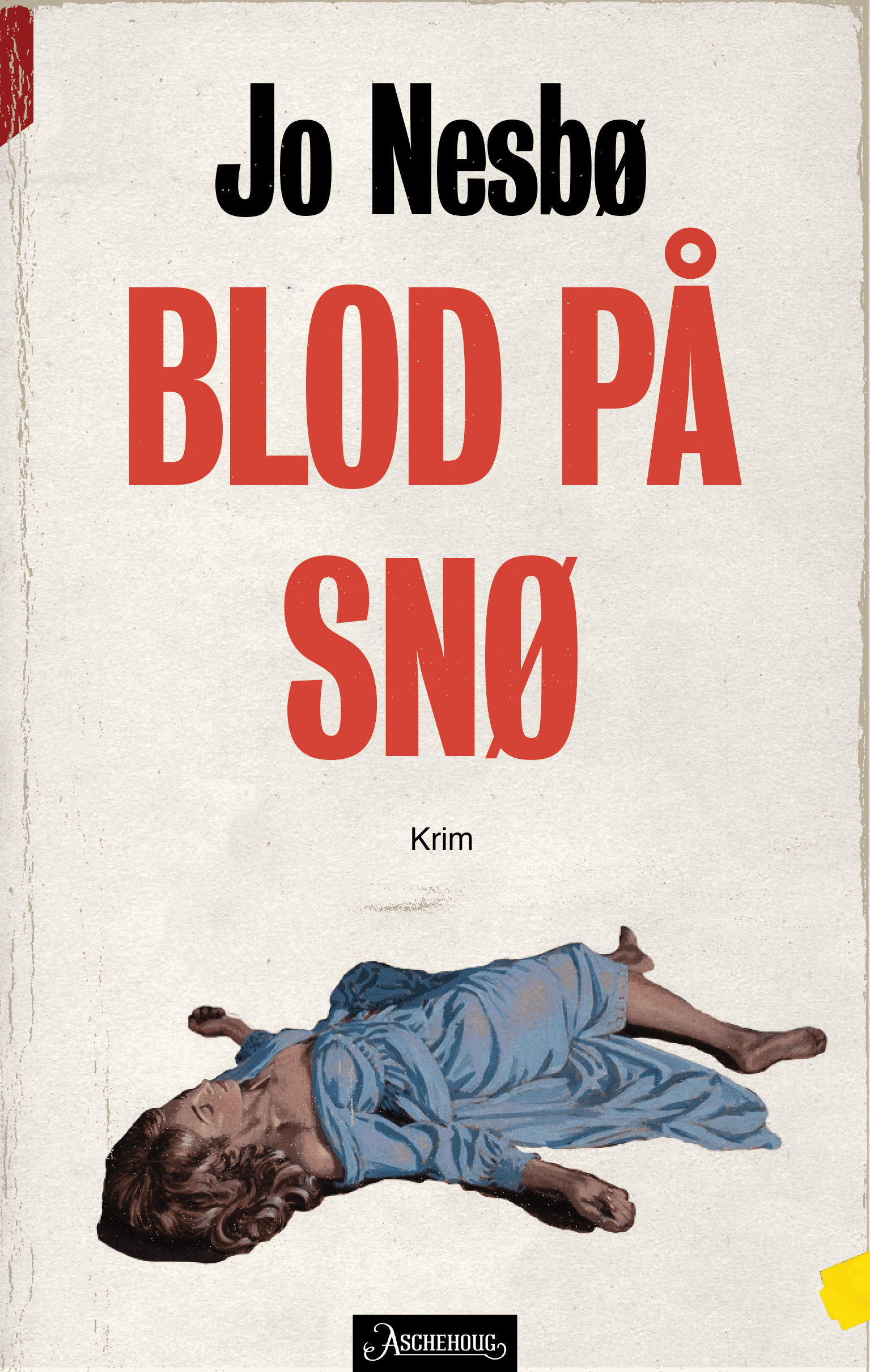 Blod på snø
Blood on Snow
Blood on Snow #1
Olav lives the lonely life of a fixer. When you 'fix' people for a living – terminally – it's hard to get close to anyone.
Now he's finally met the woman of his dreams.
But there are two problems.
She's his boss's wife.
And Olav's just been hired to kill her.
Audiobook read by Patti Smith.
Awards
Best Translated Mystery – Reader's Choice Award

Japan
2017

Best Translated Mystery Award

Japan
2017

Honyaku Mystery Award

Japan
2017

The IcePick Award

(Best Translated Crime Novel) Iceland
2015
Close award list
Reviews
"Mr. Nesbø's much-heralded gifts are on display—using his talent for conjuring the chilly Munch-like atmospherics of Oslo in the winter and his eye for grisly, alarming details that slam home the horror of the evil that men do."

"This tender killer who tries to maintain reason and compassion in a brutal world will appeal to Nesbø's fans and generate new followers. Highly recommended."

"[A] jewel of a novel /…/ Nesbø tells this small but ­razor-sharp story with precision and understated eloquence, even generating suspense despite the inevitability built into the plot: we know there will be blood on snow, but we're not quite sure whose and how much."

"Blood on Snow is an intensely cinematic novel that evokes, at different moments, a low-budget American film noir of the 1940s, a self-aware French New Wave spin on the genre from the 1960s and — particularly in the final shootout — the ironic, buckets-of-blood gallows humor of Quentin Tarantino. The fact that Nesbø manages to offer so much in a small package is especially impressive. It might lack Hole's heft, but Blood on Snow nudges Nesbø a little closer to the Nordic noir crown."

"Versatile Nesbø switches gears yet again in this chilly whisper of a novella."

"Blood on Snow reads more like a taut, extended poem."

"Olav Johansen tells his own story almost all the way to the end of this book, a book you can easily read in one sitting – in one uneasy sitting. /…/ I won't deliver any spoilers here, but I can say the book moves along swiftly in the carefully controlled voice of the killer. And before you know it, you're in the middle of one of the wildest scenes in recent crime fiction: a shootout in the crypt of an Oslo church, where there's hardly any place to duck, just as in this entertaining novel, when the bullets fly."

"From its stunning opening line – "The snow was dancing like cotton wool in the light of the street lamps" – to its surprising and poetic ending, Jo Nesbo's latest novel is a dream. To call Blood on Snow a crime novel would be an immense understatement. It does tell the story of Olav, an understandable and strangely sympathetic, dyslexic contract killer who readily acknowledges that he's not good at much else. But it's also a beautiful, complicated and skillfully rendered love story: "I held her incredibly carefully, like one of the dried flowers I sometimes found in the pages of books at the library," Nesbo writes. It is a short, compact and lean book, a novella, really – no extraneous twists or descriptions or even words. But it packs an emotional punch with its gorgeous prose and a taut plot."

"[Nesbø is] the king of Scandi crime fiction … Blood on Snow, with its simplicity, brevity and unlikely poetry … provides a window into its protagonist's lonely, tortured soul."

"[An] incendiary cocktail of murder, revenge and a hitman with multiple problems."

"It deserves to be a smash. /…/ A perfectly pitched thriller, its icy charm will endear it to everyone, with the possible exception of the Norwegian Tourist Board."

"This book really feels like the undiluted essence of Nesbø, a story from the heart, which is among the best he has written."

"Blood On Snow is another stand-alone for the Norwegian superstar author, a short, pacy little thriller which, instead of delving into the psyche of a morally dubious cop, reveals a villain with a heart. /…/ It's all ever so noisy and pulpy: Nesbø's gorgeously rendered images of snow, and of the titular blood on snow – 'the snow sucked the blood up as it fell, drawing it in under the surface, hiding it, as if it had some sort of use for it' – are crying out to be filmed."

"Nesbo is in bracing form here, delivering the punchy, pacey tale of a hitman who "falls in love far too easily"."

"A master of 'Noir' fiction."

"A stand-alone thriller from the man behind the best-selling Harry Hole-series, this threads a similar low-life path (murder, drugs, betrayal) but with a very different, melancholic feel. We loved it."

"The master of Nordic noir is back with a new two-book series that abandons the frenetic pace of his bestselling Harry Hole series for a simple, touching tale about the loneliness of a hired killer. /…/ This short but poetic novel, written from Olav's perspective, explores the loneliness of the hitman as he confronts the dark and tormented life he has led in a desperate search for redemption. /…/ Nesbø's most literary novel to date will appeal to readers put off by the harrowing violence of the Harry Hole series but it's shocking, unforgettable ending still packs a big punch. /…/ Nesbø is a writer at the top of his game who continues to amaze in new and confounding ways."

"[A] relentlessly propulsive thriller /…/ Blood On Snow is essentially a contemporary spaghetti western set in the cold north. But it's a very gripping one."

"The prose is spare and the pacing is fast and furious."

"[A] gripping one-off thriller about a thoroughly effective hitman."

"DiCaprio was apparently so taken with Jo Nesbo's latest story set in Norway, Blood on Snow, that Warner Bros snapped up the film rights for him. It's not difficult to see why."

"A story about loneliness, maladjustment and Darwinism that questions the very sanity of the decisions that human beings make."

"This is how Nesbø achieves the almost impossible in the smallest of spaces: Hard-core-hard-boiled /…/ A first-class thriller."

"When it comes to suspense and surprising twists, Jo Nesbø is currently number one – not only in the north."

"[A] brilliant old-school pulp with a modern twist"

"Man, can this guy write. Nesbo excells with Blood on Snow. The novel, which can be read as a single monologue intérieur, is not only in and of itself a stylistic feat, but a terrific reflection of Norwegian society."

"The denouement is highly original, but it's above all the style of writing that takes this novel beyond the cliché. Blood on Snow has the perfect alternation of dreaminess and tough crime. /…/ In a dreamily described final scene, hit man Olav will rise above himself."

"A delightfully written story […] this 190-page-long book can rightly call itself a literary thriller."

"A top thriller. Nesbø's storytelling style is clear and powerful. /…/ Blood on Snow is another virtuoso thriller. An intriguing drama with a relentless climax."

"Blood on Snow is a well-written thriller with hilarious developments. /…/ Nesbø is very adept at his plots and cliffhangers. He presents not one, but two endings. Something for everyone, so to speak; a Hollywood ending for some, a more dramatic ending for others."

"Dark and sharp, those are the thrillers of the Norwegian Jo Nesbø."

"The novel consists of less than 200 pages, but Nesbø uses just the right number of pages to tell the story. Wonderful quotes and phrases, which make both Olav and the readers think about themes such as love, death and family, make Blood on Snow more than a literary thriller. It is almost poetic, what Nesbø serves us. After closing the book, you'll want to read it again from the beginning. Brilliant, read this novel!"

"The story is sharp, witty and very compellingly written. The violent events of this book are laced with a delightful, dark humor. Are hitmen pernicious? Whether you like it or not, you will feel sympathy for Olav! Blood on Snow is another masterpiece by Norway's greatest thriller writer. A dark, bloody thriller with a wink."

"Nesbo is a master in his field, crafting eerie situations and great suspense, yet imbuing his works with a certain romanticism, present also in this novel. Blood on Snow is a wonderful crime thriller that grabs the reader right from page one."

"It's a kind of Norwegian Pulp Fiction with a uniquely wistful undertone."

"Pure poetry in a bleak and raw packaging, but one doesn't perceive the brutality so much along the way as the author succeeds in giving us a portrait of a man with unexpected human as well as inhuman characteristics."

"Successful Norwegian author Jo Nesbø's 13th thriller Blood on Snow is first and foremost an astonishing stylistic breakthrough. The story is told in first person, and the sentences are short, tight and content saturated. And while the norm in Nesbø's previous books has been a little over 400 pages per title, the entire story is this time told in less than half of that – without the reader even thinking that something is missing."

"The purposefully understated humor and the narrator's almost simplistic, yet quite obviously well-read and unconsciously gifted voice, gives Blood on Snow a unique and beautiful tone. The story is in its construction immediately comprehensible and accessible, but between the lines, between the various characters' perceptions of reality and the humor and seriousness, there is a deeper layer that requires reflection and thought."

"Blood On Snow is Nesbø's own "pulp fiction", in two senses. It's both a tribute to the simple, hard-boiled narrative style from the old days, but there are also parallels with Quention Tarantino films. /…/ Neither does Nesbø's own joy of telling stories leave anything to wish for. As a tribute to the genre, Blood On Snow also succeeds in reminding us that many of these role models had literary qualities that should not be underestimated."

"Nesbø is really playing with genre conventions and tall tales here. This book is more compact than his previous crime novels and the prose more carefully crafted."

"Our narrator is a wandering paradox, with an extraordinarily twisted personality. Nonetheless, I think Nesbø succeeds in keeping this complex figure together, a feat which is an accomplishment in itself /…/ The story echoes many sources, for example mob films, Spaghetti Westerns, hard-boiled crime and social melodrama such as Les Misérables and The Little Match Girl. /…/ The typical emotional, nigh on sentimental, tunes of Nesbø are also there. And this time he really ventures out into the romantic. The end, especially, is nothing less than a stylistic master class in the balancing act on the border of sentimentalism. The orchestra swells, a tear trickles down the cheek. And yes, it works!"

"Reading this won't make you afraid of the dark, but the risk of laughing is imminent. While many of the plot twists are so faithful to the genre that they almost foreshadow themselves, there are also some real subtle gems along the way. The grand finale is gory and crazy and, not least, hilariously funny – a scene the Cohen brothers would probably kill to adapt to film."

"Blood On Snow is a fine novel and it is obviously suspenseful. If I were to highlight one particular quality, it would have to be how beautifully Nesbø has drawn his main character and how effective Olav's narrative voice is. /…/ He tells the story in an evocative and trustworthy manner, even if the things he is telling are both grotesque and extraordinary. Olav is naive and street smart at once, honest and at the same time sly, tough against the tough and especially soft to those he believes deserve it. /…/ Jo Nesbø has always written with pathos and Blood On Snow has a lot of that romanticised masculinity one finds in for example mafia movies. Every single one of his male protagonists have possessed that same mix of toughness and softness that largely characterises also Olav /…/ Perhaps it's politically incorrect, but it works for me. And it's one of the contributing factors in making the best passages in this novel truly great literature."

"Jo Nesbø's unstoppable joy of storytelling has found a new avenue."

"Blood On Snow is a poetically framed, unpretentious crime story that is deeper than it seems. /…/ The plot and the prose flow effortlessly. The author bubbles with the joy of storytelling, which is infectious for the reader. Some devoted readers of Nesbø may feel cheated and think that this is too easy and too straightforward, that the story ends before it has even properly begun. But the tale about the hit man in love also has qualities that are hard to find in a traditional Nesbø crime novel. The poetic frame – which the title Blood On Snow cements – has subdued beauty for all its simplicity, a nod at life as it could have been."

"Blood On Snow shows that Nesbø both can and wants to do more than write brutal plots and wrap them up in effective story arcs. He can do more than stitch together mysteries in a way that maintains interest also through pure transportation sections. This time, he wants something other than to reinvigorate the worn character gallery of entertainment literature, and demonstrate the mastery of the craftsman. That's why I'm impressed by the little Blood On Snow, 173 pages of first-person narrative. The prose is tight, the phrasing precise, the vocabulary thought-provoking. And when he approaches the border of the vulgar, he either pulls back a little or gives it even more. Both these help in creating a dynamic tension between subtlety and clarity, between mundane feelings and blunt cynicism, between grey realism and pink dreams."

"The novel shows once again why Jo Nesbø is Scandinavia's leading crime writer. He masters not only plot and action, but literary quality as well. /…/ This little novel is a great piece of craftsmanship that is overflowing with the writer's joy at telling a fine and thrilling story, and shows that Nesbø is continuing to soar to new heights – even without Harry Hole."

"Blood On Snow is an amusing addition to Nesbø's authorship. I think he's been grinning along the way, at both surprising twists and turns and at descriptions."
Author

Jo Nesbø

Published

2015

Genre

Pages

176

Reading material

Norwegian edition

English edition

Rights sold

Brazil, Record

Bulgaria, Emas

Canada, Penguin Random House

Catalonia, Proa

China, Booky (Simplified Chinese)

Croatia, Fokus

Czech Republic, Zlin

Denmark, Modtryk

Estonia, Varrak

Finland, Johnny Kniga

France, Gallimard

Germany, Ullstein

Greece, Metaixmio

Hungary, Animus

Iceland, Forlagid

Italy, Einaudi

Japan, Hayakawa

Korea, Viche

Kurdistan, Roj Publications

Latvia, Zvaigzne ABC

Lithuania, Baltos Lankos

Netherlands, Cargo

Norway, Aschehoug

Poland, Dolnoslaskie

Portugal, Dom Quixote

Romania, Trei

Russia, Inostranka

Slovakia, Ikar

Spain, Mondadori

Sweden, Albert Bonniers

UK, Harvill Secker

Ukraine, Folio

US, Knopf

Film rights sold

UK, Hardy, Son & Baker / Redpoint