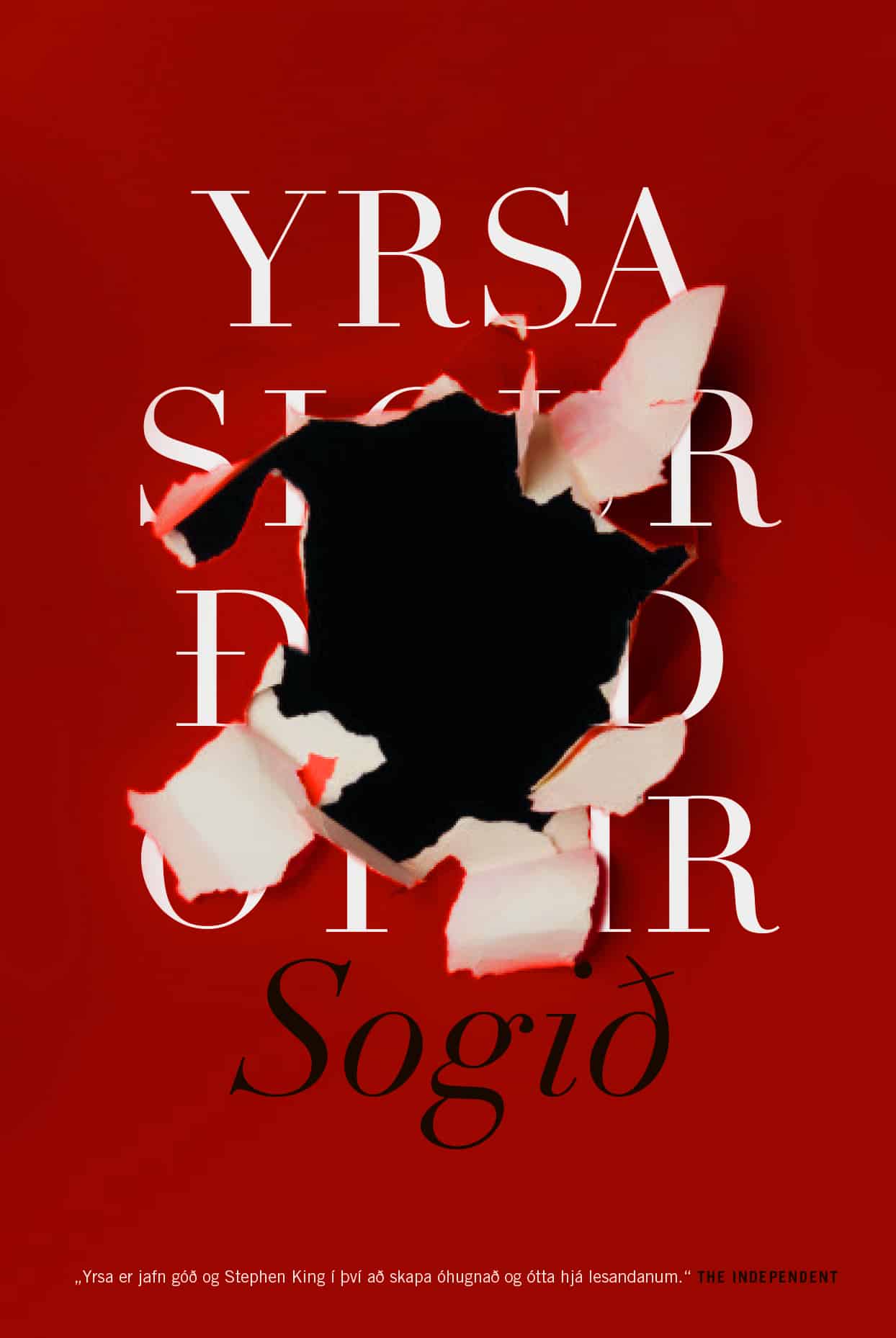 Sogid
The Reckoning
Freyja & Huldar #2
Twelve years after the rape and murder of a young girl in Hafnarfjörður, a time capsule is unearthed in Reykjavík. In the capsule are ten-year-old letters from school children, describing what they think Iceland will be like in 2016. But among the letters is also an unsigned message listing the initials of people targeted for murder. Shortly after the capsule's discovery, two severed hands are found floating in a hot tub in the middle of the city. The hands show signs of having been removed while the victim was still alive. Yet the police have received no missing person reports, and likewise no rumors of missing hands have surfaced. But when the first mangled body does turn up, it is soon followed by another, and it becomes evident that the letter from the time capsule is not to be taken lightly.
Policeman Huldar has fallen from grace in the police department, criticized for his handling of another case. No longer head of the department, he is shunned by most of his former underlings. His relationship with child psychologist Freyja is also in ruins, something he hopes to repair by including her in the investigation. But as Huldar and Freyja are drawn further and further into the case and the murderer's world, they discover that nothing goes as planned, and nothing is as it seems.
The Reckoning has impressed critics and readers alike, topping the Icelandic book chart at No. 1. Yrsa Sigurdardottir is at the top of her game, crafting a plot both shocking and enthralling, and with protagonists that only become more intriguing as they grow before the eyes of the reader.
"A dark story by a brilliant author. A densely plotted, multifaceted and compelling book. Exceeds most novels in the thriller genre."
–Erik Axl Sund, on The Reckoning
"One of the best books I've read for a long time: dark, creepy, and gripping from beginning to end."
-Stuart MacBride, on The Reckoning
Awards
Shortlisted for LovelyBooks' Der Leserpreis

(Best Crime & Thriller of 2017) Germany
2017

Shortlisted for The Blood Drop

(Best Icelandic Crime Novel of the Year) Iceland
2016
Close award list
Reviews
"Sigurdardóttir just keeps getting better and better. "

"Sigurdardóttir offsets sharp procedural elements and gruesome crimes with masterful character development and social commentary, creating a riveting, affecting thriller."

"Sigurdardóttir handles myriad plot threads, time lines, and characters with confidence, energy, and just a touch of cynical humor in this police procedural."

"The Reckoning is dark, grave and graphic — but also gripping and compassionate."

"It has everything you want in a police procedural: strong, memorable characters, a puzzling mystery and bizarre murders, all served up perfectly … The Reckoning makes for addicting reading."

"Sigurdardottir's The Reckoning is guaranteed to give you goosebumps. In a story both gruesome and heart-wrenching, Sigurdardottir weaves a masterful mystery that belongs on the bookshelf of every Scandinavian crime fiction reader."

"Yrsa Sigurðardóttir's incredible gift of mixing the macabre and the poignant, together with the astute observations of the ordinary life, sprinkled with a dark sense of humour, keeps on giving in buckets."

"More evidence of the author's gift for establishing a web so dark and deep-laid that it hardly matters which particular spider wove it."

"It's addictive, bleak, and will give you thrills and chills in equal measures."

"Brutal, baroque, and ends with a brilliant last-minute twist."

"In The Reckoning, Yrsa Sigurdardóttir exceeds herself and shows once more that she belongs among the top Nordic crime fiction writers. Last year's novel, The Legacy, was certainly a high point, but The Reckoning is even better. It's incredible how some authors time and time again manage to convince with great, not to mention intense, thrillers. Yrsa Sigurdardóttir has proven once again that it's possible. She just gets better and better with every new novel. /…/ It's risky to say so early on in the year that a novel will be among the major titles of 2017, but in the crime fiction genre I think The Reckoning will be one of this year's highlights! "

"[The Reckoning is] in all respects a powerful and thrilling sequel to last year's The Legacy."

"The Reckoning is a crime fiction novel of the highest quality."

"Dark, mysterious, macabre – it's no wonder the world loves Icelandic thrillers. Yrsa Sigurdardóttir writes crime friction that's eerie, suspenseful and clever. /…/ In keeping with the characteristics of modern crime fiction, this novel combines classic mystery with the thriller's intense escalation. I am convinced. The Reckoning is a solid work. "

"A novel with many unexpected turns, every time you think you have understood the story, it makes a flip right in front of your nose. /…/ [The Reckoning is] one of Yrsa Sigurdardóttir's best novels."

"A beautiful and well-crafted story"

"A refreshing, new kind of Nordic noir"

"Sigurdardóttir is a master of scary crime novels"

"Sigurdardóttir writes clever plots. She doesn't give the reader a chance to figure out the outcome but offers twists and turns in every corner /…/ The dark, partly gloomy atmosphere keeps the reader in a firm grip."

"Sigurdardóttir writes in that superb Icelandic crime fiction style, and with great stylistic linguistic finesse. [The Reckoning] features powerful character portrayals, a thrilling plot, and evocative milieu depictions. It's with good reason she's counted as Iceland's queen of crime fiction."

"What a delight it is when the second installment in a series manages to outdo the first. /…/ The intrigue is great and leaves room for police officer Huldar's and child psychologist Freyja's credibly complex private lives."

"The plot is so credible and yet so shocking – honestly put, it makes one put off sleep just to be able to continue reading. A ridiculously good crime novel."

"This is a supremely well written story, the plot is exciting and several times it takes sharp and unexpected turns. Readers of crime novels looking for the disturbing and shocking will certainly get their fix from this book."

"Yrsa's best book /…/ extremely powerful /…/ a real page-turner."

"Marvelously plotted, highly suspenseful and a surprising ending. /…/ Yrsa at her very best."

"Hurrah Yrsa! The story is extremely thrilling and the victims and evil-doers both evoke true feelings of sympathy within the reader."
Author

Yrsa Sigurdardóttir

Published

2015

Genre

Pages

368

Reading material

Icelandic edition

English edition

Rights sold

Bulgaria, Emas

Croatia, Znanje

Czech Republiv, Metafora

Denmark, Lindhardt og Ringhof

Estonia, Varrak

Faroe Islands, Sprotin

Finland, Otava

France, Actes Sud

Germany, Btb

Greece, Metaixmio

Hungary, Animus

Iceland, Veröld

Italy, Mondadori

Latvia, Zvaigzne ABC

Netherlands, Cargo

North Macedonia, Antolog

Norway, Kagge

Poland, Sonia Draga

Portugal, Quetzal

Russia, Eksmo

Serbia, Dokaz

Türkiye, Koridor

UK, Hodder & Stoughton

US, St. Martin's Press