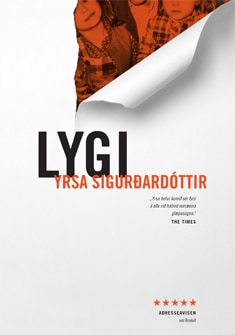 Four Icelanders take a trip to a lighthouse on a cliff in the Atlantic Ocean only accessible by helicopter: a female technician, two carpenters and a photographer. The night before the trip the photographer dreams that only two of them will return. On the isolated rock, strange occurrences take place and the extreme and claustrophobic circumstances are about to throw the disintegrated group into a state of panic and paranoia.
An Icelandic family returns to their house after a home exchange, only to find that their American guests have disappeared. As the husband sees video clips from the security camera in the family's summerhouse – which the guests had access to – he becomes convinced that something horrible has taken place there.
A policewoman comes across a fragment of an old police report of a case in which her husband was interrogated as a young boy. She now suspects that this old case may have something to do with his recent suicide attempt. It turns out that thirty years earlier, a journalist hung himself in the same garage as her husband. But why is the rest of the report missing?
These threads come together in a spine-chilling story where nothing is as it seems…
Selected 2016's "Crime Novel of the Year" by the Sunday Times.
Awards
Longlisted for the International Dublin Literary Award

Ireland
2018

Shortlisted for the Petrona Award

(Best Scandinavian Crime Novel of the Year) UK
2017
Close award list
Reviews
"A tour de force /…/ Sigurðardóttir handles the different plot strands brilliantly, bringing them together in an unforgettable climax."

"Three separate stories are gradually and skilfully merged together and bring this readable, enjoyable thriller to a melodramatic finale."

"All will revel in the customary Sigurdardóttir mixture of creepy atmospherics and sardonic humour. She is a treasure"

"A masterpiece of plotting and suspense"

"This spine-chilling new novel has her customary authority… and keeps us on the edge of our seats."

"A chilling suspense story"

"The reveal is a shocker! An intense Scandi-noir thriller."

"Retribution of biblical proportions and a lethal grudge link unconnected characters in this outstanding psychological drama."

"Yrsa is the master of the horrifying."

"A high voltage crime novel … definitely one of Yrsa's best books. Her fans will be thrilled."

"Yrsa is skilled at creating a sinister mood in her novels … keeps the reader on his toes to the very end."

"Hunting in the spirit of Hannibal Lecter /…/ In her thriller, Why Did You Lie, Yrsa Sigurdardottir is dealing with crimes and their consequences in a hair raising story. And those who don't have hair might get it again…"
Author

Yrsa Sigurdardóttir

Published

2013

Genre

Pages

323

Reading material

Icelandic edition

German edition

English edition

Rights sold

Albania, Shkupi

Germany, Fischer

Iceland, Veröld

Norway, Kagge

Spain, Mondadori (World Spanish)

UK, Hodder & Stoughton