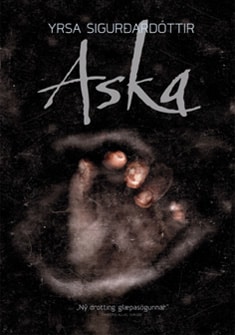 Aska
Ashes To Dust
Thóra Gudmundsdóttir #3
In 1973, a volcanic eruption forced the inhabitants of Heimaey to evacuate the island over night as their houses were covered in volcanic ash. Now, the decision has been made to carry out archaeological excavations to uncover the old houses. Markus Magnusson was only a teenager when he fled the island in 1973, but he contacts attorney Thóra Gudmundsdóttir to appeal the decision to excavate his childhood home.
But the archaeologists are determined and as they excavate Markus' house they make a gruesome discovery; the remains of three bodies and a severed head in a box. When Markus' childhood sweetheart is murdered in the wake of the shocking discovery his problems only seem to increase.
Once again, attorney Thóra Gudmundsdóttir must delve into the past, exposing ugly events that have until now been buried under volcanic ashes and dust…
Ashes to Dust is the third installment in the series about Thóra Gudmundsdóttir.
Reviews
"Fans of both mystery and international crime fiction will be intrigued."

"A fine mix of crime and vividly realized landscape."

"Buried under all the volcanic ash, false trails and endless recriminations is a puzzle whose grim solution is worthy of Stieg Larsson."

"Stands comparison with the finest contemporary crime writing anywhere in the world."

"Iceland's answer to Stieg Larsson."

"She is entitled to join the front ranks of Nordic crime writers."

"Excellent… Sigurdardóttir uses Iceland's past and present to full effect in this tale of hidden crimes and family secrets. Even those unfamiliar with this volcanic island nation will find themselves entranced."
Author

Yrsa Sigurdardóttir

Published

2007

Genre

Pages

380

Reading material

Icelandic edition

English edition

German edition

Rights sold

Czech Republic, Metafora

Denmark, Lindhardt og Ringhof

Estonia, Varrak

France, Editions Anne Carriere

Germany, Fischer

Greece, Diigisi

Iceland, Veröld

Italy, Il Saggiatore

Netherlands, House of Books

Norway, Damm

Poland, Muza

Portugal, Quetzal

Sweden, Damm

UK, Hodder & Stoughton

US, St. Martin's Press

Film rights sold

US, Palomar Pictures