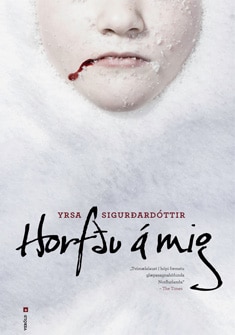 Horfdu a mig
Someone to Watch over Me
Thóra Gudmundsdóttir #5
When a residential unit for disabled people is burned down, all the residents are killed but one. Jakob, the lone survivor, has Down's syndrome and is convicted for the arson. Everyone around him knows he hated to live in the residential unit and the doubts are few. The case is closed and because of Jakob's disability, he is sent to a secure psychiatric hospital rather than prison. However, another inmate, a convicted child abuser, has become convinced about Jakob's innocence and approaches lawyer Thóra Gudmundsdóttir to try to get the case reopened. But as Thóra starts digging into the old investigation she is shocked to discover that some of the residents were horribly abused before the fire.
At the same time a radio show host receives strange text messages and phone calls, and a woman who died in a hit and run is trying to fulfill her promise to babysit a little boy – from the other side. All these threads come together in a horrifying thriller.
Someone to Watch over Me is the fifth installment in the series about Thóra Gudmundsdóttir. In 2013 it was named Crime Novel of the Year by The Sunday Times UK.
Awards
Shortlisted for the Petrona Award

(Best Scandinavian Crime Novel of the Year) UK
2014
Close award list
Reviews
"Iceland's Sigurdardottir is the reigning queen of mysteries, earning accolades worldwide and even an upcoming TV-series. She deserves every bit of her praise. Her series about Reykjavik lawyer Thora Gudmundsdottir is one of the best out there: spunky but smart heroine, wonderfully exotic setting, great subplots about Iceland's financial collapse and intriguing mysteries that always manage to satisfyingly come together. Someone to Watch Over Me may be her best Thora book, seductively weaving together two seemingly disparate stories about a man with Down Syndrome accused of burning down his group home and the hit-and-run-death of a babysitter who now seems to be haunting her young charge."

"This is a tough but moving novel, with an unusual plot and characters."

"Thriller of the week. This grimly compelling tale sees harassed Icelandic lawyer Thóra Gudmundsdóttir investigating an arson attack on a home for the disabled. /…/ This is a finely drawn portrait of a nation in shock."

"Someone to Watch over Me, just out, has already seen Yrsa Sigurdardóttir inevitable labeled 'Iceland's answer to Stieg Larsson'"

"Yrsa Sigurdardóttir is ensconced at or near the summit of Nordic crime writing, and the lawyer Thóra Gudmundsdóttir is an appealing heroine full of real-life problems. Someone to Watch over Me is Sigurdardóttir's most ambitious, deepest novel, less reliant on the Icelandic landscape, more concerned with damaged minds."

"Crime novel of the year. /…/ This is a dark and brilliant novel that takes an unflinching look at disability."

"A creepy, compelling thriller, Someone to Watch over Me is the fifth Thora Gudmundsdottir novel from Yrsa, 'Iceland's answer to Stieg Larsson'"

"A really good crime horror novel. I'll definitely read more from Yrsa Sigurdardottir."

"Someone to Watch over Me is unexpected and suspenseful all the way through. Read it!"

"Horribly fascinating /…/ A breathtakingly suspenseful book."

"Flawless and brilliantly plotted."

"Extremely well plotted, suspensful and a hair rising novel, probably Yrsa's best book yet."

"Captivating and entertaining crime novel which without doubt is Yrsa's best so far."

"A skilled author … Extremely well plotted."
Author

Yrsa Sigurdardóttir

Published

2009

Genre

Pages

388

Reading material

Icelandic edition

English edition

German edition

Rights sold

Czech Republic, Metafora

Germany, Fischer

Iceland, Veröld

Italy, Il Saggiatore

Netherlands, House of Books

Poland, Muza

Portugal, Quetzal

Sweden, Modernista

UK, Hodder & Stoughton

US, St. Martin's Press

Film rights sold

US, Palomar Pictures