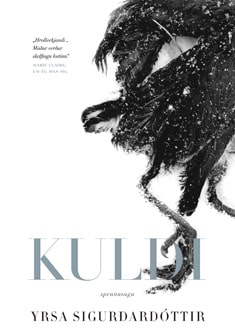 A young man in charge of an investigation into possible child abuse at the treatment center Krokur back in the seventies finds that the place has had its share of darkness. His inquiry into the death of two young boys at the facility unearths horrors that soon begin to tendril into his own existence and that of his young daughter. But are these hauntings from the past related to the premature death of his young ex-wife or do the bizarre observations have something to do with the Krokur facility?
As the young man's investigation moves forward, the reader is lead through the horrible events that occurred at Krokur all those years ago and closer and closer to a realization that the death of his ex-wife was in fact no accident. But while the young father desperately searches for the answers to his questions, the evil surrounding his existence becomes ever stronger.
The Undesired is a stand-alone thriller.
Reviews
"Two tales of personal and familial anguish, decades apart, drive this chilling standalone from Icelandic author Sigurdardóttir /…/ The two narratives converge on an exciting climax that testifies to Sigurdardóttir's command of psychological nuance and bitter irony."

"If you love Icelandic crime novels, you should not miss this one!"

"Nailbiting suspense /…/ It's not easy to write a good ghost story but The Undesired is even more accomplished than I Remember You."

"Tightly plotted /…/ a feast for lovers of good suspense."

"A chilling, bleak and hair-rising story but it's not the ghosts that frighten the reader most – but what ordinary people are capable of."

"Yrsa has a gift when it comes to scaring the life out of people… I love it! /…/ The Undesired is a pipe dream for fans of both horror and crime novels. To create a story that lets the reader and the protagonist find out the truth simultaneously is a feat not all succeed with. But Yrsa Sigurdardóttir does. Hair-raisingly good. /…/ …a strong story all the way through. Something completely unique."

"Scandinavia's best crime writer /…/ Uncannily good! /…/ Well-written, original and above all – super exciting crime. /…/ A page-turner out of the ordinary. /…/ The author writes brilliantly; the characters are nuanced, and she utilizes the rugged Icelandic landscape for what it is worth, the cold, the darkness, the icy wind, all this is seamlessly mixed into a crime novel that is uniquely exciting and with the potential to become a crime classic."

"Grim and likely to rob you of your sleep / … / Yrsa Sigurdardóttir has a pen tailored for this form of suspense. The supernatural feels logical. The horror is created without big words. Strong."
Author

Yrsa Sigurdardóttir

Published

2012

Genre

Pages

296

Reading material

Icelandic edition

German edition

English edition

Rights sold

Denmark, Lindhardt og Ringhof

France, Actes Sud

Germany, Fischer

Iceland, Veröld

Korea, Taurus

North Macedonia, Begemot

Norway, Kagge

Poland, Muza

Spain, Mondadori (World Spanish)

UK, Hodder & Stoughton

US, St. Martin's Press

Film rights sold

US, Palomar Pictures