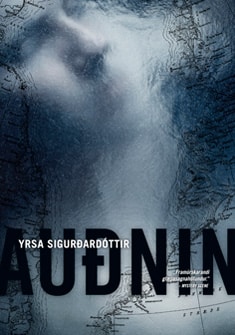 Audnin
The Day is Dark
Thóra Gudmundsdóttir #4
In the middle of the winter all contact is lost with two Icelanders who are working in a harsh and sparsely populated area of Greenland. Attorney Thóra Gudmundsdóttir is hired to go with a small group of people to the work site to find out what has happened. Does it have any connection to the mysterious disappearance of an Icelandic woman from the same site some months earlier? And why are the natives so hostile towards the work site?
Severe winter storms inhibit travel so the small group must hole up in the camp and wait until the elements allow an incoming flight to pick them up. Although unnerved by an unsettling presence that can be heard and felt, there is simply nowhere else for the team to go.
As a ravaged body is discovered in the kitchen's freezer, trust dissipates and it becomes clear that members of the team have old grievances and possible links to the project and the area that they want to keep secret, whatever the cost.
The Day is Dark is the fourth installment in the series about Thóra Gudmundsdóttir.
Reviews
"It's another complex case for Thóra, liveliest granny on the floes, and deeply satisfying for the warm-toed reader."

"This Nordic mystery proves colder, bleaker and more introspective than most: Scandi-noir extreme."

"Put simply, it's terrifying. And brilliant."

"As with the other books in this series there is humour and warmth. Atmospheric, complex and compelling with an unexpected ending."

"It has more than enough to make a really good detective novel with a hair-raising horror atmosphere, but Yrsa Sigurdardóttir also deftly interlaces myth and history, curses and real dangers. /…/ It never becomes unnecessarily exotifying. Instead Yrsa Sigurdardóttir emphasizes the deeply human and frankly depicts lack of understanding and abuse, love and rage, and how wickedly people can behave in groups. /…/ Yrsa Sigurdardóttir is an exceptionally refreshing crime author, not only when it comes to the subjects but also in the surprisingly wild language."
Author

Yrsa Sigurdardóttir

Published

2008

Genre

Pages

330

Reading material

Icelandic edition

English edition

German edition

Rights sold

Czech Republic, Metafora

Denmark, Lindhardt og Ringhof

Germany, Fischer

Greece, Diigisi

Iceland, Veröld

Netherlands, House of Books

Poland, Muza

Sweden, Modernista

UK, Hodder & Stoughton

US, St. Martin's Press

Film rights sold

US, Palomar Pictures