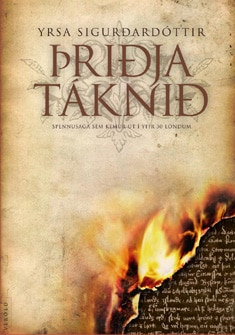 Pridja taknid
Last Rituals
Thóra Gudmundsdóttir #1
The badly mutilated body of a young German student is discovered in Iceland. The police soon make an arrest: a drug addict that admits to having sold drugs to the student but maintains his innocence with regards to the murder.
The wealthy family of the student employs Thóra Gudmundsdóttir, an Icelandic lawyer, to conduct her own investigation since they do not believe the drug addict is guilty of the murder. Annoyingly, Thóra must work alongside Matthew Reich, a former German policeman also employed by the family. She is easygoing and carefree; he is regimental and stiff.
Thóra and Matthew soon become caught up in an investigation that leads them from modern Reykjavik to the remote northwest coast, infamous in Icelandic history for its witch-hunts during the Dark Ages. Who wanted the student dead? And what connection does this tragedy have to horrible events that took place centuries ago?
"Dark, deep and icy as an Icelandic fjord; this is a rich and rewarding debut novel of ancient mysteries and very modern murder."
–Mark Billingham
Last Rituals is the first installment in the series about Thóra Gudmundsdóttir.
Reviews
"Suspenseful, compelling and unique."

"Given the dark subject matter, this is a surprisingly funny book /…/ a quirky and interesting read."

"Considering its population is only around 300,000, Iceland seems to have more than its fair share of good crime writers. Yrsa Sigurdardóttir keeps up the standard with Last Rituals, a grisly chiller set in the depths of winter /…/ Her mystery is absorbing and, untypically, instead of the usual gloomy middle-aged man, her sleuth is a young woman /…/ It's an accomplished debut, with credible characters and a personable heroine."

"This is entertaining, well-plotted and cleverly combines the historical and macabre with Thóra's life."

"Last Rituals shows that Yrsa Sigurdardóttir has arrived, fully formed, it seems, as something of a unique talent in the field /…/ What makes Sigurdardóttir's crime debut such an exhilarating experience is the way in which she takes familiar ingredients but throws off a series of innovative riffs on these concepts /…/ Her acute sense of place that gives such character to her work, and readers may feel a keen desire to visit Reykjavik after reading Last Rituals."

"Fans of peculiar and grisly crime novels will find much in Last Rituals to titillate them."

"An intricately plotted tale that keeps the reader guessing whodunit, or indeed whether it was murder at all, right until the very end."

"After its grisly opening, Last Rituals turns out to be a surprisingly light and playful novel /…/ Lawyer Thóra Gudmundsdóttir is an engaging detective… coping with her truculent teenage son and embarking on an unsuitable romance."

"A debut jammed with suspense."

"Enjoyable. A good read. The story is informative and interesting, and makes an encouraging start to a promised series."
Author

Yrsa Sigurdardóttir

Published

2005

Genre

Pages

351

Reading material

Icelandic edition

English edition

German edition

Rights sold

Arab World, Arabesque Publishing Press

Armenia, Guitank

Bulgaria, Prozoretz

Czech Republic, Metafora

Denmark, Lindhardt og Ringhof

Estonia, Varrak

Ethiopia, FabulArt

Finland, Otava

France, Editions Anne Carriere

Germany, Btb

Greece, Diigisi

Hungary, Animus

Iceland, Veröld

Italy, Sperling & Kupfer

Japan, Shueisha

Korea, Taurus

Lithuania, Metodika

Netherlands, De Fontein

North Macedonia, Antolog

Norway, Kagge

Poland, Muza

Portugal, Gótika

Romania, Humanitas

Russia, AST

Sweden, Damm

Thailand, Matichon

UK, Hodder & Stoughton

US, William Morrow

Film rights sold

US, Palomar Pictures