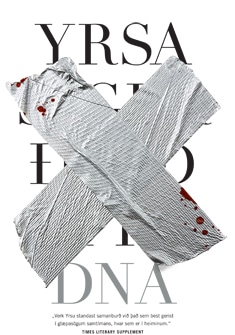 DNA
The Legacy
Freyja & Huldar #1
A young woman is brutally murdered in her home in Reykjavik. The only witness is her seven year old daughter. When another woman is murdered shortly thereafter, the police are at a loss. A radio-amateur receives peculiar messages which connect him to both of the murdered women and his curiosity drives him to begin an investigation of his own. Huldar, the police officer in charge of the investigation, and Freyja, the female psychologist entrusted with the seven year old girl who is their key witness, are forced to work together. Their collaboration is complicated by the fact that they recently spent the night together after meeting in a bar where Huldar claimed he was a carpenter from out of town…
The No. 1 bestselling author Yrsa Sigurdardóttir shows once again how skilled she is at creating nail-biting page-turners ripe with fast paced storytelling, lively prose, compelling characters and intelligent plotting. The Legacy is the first installment in a new series featuring the psychologist Freyja and the police officer Huldar.
The Legacy was awarded with The Danish Academy of Crime Writers' Award (Palle Rosenkrantz Prisen) 2016 for 'Best Crime Novel of the Year', with the motivation: "Her use of the crime fiction genre in the depiction of a nation in late modernity, with roots in a proud and turbulent past, is exemplary and captivating. She sensitively envelops the Icelandic setting with her excellent sense for the human, social, and psychological details, such as personal feelings and family life. Not to mention a latent longing for love in the form of something more than a short fling, a one-night stand and a volatile relationship. Moreover, she paints a picture of a strong, capable woman with a wounded soul, and a sullen man with a self-esteem about the size of a seagull dropping. All of it thrillingly set in the midst of a believable and realistic plot."
The novel was also selected as one of The Times' "Best books of the past five years".
"The Legacy takes us into a world where secrets are buried deep, only to reappear decades later and inflict harm on people who have no idea that they're connected by past horrors. Yrsa is a magnificent writer who envelops her stories with atmosphere so thick that only care and a bit of luck can see through it. Her characters spring vividly to life as they try their best to do just that, knowing that any mistake could be deadly for another innocent person. Impossible to put down."
–Karin Slaughter
"We have always been able to rely on Yrsa Sigurdardóttir for a good story well told, and The Legacy is no exception. A strong sense of place, interesting characters and a chilling plot make The Legacy a novel to savor."
–Peter Robinson
"If you like your crime fiction dark and engaging, look no further. A cracking start to a new series by Yrsa Sigurdardóttir."
–Mari Hannah, on The Legacy
"The Legacy is the start of an exciting new direction for Yrsa Sigurdardóttir. The horror of a decades-old family separation provides the catalyst for dark crimes and a complex investigation. [This] promises to be an outstanding series."
–Sarah Ward, author of In Bitter Chill
Awards
Shortlisted for LovelyBooks' Der Leserpreis

(Best Crime & Thriller of 2016) Germany
2016

The Danish Academy of Crime Writers' Award

(Best Crime Novel of the Year) Denmark
2016

The Blood Drop

(Best Icelandic Crime Novel of the Year) Iceland
2015

Shortlisted for the Glass Key

The Nordic Countries
2014
Close award list
Reviews
"[The Legacy] is as stark and horrifying as any of the ancient Icelandic sagas. /…/ Few readers will be able to put down this powerful tale of revenge."

"This complex, character-driven procedural, the first in a new series from Sigurdardóttir, is powerfully rooted in buried secrets of childhood trauma."

"A gripping thriller and an expertly plotted police procedural that cements Sigurdardóttir as one of Nordic Noir's authors to watch."

"This is another tour de force from Sigurdardóttir and is sure to cement her reputation as the queen of Nordic noir. Her writing is evocative and fraught as she skillfully ratchets up the tension and fear. A cracking read that will keep you guessing until the very last page."

"The deeper Sigurdardóttir delves into the dark corners of her imagination the more her creative talents thrive. This is a compelling read for anyone with an appetite for the macabre and the cryptic."

"[A] thoroughly good read"

"Superior Icelandic thriller"

"Yrsa Sigurdardóttir remains the queen of Icelandic thriller writers – and anyone curious as to why simply needs to pick up The Legacy, which is closer in feeling to the macabre work of Stephen King than to most Nordic noir. /…/ everything here is storytelling sinew – there is not an ounce of subcutaneous fat."

"[Sigurdardóttir is] the doyenne of Icelandic crime novelists"

"If you haven't already met The Queen of Icelandic Crime Fiction start here, because this is her best novel to date."

"This crime novel will make your blood freeze, from the first page till the last. Once you've started [reading], it's impossible to put down."

"With this addictive and chilling novel with a surprising plot, Yrsa Sigurdardóttir confirms her status as the queen of Icelandic crime fiction."

"A crime novel that will make your blood freeze. /…/ A dark crime novel, very well-constructed. Suspense and surprises are guaranteed, this book will leave a lasting impression."

"Sigurdardottir takes the time to tell a story of origin, family ties and their consequences, and to fully explore all the subtlety and layers of this suspense novel."

"Exciting, original and hard to put down."

"Sigurdardottir tells a terrifying, superb and exciting story, but always keeps her sense of humor."

"Sigurdardottir tells a terrifying, superb and exciting story, but always keeps her sense of humor."

"Iceland's queen of crime fiction is definitely Yrsa Sigurdardóttir."

"She just keeps getting better and better. /…/ Yrsa Sigurdardóttir is great at psychological plots and possesses a thrilling style. The ending was a complete surprise. Definitely a wonderful piece of crime fiction."

"Brrr… Goosebumps! /…/ I can already reveal that the end of the book will surprise you. This is a novel perfect for the dark winter months, but certainly not to be recommended for the faint of heart."

"Crime fiction of the best kind. Scandinavia's greatest crime writer maintains a superior level. /…/ The Legacy is a powerful work of crime fiction from Sigurdardóttir – well-written, original, unparalleled descriptions of the natural environment, top level thrills, and a rich cast of characters."

"Suspenseful and well-executed /…/ the best to date."

"Absolutely a novel one is captivated by. I simply had to read it in one sitting."

"Towards the end, Sigurdardóttir tightly ties together the threads, but still the suspense is maintained till the last second. And in a peculiar way, the conclusion helps soften the angst one came to feel as the murders occurred. Artfully done."

"Yrsa Sigurdardóttir has done it again. /…/ There's no doubt that the Icelandic crime fiction author has found her voice."

"The Icelandic suspense author Yrsa Sigurdardóttir has written a brilliant thriller that makes chills run down the spine of anyone who opens the book. /…/ [Sigurdardóttir] has written a number of good crime novels before, but The Legacy is a novel in a league of its own. /…/ It's not often you can say that a book is hard to put down, but The Legacy is just such a novel. The reader is propelled forward page by page, and the book is brimming with surprises as the hunt for the culprit behind the atrocities goes on. /…/ With The Legacy, Yrsa Sigurdardóttir shows us why she is considered one of the Nordic region's queens of crime."

"Yrsa Sigurdardóttir if anyone will make sure to keep the standard up high /…/ and the readers are given a high quality crime fiction novel."

"Iceland has crowned [a crime fiction queen of] their own, and when you have read The Legacy you'll understand why."

"The Legacy is a riveting page-turner from Iceland's crime fiction queen Yrsa Sigurdardóttir, who once again shows a flair for creating intelligent thriller plots and efficiently told stories with an intriguing character gallery."

"Yrsa Sigurdardóttir is masterful in her descriptions of vile murders /…/ This is a novel that provides an experience both sensual and literary."

"The Legacy is a unique psychological thriller with merciless murders and a high credibility that even the most seasoned crime fiction reader has yet to see. From the first page Yrsa Sigurdardóttir manages to keep a firm grip on the reader in an intense plot with surprising highlights and captivating characters. "

"This is a really terrifying and incredibly well-written thriller with many suspenseful leads to follow.
The character gallery are vibrant and the environments are depicted crystal clear."

"[Yrsa Sigurdardóttir] has her own unique narrative style. She's straight to the point and succinct, only to suddenly surprise you with a dry, ironic humor."

"With great characters Sigurdardóttir shows why she's one of Iceland's biggest crime stars."

"In The Legacy, Yrsa does not let her fans down."

"With The Legacy, Yrsa tops everything I've seen before. – A thrilling book"

"Perfectly plotted. The reader won't know who the killer is before the author brings the villain of the story on a silver plate at the very end, which is exactly how it should be. /…/ Yrsa knows how to fill her readers with suspense and uncertainty, how to horrify and frighten as she spices her stories up with suitable portions of evil intentions and – above all – blood."
Author

Yrsa Sigurdardóttir

Published

2014

Genre

Pages

380

Reading material

Icelandic edition

English edition

German edition

Rights sold

Bulgaria, Emas

Croatia, Znanje

Czech Republic, Metafora

Denmark, Lindhardt og Ringhof

Estonia, Varrak

Faroe Islands, Sprotin

Finland, Otava

France, Actes Sud

Germany, Btb

Greece, Metaixmio

Hungary, Animus

Iceland, Veröld

Italy, Mondadori

Latvia, Zvaigzne ABC

Netherlands, Cargo

North Macedonia, Antolog

Norway, Kagge

Poland, Sonia Draga

Portugal, Quetzal

Russia, Eksmo

Serbia, Dokaz

Türkiye, Koridor

UK, Hodder & Stoughton

US, St. Martin's Press