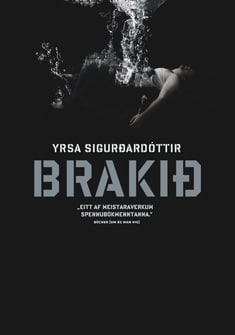 Brakid
The Silence of the Sea
Thóra Gudmundsdóttir #6
An abandoned luxury yacht crashes into the harbor of Reykjavik after a long journey from Lisbon. The yacht was taken over by an Icelandic bank when the former owner defaulted on his loans. The crew of three and a family of four that were supposed to deliver the yacht to Reykjavik are missing when it reaches the harbor. Apparently, the parents of the missing family had taken out huge life insurance policies prior to the journey and now it's up to lawyer Thóra Gudmundsdóttir to get the insurance company to shell out. To do so she must prove that the happily married couple has indeed passed away.
As bodies begin to wash ashore, Thóra's investigation unravels the mystery regarding the occurrences that took place during the journey from Lisbon to Reykjavik. At the same time the reader gets to know how numerous uncanny incidences onboard reached a tragic crescendo.
In 2011, The Silence of the Sea was the most sold book in hardcover in Iceland. It was also selected one of the 'Best Books of 2016' by The Boston Globe.
The Silence of the Sea is the sixth installment in the series about Thóra Gudmundsdóttir.
"A gripping thriller with enough mystery and horror to keep you sitting on the edge of your seat while you try to work out what happened."
–Peter Robinson
Reviews
"This story's mystery is flawless and its eeriness unshakable."

"Sigurdardottir has created a clever, seaborne locked-room puzzle with a touch of the supernatural. She also deftly evokes the lovely but treacherous land- and seascapes of the North Atlantic."

"[In] Sigurdardóttir's outstanding sixth Thóra Gudmundsdóttir thriller… Sigurdardóttir does a masterly job of weaving together the story of Thóra's painstaking investigation with an account of the voyage and its horrifying spiral into disaster. In effect a locked-boat mystery enhanced with a hint of ghosts, this deliciously eerie variation on Agatha Christie's Ten Little Indians won the Petrona Award for best Scandinavian crime novel in 2015. "

"A tour de force capped by a haunting final scene that will linger in your mind long after the cumbersome explanation of how the trick was worked."

"…gripping and claustrophobic /…/ ends with one of the most dramatic twists in recent crime fiction."

"The writing is excellent, the investigation scrupulous and the outcome miserable."

"The author creates in flashback a Christe-esque puzzle as life on the yacht becomes tense, then increasingly scary. /…/ An artfully constructed, highly entertaining read, more Golden Age than Nordic Noir… until the very last page."

"This well-crafted novel will keep you gripped until its chilling end"

"Chilling, spooky and at times gruesome, Sigurdardóttir's books (she also writes the occasional horror tome) are compulsive page-turners and prove fascinating eye-openers into the complexities of Icelandic life and its bleak exoticism."

"This Week's Hot Read! /…/ A thrilling whodunnit"

"The uncertainty about what really happened engages the reader to the end in nerve-wrecking suspense. Definitely one to read!"

"Nordic Noir at its chilling best"

"The latest hot shot /…/ You can almost feel the damp swirling fog rising from the pages…"

"…an immensely captivating thriller of the sort that you simply cannot put down."

"Ice cold horror, people in an isolated environment and a dense, claustrophobic atmosphere. … A solid crime novel."

"A first class thriller … Very suspenseful and blood-stained horror with a mysterious drama."

"Really good; dark, ice cold. Just like the ocean."
Author

Yrsa Sigurdardóttir

Published

2011

Genre

Pages

346

Reading material

Icelandic edition

German edition

English edition

Rights sold

Czech Republic, Metafora

Germany, Fischer

Iceland, Veröld

Italy, Il Saggiatore

Korea, Taurus

Netherlands, House of Books

Norway, Kagge

Poland, Muza

Portugal, Quetzal

UK, Hodder & Stoughton

US, St. Martin's Press

Film rights sold

US, Palomar Pictures