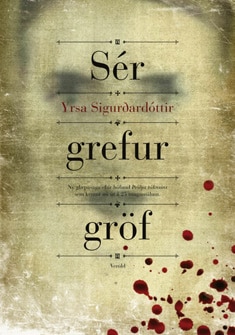 Ser grefur gröf
My Soul to Take
Thóra Gudmundsdóttir #2
A grisly murder is committed at a resort situated in a renovated farmhouse. The owner of the newly established resort falls suspect and calls upon attorney Thóra Gudmundsdóttir to assist him in clearing his name.
Thóra's investigations soon reveal that a sizeable portion of the resort's guests and neighbours had ample reasons to want the woman dead. Additionally, Thóra finds various evidence implying a disturbing history of the farmhouse, involving the murder of a child. Thóra must also attempt to get a handle on her feelings for the German PI, Matthew who has arrived in Iceland on vacation, his mind set on renewing their relationship.
The biggest challenge for Thóra is to prove her suspicion that the farmhouse's dark history relates in some way to the murder, something that becomes increasingly urgent when a second murder takes place…
My Soul to Take is the second installment in the series about Thóra Gudmundsdóttir.
Reviews
"Top notch crime fiction."

"Icelandic attorney Thóra Gudmundsdóttir is a clever and astute woman, and a welcome addition to the pantheon of fictional female investigators."

"This is well-written, pacey and wonderfully atmospheric, but the USP here is the character of Gudmundsdóttir. Wry, very funny and valiantly trying to balance the demands of her private life with her work – she is a joy. I'm looking forward to number three. /…/ Yrsa Sigurdardóttir brilliantly conjures an atmosphere of creeping menace and unreality."

"Sigurdardóttir delivers terrific clammy atmosphere and frequent frissons of fear; she is entitled to join the front rank of Nordic crime writers."

"Both frightening and funny – a terrific trick if you can pull it off."

"Distinguished by superb evocations of extraordinary landscapes and rivetingly gruesome inventiveness."

"The numerous twists and turns are worthy of Agatha Christie and keep the reader guessing until the very end."

"A welcome second outing for the good-natured lawyer-sleuth Thóra Gudmundsdóttir… Yrsa Sigurdardóttir's lightness of touch is refreshing."

"The novel is both spooky and gruesome. But Thóra's distinctly chaotic private life provides a welcome contrast and moments of very black humour /…/ It's rare to find a crime novel that's both chilling and witty – an agreeable combination."

"Dark, rich and satisfying."

"Iceland is fast becoming a hotbed of fine crime writing, and Sigurdardóttir is at the front of the pack. This second novel builds on her already impressive reputation… brilliantly paced and expertly constructed."
Author

Yrsa Sigurdardóttir

Published

2006

Genre

Pages

384

Reading material

Icelandic edition

English edition

German edition

Rights sold

Czech Republic, Metafora

Denmark, Lindhardt og Ringhof

Estonia, Varrak

Finland, Otava

France, Editions Anne Carriere

Germany, Btb

Greece, Diigisi

Iceland, Veröld

Italy, Sperling & Kupfer

Korea, Taurus

Netherlands, House of Books

North Macedonia, Antolog

Norway, Kagge

Poland, Muza

Portugal, Gótika

Sweden, Damm

UK, Hodder & Stoughton

US, William Morrow

Film rights sold

US, Palomar Pictures