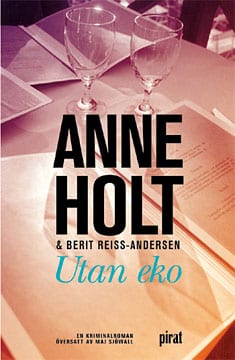 Uten ekko
No Echo
Hanne Wilhelmsen #6
The murder of a celebrity chef proves a hard case for the Oslo Police: Brede Ziegler was everybody's friend and yet nobody knew anything about him. Returning from exile, Hanne Wilhelmsen is able to crack the case through the help of an aging street prostitute. At the same time, this unlikely woman finally helps Hanne to experience a little happiness and inner peace.
(Co-authored by Berit Reiss-Andersen, Holt's under-secretary as Minister of Justice)
No Echo is the sixth installment in the Hanne Wilhelmsen series.
Reviews
"Edgar-finalist Holt's impressive second collaboration with Reiss-Andersen /…/ Transcripts of witness statements alternate with Holt's penetrating psychological analysis of human desires, weaknesses, and essential decency, unveiling unexpected dimensions of her series characters."

"This sixth Hanne Wilhelmsen novel is a nearly pitch-perfect procedural layered over a moving exploration of rejection and abandonment."

"Not only the best of the so-far six books featuring Hanne Wilhelmsen, but simply brilliant – both as a crime-story and as a novel."

"Anne Holt keeps consolidating her position as Scandinavia's top crime writer."

"Well told, realistically depicted characters and a plot that is both appealing and intelligent: Anne Holt has placed herself in a position without peers. Many aspire to that position, but few are allowed to get there."

"In many ways, No Echo is an exemplary detective-story. It is thrilling and well constructed, with living characters and a language that is simple, yet not lacking in enjoyable elements."

"A dense atmosphere, a good depiction of police-work and very well written. Strong characters, fine settings. This is a very good crime novel."

"An excellent crime novel"
Author

Anne Holt

Published

2000

Genre

Pages

420

Reading material

Norwegian edition

English edition

Rights sold

Denmark, Modtryk

Finland, Gummerus

Germany, Atrium

Italy, Einaudi

Korea, Minumsa

Norway, Vigmostad & Bjørke

Spain, Mondadori (World Spanish)

Sweden, Piratförlaget

UK, Corvus

US, Scribner