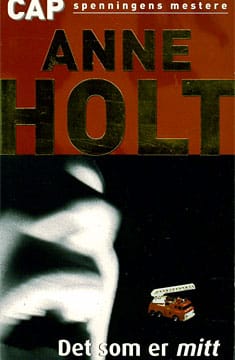 Det som er mitt
What Is Mine
Inger Johanne Vik #1
A multiple child kidnapper and killer at large in Norway unites jovial widower Yngvar Stubø with nervous, angst-ridden ex-FBI profiler Inger Johanne Vik, together forming one of the most original crime-solving teams ever. Together, Stubø and Vik manage to find a complex story of revenge where the rest of Norway are out hunting down paedophiles. A unique and clever crime story combined with a serious discussion of children and our responsibilities.
The internationally bestselling What Is Mine has sold more than 500 000 copies.
What Is Mine is the first installment in the Inger Johanne Vik series.
"A genuinely puzzling and deeply unsettling thriller. Anne Holt is the latest crime writer to reveal how truly dark it gets in Scandinavia."
–Val McDermid
Reviews
"Her American debut is both an impassioned commentary on the responsibilities of parenthood and an engrossing mystery with an ingenious final twist."

"A savvy, sharply delineated suspense novel from Norwegian crime author Holt delves into the haunting motivation of a child-abductor. /…/ Based on a true Norwegian murder case, Holt's work is cerebral, complicated and immensely rewarding."

"Fast-paced twists and turns plunge the reader into a nail-biting ending. Holt provides a gripping crime mystery in this first of a three-book series featuring Stubo and Vik. Highly recommended"

"This first in a three-part series to feature Vik and Stubo is a thoughtful, deeply disturbing exploration of a heinous crime."

"Anne Holt, one of Norway's best-selling writers, fills the bill with What is Mine, her first book to be published in the USA. /…/ Holt's language is spare, her plotting precise and her portrayal of human emotions remarkably astute."

"Holt spins out fabulous twists, deft plotting and most incredibly, no loose ends."

"American readers will have no trouble entering [Holt's] dark and complicated world, peopled as it is by characters who are both a little strange and perfectly recognizable. /…/ …this is the first novel of what is a set of three featuring [Vik and Stubo], which I now can't wait to follow all the way through. /…/ This novel's plot is very twisty, with a major surprise the resolves an old mystery and connects to the current one, in the very last few paragraphs."

"In addition to having a plot that captures the reader's interest from the very first page, Anne Holt's novel also provides a panorama-like insight into the psychological shift that has taken place in Norwegian society over the past fifty years. /…/ [Holt's] most impressive achievement is that she succeeds in combining a solid socio-historical approach to her material with the sharp turns of an action-packed page-turner. What Is Mine is the first installment in the Inger Johanne Vik series, which already stands out as one of the most promising in Scandinavian crime fiction."
Author

Anne Holt

Published

2001

Genre

Pages

370

Reading material

Norwegian edition

English edition

Rights sold

Albania, IDC

Bulgaria, Emas

Denmark, Gyldendal

Estonia, Ersen

Finland, Gummerus

France, Plon

Germany, Piper

Iceland, Salka

Italy, Einaudi

Latvia, Kontinents

Lithuania, Baltos Lankos

Norway, Vigmostad & Bjørke

Poland, Jacek Santorski

Portugal, Pergaminho

Russia, Inostranka

Slovakia, Ikar

Spain, Roca (World Spanish)

Sweden, Piratförlaget

UK, Corvus

Film rights sold

Sweden, Miso