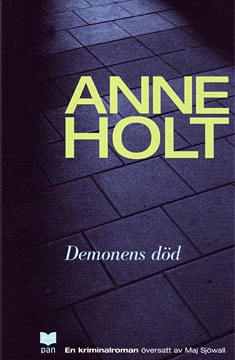 Demonens død
Death of the Demon
Hanne Wilhelmsen #3
In a foster home outside Oslo, a twelve-year-old boy is causing havoc. The institution's steely director, Agnes Vestavik, sees something chilling in Olav's eyes: sheer hatred. When Vestavik is found murdered at her desk, stabbed in the back with an Ikea kitchen knife —with Olav nowhere to be found— the case goes to maverick investigator Hanne Wilhelmsen, recently promoted to chief inspector in the Oslo Police.
Could the child be a murderer? As police canvass the city for Olav, Hanne, working alongside the foulmouthed detective Billy T., orders an investigation of the home's employees. But despite her supreme deductive skills, she is hopeless at delegating, hopeless at pooling information, hopeless at sharing responsibilities. Can Hanne learn to trust others before her bullheaded instincts lead her astray—in the workplace and on the home front?
Meanwhile, Olav makes his way through the city, looking for the mother who was forced to consign him to the state's care. A dark and captivating new chapter in this brilliant, rollicking series, Death of the Demon examines that murky intersection between crime and justice.
Death of the Demon is the third installment in the Hanne Wilhelmsen series.
Reviews
"Holt's stellar third Hanne Wilhelmsen novel"

"There are passages that I doubt I will ever forget /…/ These elements make Death of the Demon a fast and heart-stopping read, whether or not you are familiar with Holt's novels."

"Always adept at balancing emotional narrative and strong suspense, Holt has crafted another must-read with this fascinating peek into a modern Sherlock's investigative mind."

"As always, Holt shifts POV between characters, giving each a unique voice and adding depth to their personalities. Her ability to layer the procedural details of the investigation with the emotional responses of the characters makes this a series to follow."

"Surfing on the same wave of tough female gumshoes like Sara Paretsky or Clair McNab, only considerably better."

"Anne Holt has already been met with much praise, both in Sweden and elsewhere. Her new, third crime novel, Death of the Demon, is her best."

"Norway's Queen of Crime has abandoned big-scale violence in her new thriller. Instead, the thrill arises from the skilfully crafted characters and the dark secrets that may lurk in an ordinary work place."

"To the delight of all those liking good, realistic and at the same really thrilling crime novels. /…/ The last one, Death of the Demon, is no exception. A classic crime puzzle /…/ The perfect pastime for a rainy autumn weekend."

"Strong contemporary authenticity"

"Death of the Demon is an immensely good and competent thriller."
Author

Anne Holt

Published

1995

Genre

Pages

245

Reading material

Norwegian edition

English edition

Rights sold

Czech Republic, Jota

Denmark, Modtryk

Finland, Gummerus

Germany, Atrium

Italy, Einaudi

Norway, Vigmostad & Bjørke

Poland, Proszynski

Spain, Mondadori (World Spanish)

Sweden, Norstedts

UK, Corvus

US, Scribner