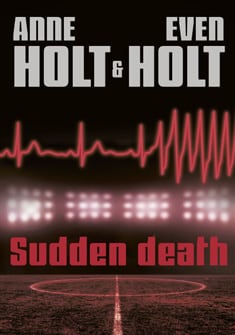 Sudden Death
Sudden Death
Dr. Sara Zuckerman #2
Mildly impressed, the cardiologist Sara Zuckerman endures her first live soccer game. It's the game of games – the Champions League final, in which Bayern München and Borussia Dortmund is vying for the title at Wembley Stadium. But when the referee calls a penalty, Sara is the only one who notices a player lying lifeless on the field. Her quick intervention is viewed by 600 million fans around the world, and the player survives.
Sara's newfound fame attracts the attention of Najib Aysha, a finance mogul who owns the Premiere League team Notting Hill. Having pulled the team out of the lower divisions and into the sport's finest league, Aysha is now admired by everyone, feared by some, and loved by few people other than himself. Sara and Aysha's meeting at Wembley will turn out to be pivotal. For both of them.
Sudden Death is a new heart-stopping thriller about cardiologist Sara Zuckerman. In the world of professional soccer, where money is power and players are mere chess pieces for the owners, Sara finds herself dragged into a struggle against both visible and invisible adversaries – a game where it becomes more and more difficult to spot the players.
Sudden Death is the second book about Sara Zuckerman. The first book, Flimmer, was published in 2010.
Reviews
"Holt scores a goal with a crime novel about football /…/ The story takes place in well-known environments, such as Oslo and London. And the Premier League, the high games, the big scams, the doping is all something we recognize by now /…/ It's a goal."

"The combination of Even Holt's knowledges as a cardiac surgeon and Anne Holt's pen, makes the reading experience different from what you're used to with crime literature."

"Co-author Even Holt is a surgeon, and all the medical lingo in the book holds the highest of credibility, even though the doping does not exist in real life. Actually, the whole story is internationally credible, a fact that will give you chills. Regarding the language, it flows well /…/ A little unexpectedly, after having followed the ups and downs with Anne Holt's Hanne Wilhelmsen; I read the book in one sitting. This is no small proof of quality."

"Even Holt's medical knowledge and Anne Holt's critically acclaimed abilities as an author creates an uninterrupted captivating reading experience and a thriller at international top level. "

"The siblings Anne Holt and Even Holt's new thriller Sudden Death beats most in the same genre. /…/ The beginning is magnificent. /…/ The pace in this novel is fast. /…/ Sudden Death is simply an exceptionally well-written thriller without the usual string of cynical, alcoholic, divorced and opera-loving detectives or threadbare policemen. Even Holt's medical expertise in tune with deep-dyed Anne Holt grips the reader from the first page to the last, something that is becoming increasingly rare. "

"Gruesomely suspenseful!"
Author

Anne Holt

Published

2014

Genre

Pages

445

Reading material

Norwegian edition

Rights sold

Bulgaria, Emas

Denmark, Gyldendal

Finland, Gummerus

Germany, Piper

Italy, Einaudi

Norway, Vigmostad & Bjørke

Sweden, Piratförlaget