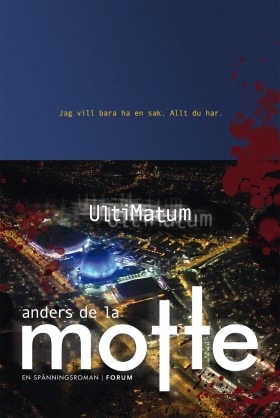 UltiMatum
Ultimatum
David Sarac #2
When a savaged body is found in the waters outside of the governing party's conference centre, the case lands on detective Julia Gabrielsson's desk. Who is the deceased and why has somebody gone to such trouble to make sure the body is unidentifiable?
Officer David Sarac is a man haunted by demons. After a violent showdown that almost cost him his life, the policeman is being treated at a closed ward far from the capital. Soon he will permanently silence the accusing voices in his head. But a mysterious offer has David changing his mind.
UltiMatum is an adrenaline-charged and suspenseful thriller set in a ruthless world where all means are permitted in the fight for power. It is the second, stand-alone volume in the series that began with MemoRandom.
Awards
The Swedish Academy of Crime Writers' Award

(Best Swedish Crime Novel) Sweden
2015
Close award list
Reviews
"Once again the author demonstrates his legerdemain in manipulating disparate story lines – as well as avoiding allowing the plot, gripping as it is, from overshadowing so many characters readers will care about."

"This book by Sweden's finest current crime writer is a Charles Dickens of a novel."

"An incredibly suspenseful story of power struggles, betrayals and corruption."

"The pulse and suspense are both at a peak."

"It's ferociously thrilling. /…/ Anders de la Motte's storytelling possesses a momentum that makes his novels into real page-turners."

"Anders de la Motte has herein crafted a modern, Swedish thriller of international class, with an ethical social pathos and filmic qualities. A bit like the books of Arne Dahl and the movies about Jason Bourne all in one package."
Author

Anders de la Motte

Published

2015

Genre

Pages

368

Reading material

Swedish edition

English edition

Rights sold

Brazil, Record

Canada, HarperCollins

Czech Republic, Euromedia

Estonia, Tänapäev

France, Fleuve Noir

Greece, Klidarithmos

Israel, Keter

Italy, Mondadori

Korea, Balgunsesang

Latvia, Zvaigzne ABC

Netherlands, De Geus

Norway, Aschehoug

Poland, Czarna Owca

Romania, RAO

Slovakia, Ikar

Slovenia, Ucila

Spain, Urano

Sweden, Forum

UK, HarperCollins

US, Emily Bestler Books