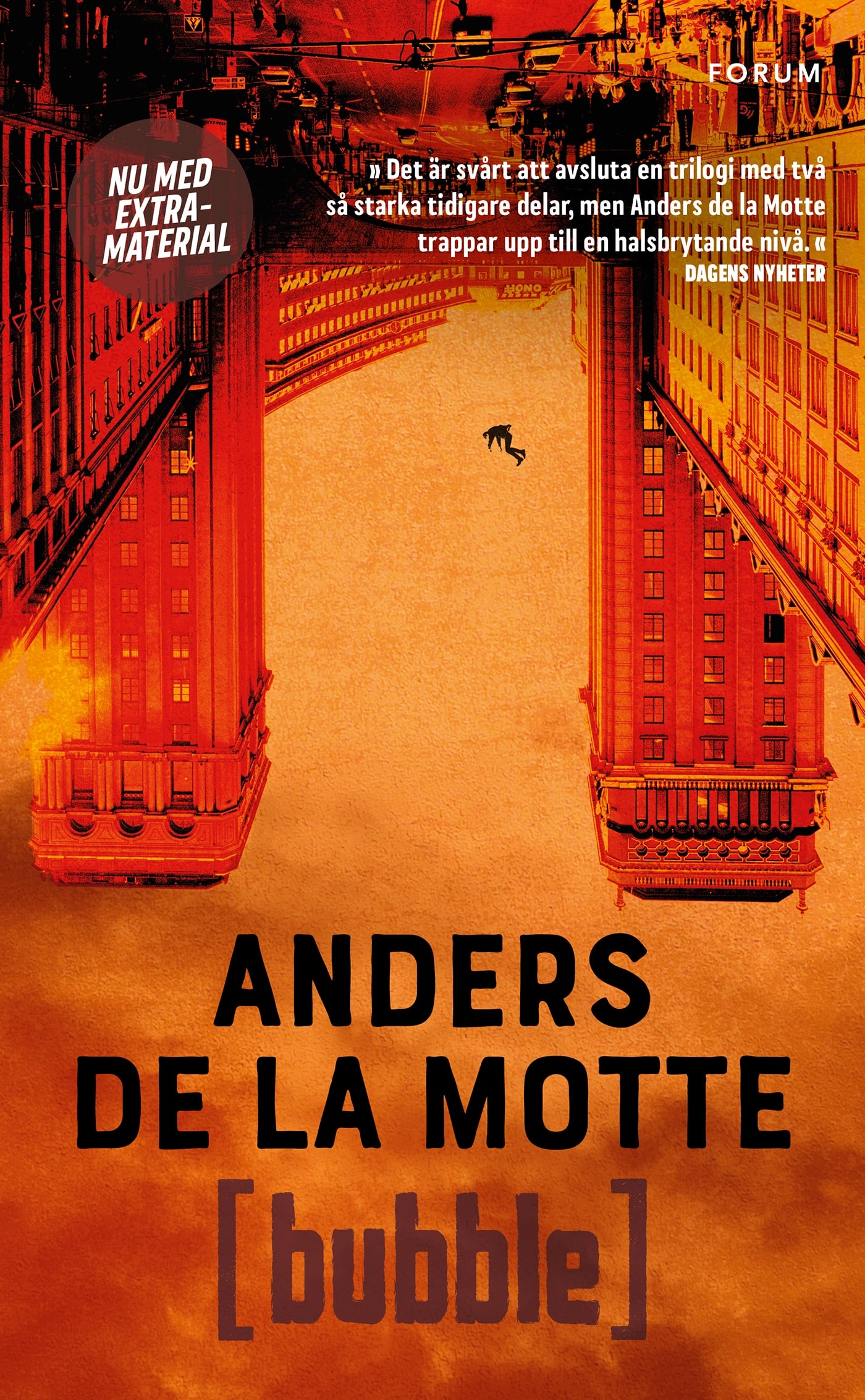 [bubble]
Bubble
The Game Trilogy #3
The Game has proved to be a very dangerous experience for Henrik "HP" Petterson. He is in the middle of a deep crisis and living an isolated life, convinced he is under constant surveillance by both the police and the Game Master. He keeps catching glimpses of people from his previous assignments, and soon his paranoia grows to madness. He no longer knows who or what to believe and the boundaries between the Game and real life are more blurred than ever. Still, he is determined to accomplish one final mission in order to shed light on the Game and uncover the truth behind it, no matter what the consequences will be.
Rebecca's life has changed drastically since her brother became entangled in the Game. She has quit the police force and started working with private security for an IT company owned by the behemoth PayTag Group. Her relationship is hanging by a thread after her affair with a police colleague and she does her best to save it. Moreover, she is popping pills in order to cope with the stress. When she gets access to a safe-deposit box that belonged to her father that contains a gun and several passports, she starts her own search for the truth. There might be a connection between her father's past, the Game, and what is happening to her brother HP…
Bubble is the third and final installment in the Game Trilogy.
Reviews
"[This is] a trilogy you shouldn't miss… It's not easy to conclude a trilogy with such strong previous installments, but Anders de la Motte escalates to a breakneck level."

"Compared to the two previous books there is more action now, the dramatic events are stacked one after the other… No one can be trusted and nothing is what it seems. And just that is one of the book's most powerful elements. The author's language is as refreshing as before… His sense of humor is refreshing, I often read with a smile on my face, also when it gets violent. /…/ It will in any case be very interesting to see what Anders de la Motte writes next. I take for granted that one of Sweden's most skilled thriller writers will surprise – once again!"

"Highlighting digital society, Anders de la Motte once again provides his readers with a whirlwind thriller pace, like MTV in fast-forward. Congratulations to those of you who haven't yet read Game – Bubble is the third installment. A reading experience awaits you."

"This trilogy completely stands out from the abundance of mediocrity that crowds the crime and thriller sections of the bookstores. /…/ High-paced and enthralling to such a degree that one simply cannot stop reading. The language contributes a lot to the captivating reading. It's brisk and contemporary. /…/ Suspense, societal criticism and sharp-eyed contemporary depiction – we can only conclude that Anders de la Motte has written a perfect thriller."
Author

Anders de la Motte

Published

2012

Genre

Pages

336

Reading material

Swedish edition

English edition

Rights sold

Brazil, DarkSide

Bulgaria, Ciela

Canada, HarperCollins

China, ERC Media (Simplified Chinese)

Croatia, Znanje

Czech Republic, Euromedia

Estonia, Tänapäev

Finland, Otava

France, Fleuve Noir

Germany, Heyne

Greece, Klidarithmos

Iceland, Forlagid

Israel, Keter

Japan, Hayakawa

Korea, Balgunsesang

Latvia, Zvaigzne ABC

Netherlands, De Geus

Poland, Czarna Owca

Portugal, Bertrand

Romania, RAO

Russia, Eksmo

Slovakia, Ikar

Slovenia, U?ila

Sweden, Forum

Taiwan, Crown (Complex Chinese)

UK, Blue Door

US, Emily Bestler Books

Film rights sold

Denmark, Sweet Chili Entertainment