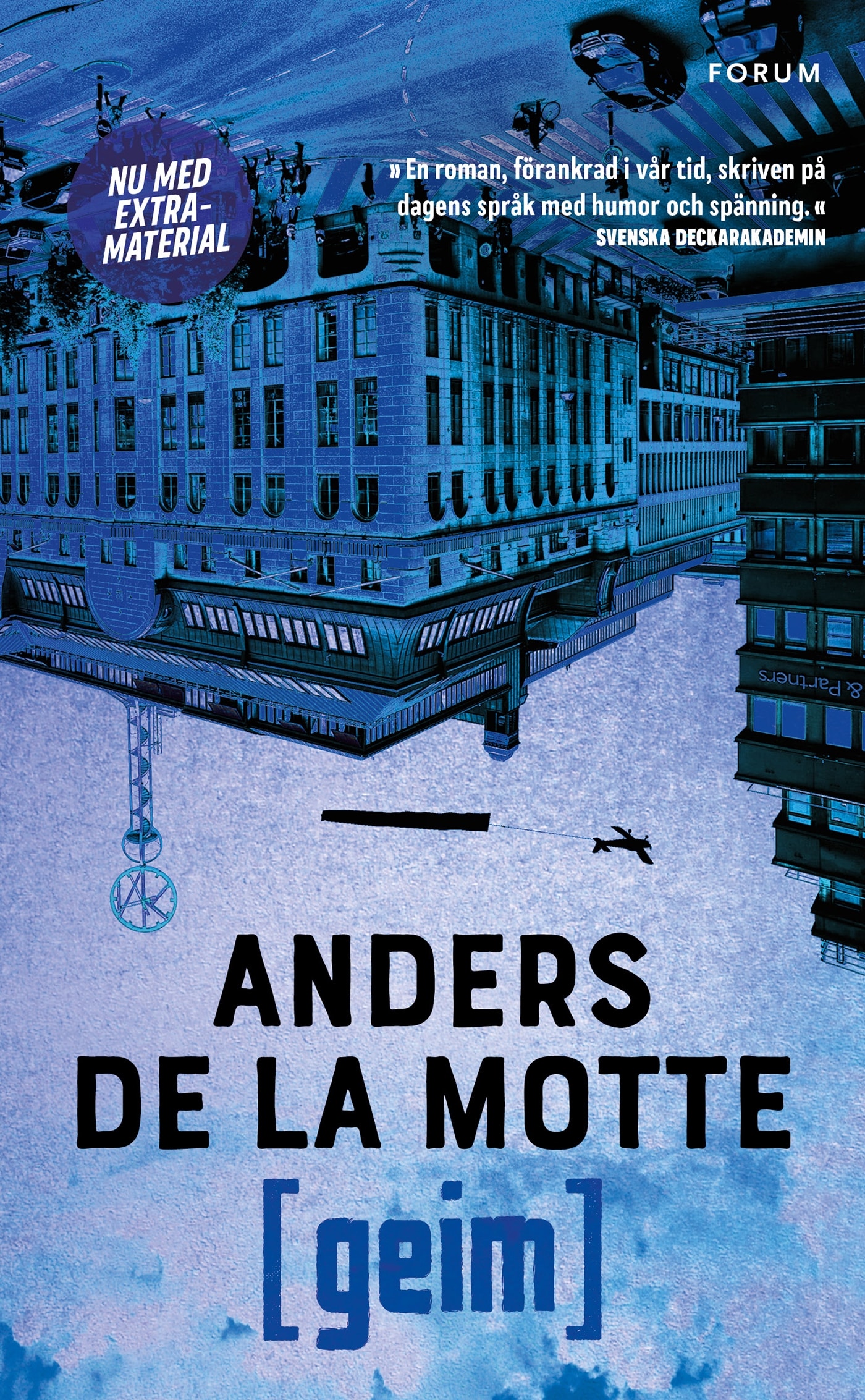 [geim]
Game
The Game Trilogy #1
The petty criminal Henrik "HP" Petterson's new cell phone invites him to play a game: an Alternate Reality Game that takes place right in the middle of the naive and unsuspecting Swedish society. When HP passes the entrance exam he is offered a range of thrilling missions, all of which are filmed and posted on the secret community's ranking list to be assessed. HP rapidly becomes engaged in the suspenseful and awarding contest but soon realizes that what at first seemed like an innocent game is something much more unpleasant.
Police Detective Rebecca Normén is HP's complete opposite. She is in strict control of her life and her professional goals are neatly dotted on her ambitious career map. As a rookie at the Swedish Security Service's bodyguard squad, she is generally assigned rather modest objects, but after a dramatic incident she moves up in rank and is transferred to the Elite Group. Everything would be perfect if it wasn't for the handwritten notes she keeps finding in her locker. Whoever writes them knows way too much about her past.
HP's and Rebecca's worlds inevitably approach each other. But if reality is just a game, then what is real?
Reviews
"Exciting first in a thriller trilogy … relentless pacing leads to a stunning finale."

"A taut thriller that will leave the reader excited for the next book in the series."

"Intelligent and fascinating."

"Without curlicues, the author leaps straight into the story and takes the reader on a roller coaster ride through the hazardous world of reality games… The longer the game goes on, the more unexpected turns there are in the plot. It all speeds up through the very skillful use of cliffhangers that make it nearly impossible to stop reading."

"[Anders de la Motte] excels in the art of building up tension from the very first page and making it grow continually until the end… He effortlessly succeeds in applying distinct writing styles for each of the very different main characters, to make them stand out as credible, nuanced personalities… Once you've picked up this breathtaking novel you won't be able to put it down… Incredibly fascinating reading."

"This game knows no boundaries. Exciting from beginning to end!"

"Game has an intelligent, cinematic plot and characters with Hollywood potential."

"Anders de la Motte has written a brilliant and high-paced debut, destined to be an international success."

"A perfect story and a completely new style of Scandinavian crime fiction that uses playfulness and references to contemporary pop culture, highly-valued primarily for young readers."

"Fast-paced action and a fascinating obsession with the world of games and the people so submerged in them that they are not able to discern between fiction and reality. A modern thriller that beats all the classic crime stories."

"A carefully written portrayal of Swedish society (much like what Stieg Larsson seduced us with)."

"An original novel, structured in a way that sets it apart from classic genre formula. De la Motte strengthens the standard crime novel framework by adding two parallel plot lines that create a unique dramaturgy for his noir style."

"Intelligent page-turner… Well structured and packed with suspense."

"More evidence that popular literature can infuse some fresh spirit into well-known ideas."

"Heaving read Game you will put aside Mankell and Larsson."

"One of the best insights into the vernacular and thinking of the computer generation that we have seen in print… A fast-paced, suspenseful and fun story that offers a fresh glimpse into the smart phone generation."

"One can without a doubt recommend Game to all adrenaline junkies. The book is a page-turner and a lot of fun."

"The author plays with the new world that has been created with smart phones… The text flows smoothly and the translation is very good."

"Violent energy…Promising, in other words. Anders de la Motte and Jens Lapidus are among the bright spots in contemporary, cliché-ridden Swedish crime fiction. Both of them work within a linguistically ambitious noir concept."

"If you thought that Swedish crime fiction was only populated by melancholic policemen and sharp, female journalists, you were wrong. With debut novelist Anders de la Motte and his book [geim] a completely new type of protagonist is born. The plot is so well crafted and effective that it keeps you enthralled until the very last page."

"A carefully orchestrated thriller with conspiracy theories and plenty of action."

"Delightful and thrilling."

"Entertaining and breathless… Pure entertainment."

"The desire to find out who controls the game is a strong and efficient narrative engine… The suspense lasts all the way through."

"Anders de la Motte provides a fascinating balancing act between the virtual and the real… The prose is brisk and captivating, spiced up with terms currently used in the virtual world, something that works perfectly in a novel like this."

"Thoroughly and consistently done… very credible. [Anders de la Motte] does it in an inimitable language, in a plot with relentlessly escalating intensity and suspense."

"An utterly brilliant debut."

"Dreadfully suspenseful."

"A skillfully constructed, very suspenseful and incessantly astonishing puzzle thriller."
Author

Anders de la Motte

Published

2010

Genre

Pages

336

Reading material

Swedish edition

German edition

Italian edition

English edition

Rights sold

Brazil, DarkSide

Bulgaria, Ciela

Canada, HarperCollins

China, ERC Media (Simplified Chinese)

Czech Republic, Euromedia

Estonia, Tänapäev

Finland, Otava

France, Fleuve Noir

Germany, Heyne

Greece, Klidarithmos

Iceland, Forlagid

Israel, Keter

Japan, Hayakawa

Korea, Balgunsesang

Latvia, Zvaigzne ABC

Netherlands, De Geus

Poland, Czarna Owca

Portugal, Bertrand

Romania, RAO

Russia, Eksmo

Slovenia, Ucila

Sweden, Forum

Taiwan, Crown (Complex Chinese)

UK, Blue Door

US, Emily Bestler Books

Film rights sold

Denmark, Sweet Chili Entertainment