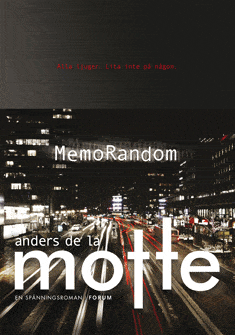 MemoRandom
MemoRandom
David Sarac #1
David Sarac is a handler at the Intelligence Unit of the Stockholm Police Force. His job is to identify, recruit and handle secret informants and other people who can support the police in the battle against organized crime. And David is very good at what he does: manipulation, bribes and threats – all methods are permitted, as long as he delivers. Other law-enforcement agents can do nothing other than watch him with envy from the sidelines while they share whispers and rumors about the top-secret, high level informant named Janus, who is the master key to David's success.
But in the middle of a car-chase David suffers from a stroke, crashes violently inside a tunnel and when he wakes up at the hospital some weeks later, he remembers nothing of the past two years. Not even Janus. Suddenly, he realizes that he has to re-establish contact with Janus in order to protect himself and his network of secret informants. Luckily, he is surrounded by friends and colleagues who are more than happy to help him remember. Or maybe forget?
MemoRandom is the first novel in the David Sarac diptych.
Reviews
"Turbocharged thriller. /…/ With the breakneck pace of the trilogy but a more mature narrative command, de la Motte deftly spins out these divergent strands, until the intricate outlines of a deadly spider's web finally becomes visible — and inescapable."

"For all the book's twists and turns, de la Motte is completely at ease in thickening and expanding the plot. He never forces the action, which is rare in a spy thriller, instead tightening the web in which Sarac seems to be caught. The cast of characters is nicely varied; part of the pleasure is seeing through the bad guys before the protagonist does. Following up his popular Game Trilogy, de la Motte keeps the reader guessing in this tale of an amnesiac cop and an informant whose very existence we sometimes doubt."

"An action-filled thriller that makes good use of an unreliable narrator — in this case, a man desperate to root out his own misdeeds. An intriguing premise and a compelling lead character."

"De la Motte has written a hard-hitting, fast-paced psychological thriller that takes readers into the world of secret police intelligence and shady alliances where no one is truly as they seem. From page one through the very end, readers are breathlessly awaiting the next twist and development to piece together the puzzle of David Sarac's life. Full of action, MemoRandom is thoughtful and engaging, pulling readers into the mind of Sarac and discovering along with him the terrorizing web he has woven around himself."

"You simply have to read this excellent novel which is absolutely jam packed with exciting twists and turns. /…/ My verdict – highly recommended – a must."

"Readers will devour the intricacies of this thrilling crime novel and will hurriedly turn the pages until its denouement."

"When I almost without breath close MemoRandom, it is with the feeling that Anders de la Motte is heading for something big this time."

"MemoRandom maintains a high suspense from the first page to the last, as David Sarac tries to piece his memory fractions together again."

"This is an incredibly thrilling novel. It is fast paced and I find myself reading faster and faster. It is a novel that will make the night shorter, because when you believe the clock to be one o'clock it is actually five in the morning."

"With MemoRandom Anders de la Motte establishes his place among the very best in the genre."

"Anders de la Motte has written a new, strong thriller and the main character resembles a Swedish Jason Bourne."
Author

Anders de la Motte

Published

2014

Genre

Pages

400

Reading material

Swedish edition

English edition

Rights sold

Brazil, Record

Canada, HarperCollins

Czech Republic, Euromedia

Estonia, Tänapäev

France, Fleuve Noir

Greece, Klidarithmos

Israel, Keter

Italy, Mondadori

Korea, Balgunsesang

Latvia, Zvaigzne ABC

Netherlands, De Geus

Norway, Aschehoug

Poland, Czarna Owca

Romania, RAO

Slovakia, Ikar

Slovenia, Ucila

Spain, Urano

Sweden, Forum

UK, HarperCollins

US, Emily Bestler Books