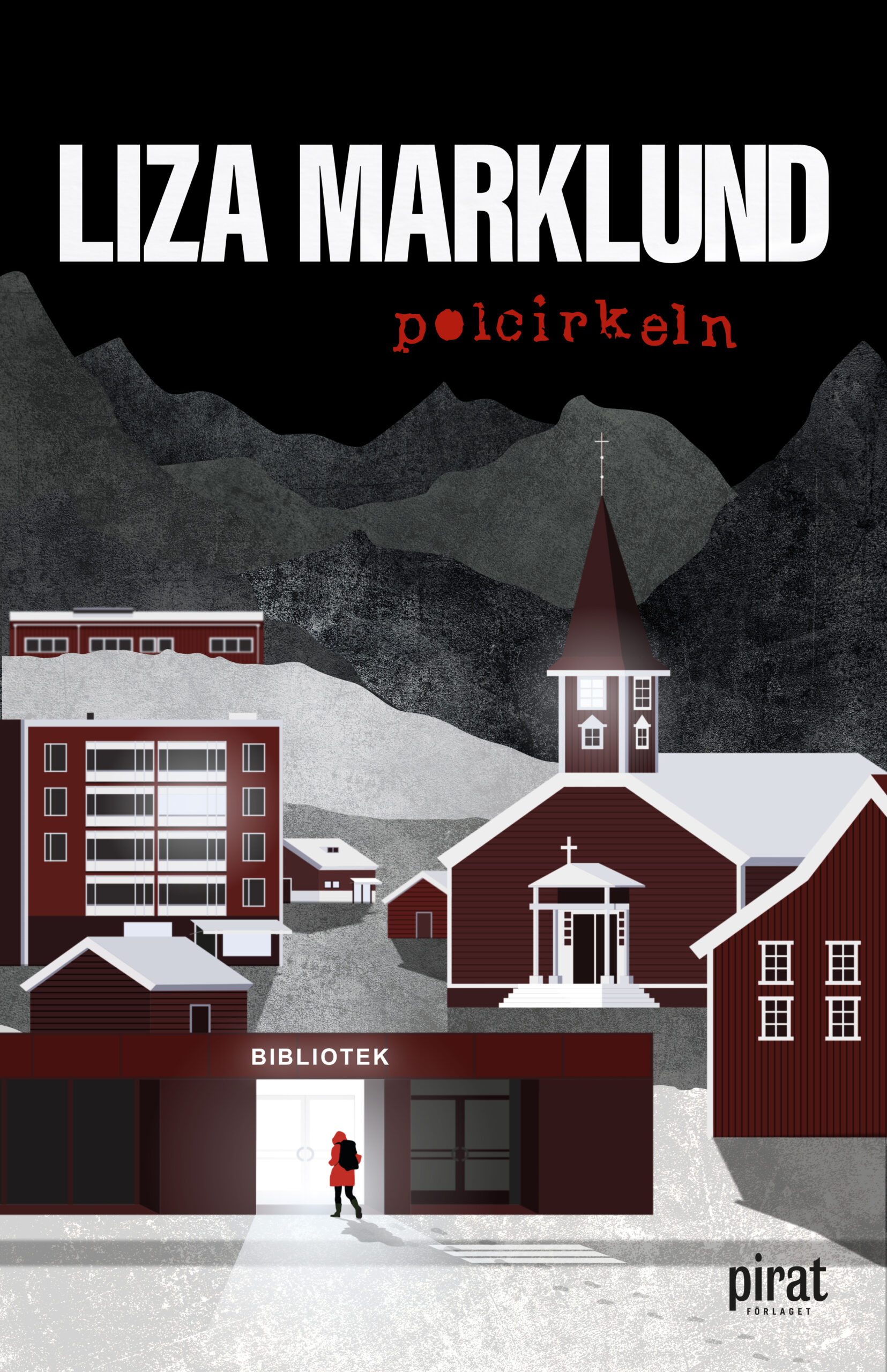 Polcirkeln
The Polar Circle
The Polar Circle Trilogy #1
Liza Marklund radically reinvented the crime fiction genre in the late 90s with her legendary The Bomber, featuring crime reporter Annika Bengtzon. With her brand new novel The Polar Circle, a psychological thriller in the darkly humorous vein of Big Little Lies, she is once again breaking new ground in the genre.
Lolita. Roots. The Thorn Birds. Cop Killer. The Adventures of Tom Sawyer. It's an eclectic mix of titles that reflects five distinct personalities on the cusp of adulthood, womanhood, and a permanent, deadly change. Welcome to the book club THE POLAR CIRCLE.
Travel north, to the quiet village of Stenträsk, where a crumbling bridge reveals its secret for the first time in forty years. A young woman's headless body, preserved since the summer of 1980. What happened that August when one of the girls went missing, and how did it change the members of the book club The Polar Circle? What were their secrets, and which ones will come to light now?
The Polar Circle is the first installment in Liza Marklund's Polar Circle Trilogy, and a riveting deep dive into the minds of five women – as they were then, girls about to graduate high school, and as they are now: mothers, widowed, closeted, ambitious, overlooked. Sex, jealousy, and the drive to escape one's small-town roots had already predetermined the end of their girlhood alliance-slash-friendship. But what was it that demanded the life of one of them before they parted?
This is a thriller from the deepest north of Sweden, where Liza herself spent her formative teenage years in the '80s, just like the girls in the novel. Revisiting that time and place in The Polar Circle makes this remarkable and deeply personal novel dense with authenticity and presence.
Awards
Shortlisted for the Swedish Academy of Crime Writers' Award

(Best Crime Novel of the Year) Sweden
2021
Close award list
Reviews
"Liza Marklund is back in great shape and with The Polar Circle she proves why she is one of the biggest crime authors in Scandinavia. /…/ She delivers the best book she has written in many years. The Polar Circle is an intense psychological thriller that is the first in a planned trilogy, and the novel went straight to the number one spot on the Swedish bestseller lists when it was published in August. /…/ The plot is cleverly constructed. To use each girl's choice of title for the book circle to present their personalities and lives is a great device. The Polar Circle is a story about exclusion, class differences, shame, and the search for identity. The dynamics between the five girls are impressively well–portrayed. The character portraits fit well into the feminist theme that has characterized Marklund's crime novels. In their own way, the girls struggle with the expectations imposed upon them by their surroundings. /…/ Against a credible canvas of the time, Marklund paints a so vivid and engaging portrait that it's difficult not to be pulled into the story and the different fates of the characters. Linguistically, this is some of the best she has written. /…/ It's easy to get excited about this new chapter in Marklund's thrilling authorship. The Polar Circle is an emphasis on literature's power of change, and so powerfully well-told that I would like to have the next book in the trilogy already now."

"Sharp, witty, and maliciously elegant. Liza Marklund's The Polar Circle is the first part of a trilogy, for which I predict a fabulous success. /…/ With her 23 million copies sold in a total of [40] languages, the feminist, journalist and author Liza Marklund is considered one of Sweden's big crime queens, together with Camilla Läckberg. /…/ A comparison that does Marklund a disservice. In my opinion, she maintains a literary level that is sky-high above Läckberg's – both with her leisurely elegant style and infamous humor. Marklund is both witty and warmly wicked as she unveils the harshly discreet charm of the small village. /…/ I can't predict anything less than a success. The first installment is a very entertaining page-turner, to say the least."

"The space that the group of friends is given and the development of the characters gives The Polar Circle life also outside the crime plot. With a sensitive pen, it depicts the teenagers' vulnerable insecurity and search for identity, while Liza Marklund also skillfully manages to balance portrayals of women and depictions of teenagers with the progress of the murder investigation and the gradually and subtly increasing levels of excitement. For the joy of reading, it doesn't hurt either that the resolution of the murder mystery is both unexpected and unique, with some loose threads opening up for the next book in the trilogy. We are happy to come along for the ride."

"This is a traditional, intricate murder mystery. /…/ This story is so solid that you are hurtled through the 300 pages."

"Liza Marklund's The Polar Circle is breathtakingly good. The first part of Marklund's new trilogy is a strong crime novel about a girl who went missing without a trace forty years ago. But above all, The Polar Circle is an achingly sad story about the struggle to find one's own identity in one's teens. /…/ The recognition is high."

"Marklund convinces in her comeback. /…/ The story oscillates skillfully between the past and the present in a way that constantly drives the suspense forward and compels the reader to stay alert. /…/ The depiction of the setting is impressive, as is the portrayal of the teenage girls' large and small existential issues and conflicts."

"Liza Marklund's latest – a piece of superior craftsmanship. /…/ Experienced and skillful, with a keen eye for details, Liza Marklund lays out clues and red herrings in the landscape that has been her home since childhood. There's a sensuality in the depiction of the scarce blue winter light and the dry inland cold that should earn its author an award from Norrbotten's Tourist Traffic Association. And a few kilometers away, the Storforsen waterfall thunders. The Polar Circle is symmetrically crafted, like a piece of classical music, a whodunnit and an epic tale at the same time."

"Liza Marklund creates a suspenseful tension, a sense of growing unease, and a course of events that is just as exciting to follow in the past as in the present."

"Liza Marklund is finally back in the crime fiction genre that she changed in so many ways with her Annika Bengtzon series. Her new The Polar Circle is something completely different, but the feminist appeal remains. /…/ Liza Marklund tells her story in a wonderfully clever way. /…/ Liza Marklund herself grew up in Norrbotten during the same period, and everything feels authentic, even to the smallest piece of clothing or emotion. The Polar Circle is also a strong depiction of classes. The actual resolution of this well-composed crime novel meets all expectations, and one can only rejoice in Marklund's return and her promise of more from Stenträsk."

"High suspense, insightful of teenage relationships, elegant intrigue. Marklund is back and in great shape!"

"Liza Marklund is as always an incredible storyteller with a socially analytical perspective and a perfect sense for time-typical phenomena."

"There's a mournfulness and a defiance [in the novel] that makes it a page-turner. /…/ It bodes well for the future, as there will be three installments."

"The text takes a firm hold of the reader right from the start and Marklund's way of building the story is impressive. Skilled treatment of the language. /…/ Thumbs up for a committed author and a good and well-written crime novel. Five out of five – brilliant."
Author

Liza Marklund

Published

2021

Genre

Pages

380

Reading material

Swedish edition

English translation

Rights sold

Denmark, People's

Estonia, Pegasus

Finland, Otava

Hungary, Animus

Iceland, Ugla

Italy, Marsilio

Lithuania, Lectio Divina

Netherlands, De Geus

Norway, Cappelen Damm

Poland, Czarna Owca

Romania, Trei

Russia, Gorodets

Sweden, Piratförlaget