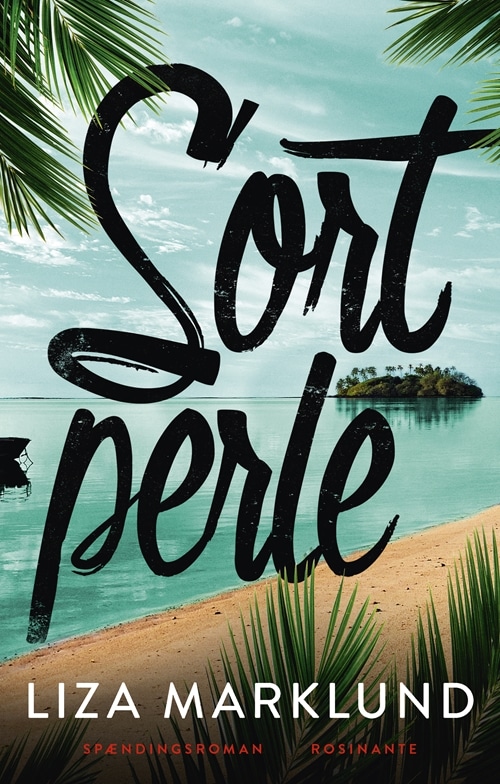 Pärlfarmen
Black Pearl Farm
It's the early nineties. Young Kiona and her siblings live on Manihiki, a small island in the Southern Pacific Ocean, and one of the most isolated places in the world. Kiona works at the family's pearl farm freediving, checking oysters and harvesting black pearls.
One morning, a large yacht hits the reef surrounding the island. On the wrecked ship the locals find a wounded man. His name is Erik and he's from Sweden.
The shipwreck is the start of a breathtaking story spanning half a decade and four continents. It's a tale that poses questions about humankind's search for meaning and belonging, the price the world economy exacts, and how far we are prepared to go for the people we love.
Black Pearl Farm is a bold and immersive story of love and money, violence and isolation, education and faith.
Reviews
"Spectacular and thriller-like."

"An adventurous tale that would no doubt make a magnificent movie, and which makes one wiser for having read it."

"Liza Marklund delivers a well-written story as always, with a language that serves details, atmosphere and dizzying suspense. This is one of those books that sucks you into its universe and forces your other priorities to give way to what's most important – to turn the page. I still feel a little bit that this novel caught me off guard. Because even though I'm an incarnate Marklund-fan and have read everything she has written, it's a new side of her writing that's now seen the light of day. You can tell how much research that's gone into a novel like this, and it culminates in a truly excellent story that leaves you with an elevated pulse, heartache, and a longing for adventure."

"Marklund writes evocatively and with great insight into daily life at Manihiki. /…/ She is at her very best when she writes about human conflicts and drama and subjects Kiona to charged situations. /…/ Marklund addresses relevant topics in the novel, not least when it comes to the distribution of the world's resources and the struggle for the world economy. Black Pearl Farm is filled with legends, philosophical conversations and thoughts about human nature, and Marklund's social engagement shines through."

"[Liza Marklund] succeeds in crafting an original heroine who sees our world through different eyes. She impresses with her depictions of a diminishing culture. She manages to include religion and beliefs in a modern novel without making it feel strained. And she portrays an incredibly intelligent, albeit unschooled, protagonist."

"The environment and culture of the small Cook Islands outside New Zealand are depicted with a lot of warmth and an open mind. /…/ Marklund achieves a completely different and more poetic prose than that which she's employed in the commercially successful crime novels she is known for. She narrates a distinct, personally motivated anthropological journey, where pearl farmers without much prior knowledge meet Western society and global reality."

"Liza Marklund brilliantly describes poverty in the world /…/ an expertly portrayed story /…/ Liza Marklund tells us Kiona's story with distinct authority, and in first person which is a successful choice. The life on the island, the Swede's recovery, separations, deaths and other disasters – everything is told in the same, on the surface sensibly narrating tone of voice, where only nuances separate deep sorrow from everyday life, and love euphoria from apathy. It is portrayed in a breathlessly skillful way, the pain seeps in unnoticed. /…/ brilliant."

"A dramatic adventure /…/ The story has drive and suspense. Black Pearl Farm is an interesting novel about world economy, power and money."

"A great adventure about violence, love and money /…/ [Liza Marklund's] new novel The Pearl Farm is a turbulent reading adventure that takes us around the world. /…/ The Pearl Farm is an eyeopener /…/ I hope [Liza] will continue in the same style in the future. There are plenty of crime novel queens, but not many can write great adventure stories with ingredients such as violence, love and money, where also deeper questions about faith and the meaning of life are woven in. I am, in other words, very impressed by The Pearl Farm."

"We follow the young Kiona and her encounter with the to her foreign western world. Amusingly portrayed by Marklund /…/ The humor is on the same level as when she ironized about life at an evening newspaper in her debut The Bomber twenty years ago. Best is when the police and criminals enter the picture. /…/ [Liza Marklund] is a frighteningly good suspense writer."

"A magnificently surging novel about love, guilt and longing that travels across the continents. /…/ [A] thriller and a love story that, if there's any justice in the world, should become an international bestseller and be selected for Oprah's new book club. Over 500 pages that cannot be put down and that end too fast."

"[Black Pearl Farm is] brutal, suspenseful and fast-paced."
Author

Liza Marklund

Published

2018

Genre

Pages

535

Reading material

Swedish edition

Rights sold

Denmark, Rosinante

Estonia, Varrak

Finland, Otava

Germany, Ullstein

Iceland, Ugla

Italy, Marsilio

Norway, Vigmostad & Bjørke

Poland, Czarna Owca

Romania, Trei

Spain, Roca

Sweden, Piratförlaget