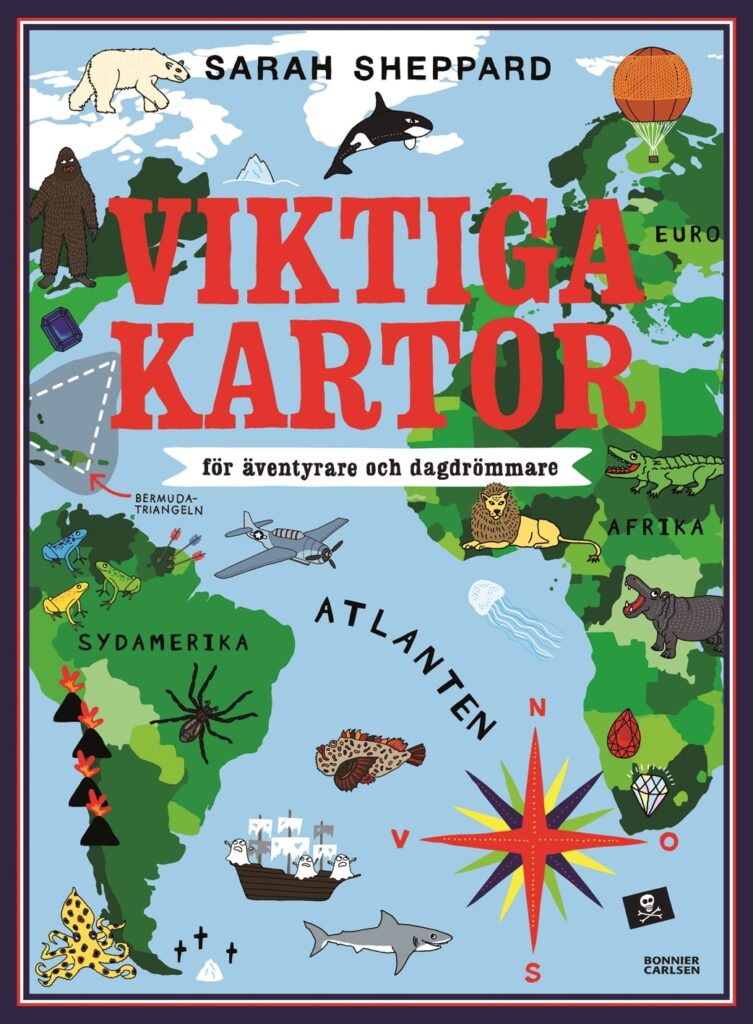 Viktiga kartor för äventyrare och dagdrömmare
Important Maps for Daydreamers and Adventurers
 Around the World #1
Important Maps for Daydreamers and Adventurers celebrate 10 fantastic years as a beloved bestseller! This is honored with fresh updates and 8 new pages about dinosaurs, wild weather, the moon, and a moon map. Please join in on a journey around the world (and the moon!) on 48 pages for adventurous and daydreaming little travelers that like to venture abroad from the comfort of their own couch!
Sarah Sheppard makes our hearts race as she shows us all the fantastic, exciting and mysterious things our planet has to offer. Perfect reading and fuel for the imagination for anyone who enjoys daydreaming about far-away places full of thrilling discoveries. With this atlas in hand, you'll be able to travel anywhere you want, just let your imagination run free!
Where can you go to experience volcano eruptions, solve mysteries, find precious jewels, climb the highest mountains, or take a submarine to as close to Earth's core as you can get? All the answers adventurers might be looking for can be found in here! But don't be discouraged if you're the cautious sort, hesitant about swimming with crocodiles in the Nile. When you've read this book, you will have experienced real adventures in the safest way possible. And you'll definitely know where NOT to go.
Thematic maps like "Places of Mystery," "Dangerous Animals," "Deep-Sea Locations," and "Gold and Glory" crowd this gem of a title for children, along with flags and maps of countries and capitals. Let the journey begin!
Reviews
"Pure paradise for adventurers and daydreamers! /…/ This is a wonderful book with lots of interesting facts, a book that you can immerse yourself in for a long, long time. Richly illustrated with colorful, easy-to-understand pictures."

"Sarah Sheppard manages to combine the pedagogical with the imaginative in an exemplary way. It is fascinating and a delight for both the eyes and mind to see an illustrator and graphic designer who puts all her artistic strength into meeting children at their own level. The personal style with clear and bright colors lead to immediate recognition. In Important Maps for Daydreamers and Adventurers, the reader is taken on a journey across the globe with the help of a map of the world. Facts and details for the curious mind are presented in a zestful and fun way. The structure is very inviting for kids to explore the book and you flip through it like a calendar; innovative and practical when the whole world needs to fit on one spread. Sarah Sheppard makes us want to explore more and creates both curiosity and a desire to learn more about the world."

"Geography that will have you wanting more. /…/ In Dino Deluxe, Sarah Sheppard showed that it's possible to make a book about the giant prehistoric animals without being either boring or too shallow – the latter being something that the commercial dino genre is particularly prone to. Also here [in Important Maps for Daydreamers and Adventurers] the Swedish author's illustrations and cleverly articulated informal language alleviate the encyclopedia feel, giving [the book] just the right amount of humor."

"Fabulously packed with facts, beautifully illustrated and utterly inspiring map book for children (and their parents)."

"Nicely busy with entertaining illustrations. Stirs one's curiosity, desire to travel, and imagination."

"[A] veritable Eldorado. /…/ Loads of facts, really! /…/ Wonderful!"

"A real goldmine for inquisitive children."

"A geography lesson spiced with all sorts joy of discovery and facts."

"The enthusiasm and wry humor, paired with a great respect for knowledge, make for irresistible reading."
Author

Sarah Sheppard

Published

2013

Genre

Pages

48

Reading material

Swedish edition

Rights sold

France, L'École des Loisirs

Netherlands, Gottmer

Poland, Mamania

Sweden, Bonnier Carlsen