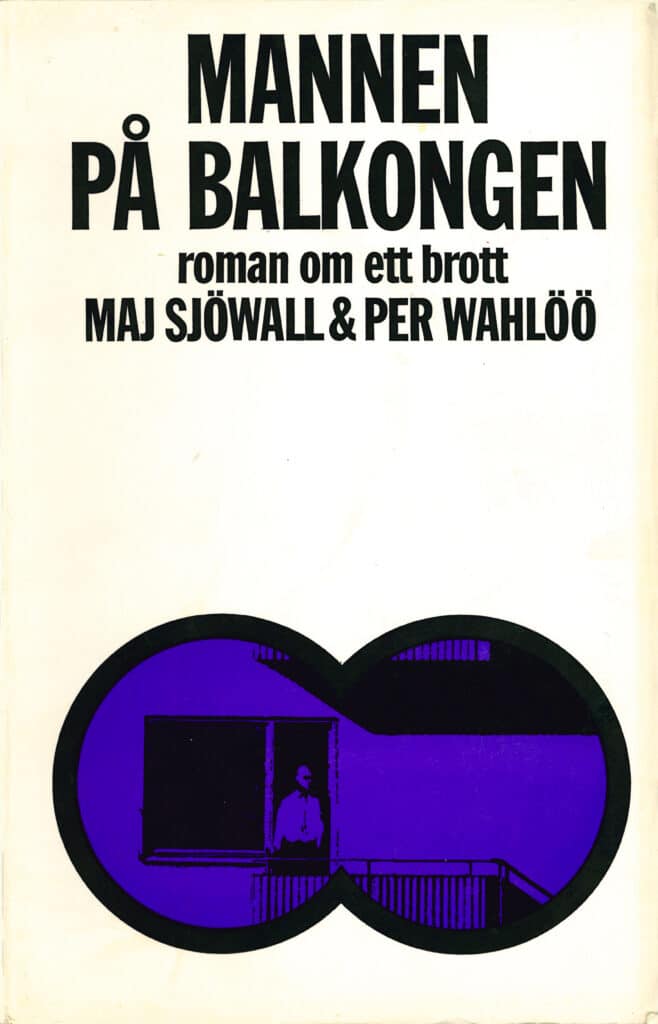 Mannen på balkongen
The Man on the Balcony
Story of a Crime #3
Someone is killing young girls in the once peaceful parks of Stockholm – killing them after having his way with them. The people of Stockholm are frightened and anxious. Martin Beck, now Superintendent, has two witnesses: a cold-blooded mugger who won't say much and a three year old boy who can't say much. The dedicated work of the police force seems to be leading nowhere, and with each passing day, the likelihood of another murder grows. But then Beck remembers someone – or something – he overheard.
Critics have called the ten Martin Beck novels among the best in modern crime fiction. Translated into 35 languages, they have sold an estimated ten million copies. The Edgar Award-winning husband and wife team had an ambitious goal: to capture and minutely emulate the zeitgeist and development of an entire decade. Beginning in 1965, they wrote an annual 30-chapter mystery for ten consecutive years. The books were meant to be read as a single, long 300-chapter novel – a vast, trenchant dissection of Swedish society. The Man on the Balcony, first published in 1967, is the third installment in the Martin Beck series.
Introduction by:
Jo Nesbø
In 1993, The Man on the Balcony was made into a Swedish motion picture directed by Daniel Alfredson and starring Gösta Ekman as Martin Beck.
Reviews
"Hauntingly effective storytelling … The instinctive emotional response of both the policemen and the city to the child killer is particularly well developed."

"This expert, classic procedural is as good as Roseanna."

"First-rate detective fiction, highly recommended."

"The number of mystery writers who may also be called novelists… may still unhappily be counted on the fingers of one hand. Ross Macdonald, Georges Simenon, and…? And Maj Sjöwall and Per Wahlöö, that's who. … The Man on the Balcony is a "crime novel" in subject, but in its maturity and wisdom it is simply a novel, and an extraordinary one."

"…a superb specimen of the roman policier at its relentless best."

"A well-told, documentary-type tale of how the Stockholm police slog away … There is something of Ed McBain's 87th Precinct novels about it, but with less of a factory finish."

"Sjöwall/Wahlöö are the greatest police proceduralists of all time."

"Authentic seeming, grim, but fascinating."

"Suspense is kept up and details of police procedure are done with passionate intensity."

"There is an air of authenticity about this series of novels, rare for the genre. The question is whether or not The Man on the Balcony isn't in fact Sjöwall/Wahlöö's best novel."

"It has the same form of crisp realism depicting crime as the previous novels, and it's truly unique in Swedish detective literature."
Author

Sjöwall & Wahlöö

Published

1967

Genre

Pages

176

Reading material

Swedish edition

English edition

Rights sold

Brazil, Record

Denmark, Modtryk

Finland, WSOY

France, Rivages

Germany, Rowohlt

Iceland, Forlagid

Italy, Sellerio

Japan, Kadokawa

Korea, Munhakdongne

Netherlands, Lebowski

Romania, Editura Allfa

Russia, Azbooka

Spain, RBA (World Spanish)

Sweden, Piratförlaget

Taiwan, Ecus (Complex Chinese)

Turkey, Ayriksi

UK, Fourth Estate

US, Vintage

Film rights sold

US, Endeavor Content