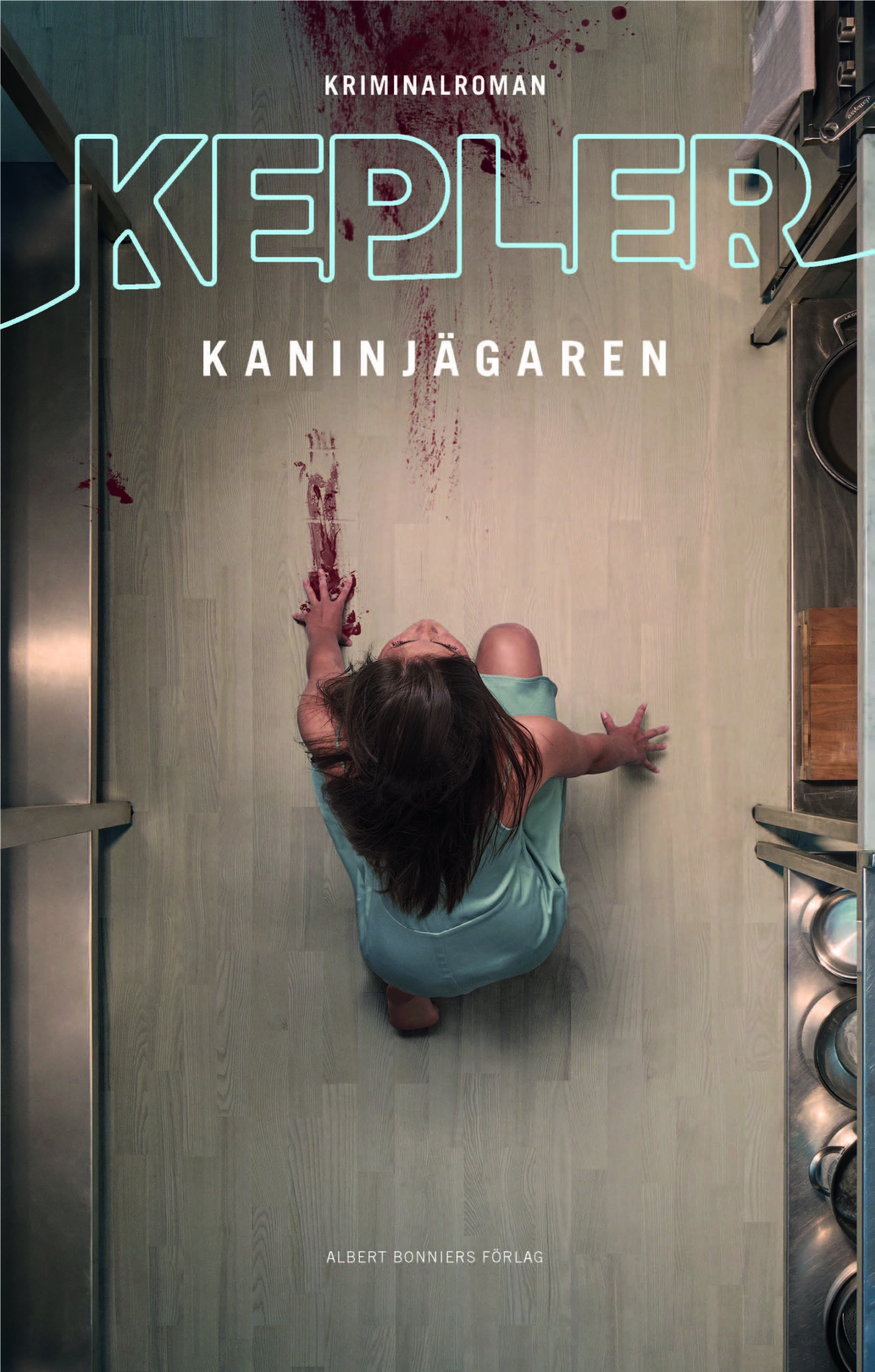 Kaninjägaren
The Rabbit Hunter
Joona Linna #6
Joona Linna has spent two years in a high security prison when he is taken off to attend a secret meeting. The police need his help to stop a mysterious killer who goes by the name of the Rabbit Hunter.
The only connection between the victims is that they all hear a child chanting a rhyme about rabbits before the killer strikes.
A quirk of fate unexpectedly places celebrity chef Rex Müller at the centre of events. He is about to look after his son Sammy for the first time. But instead of three relaxing weeks, he finds himself in a terrifying fight for survival.
Joona Linna and Saga Bauer are forced to work together in secret to put a stop to the Rabbit Hunter before it's too late.
You never know what fate has in store for you, or what might catch up with you if you don't start running right now.
Thriller maestro Lars Kepler is back with a new page-turner about Detective Superintendent Joona Linna.
The Rabbit Hunter was the most sold novel in Sweden of 2016, and the most sold crime novel in Norway of 2016.
A New York Times Book Review "10 Best Crime Novels of 2020"
An AirMail  "8 Best Mystery Books of 2020"
Reviews
"Kepler (the pen name for a husband-and-wife writing team) manage a clever and intriguing variant on the serial killer theme in their outstanding sixth novel featuring Stockholm Det. Insp. Joona Linna. /…/ Kepler has never been better at hiding key clues in plain sight."

"Fast-paced and fluent, with all the authors' trademark stratagems. Sure to be a hit, though best read by those with strong stomachs."

"There are some thrillers you can't put down, and some you must put down, lest they give you a heart attack. The Rabbit Hunter is in the latter category; this is relentless suspense from a Swedish husband-and-wife team known as Lars Kepler, who are adept at tightening the screws while ratcheting up both your investment in some of the eponymous psycho killer's potential victims and your revulsion for others."

"With a captivating detective, a hideous serial killer, and nonstop suspense, [The Rabbit Hunter] confirms Kepler as a master of disturbing psychological crime novels, showing the darker side of humanity."

"[The Rabbit Hunter] holds strong appeal for American thriller fans, especially those of Lee Child's Jack Reacher series."

"The Rabbit Hunter grips readers from the start and rarely lets up. /…/ the book unravels at a breakneck pace and almost seems custom-built for a big screen adventure. The Rabbit Hunter is a chase you'll want to get in on."

"A new addition to the knife-edge Swedish noir of Kepler's Joona Linna series, and page for page the scariest book of a scary year. When the eponymous killer, bedecked in a gruesome headdress, signals the end for his next victim with an eerie little children's rhyme, you'll want to hide under the bed.

"

"[Kepler's] stories are superbly conceived and horrifying beyond measure. /…/ The Rabbit Hunter is a terrific tale of revenge."

"Think a political thriller with Hannibal Lecter cast as the villain and you'll get a notion of the difficult balance Kepler manages to pull off in a book cut from the cloth of the great Jeffery Deaver. A mesmerizing and scintillating success."

"Lars Kepler's sixth police procedural delivers a work in the class of Stieg Larsson. /…/ The married pair Ahndoril, a.k.a. the pseudonym Lars Kepler, filled the void that came when Larsson died far too young, with their series featuring the Finnish killing machine Detective Joona Linna, and his female colleague at the Secret Service, the chic and smart Saga Bauer. They deliver the same reverberating product, the same sparse language with a left turn into labyrinthine conspiracies /…/ The couple writes professionally and deftly. /…/ everything is served efficiently suspenseful at top speed."

"When the Swedish author duo Alexandra Coelho Ahndoril and Alexander Ahndoril, alias Lars Kepler, takes off with their new novel about Police Detective Joona Linna it's like putting oneself in a swing with a clear view of the sky and glimpses into hell. The Rabbit Hunter is not a novel for quick readers. It should be digested in smaller portions. Bit by bit, in order for the linguistic subtleties to be allowed to grow. The author duo is eminent in creating a distinctive tone: "the years have been rough on Grace, tearing the young girl out of her, leaving an aged woman". Something that simple, and so linguistically vibrating. Then add to it a forceful crime action, and it makes this novel a veritable masterpiece."

"Lars Kepler, a.k.a. Alexandra and Alexander Ahndoril, writes novels that are almost crafted like screenplays, with short chapters and rapid scene shifts. It makes the novel, the sixth in the series about the charismatic Joona Linna, almost impossible to put down. /…/ Is 576 pages too many? Not at all. There are no pauses in the novel. /…/ Lots of action in combination with a number of settings, points of no return, so you just have to keep reading. Will there be a sequel? I really hope so. And soon, please."

"[Lars Kepler's] sixth installment about Detective Joona Linna, The Rabbit Hunter, quivers with thrilling suspense, and already from the first chapter you are trapped like a frightened and blinded animal, mentally handcuffed by the horror in the plot. Kepler delivers as always, and this time it's a very vibrating, psychological suspense novel /…/ Lars Kepler is first and foremost a synonym for truly skillfully crafted crime thrillers /…/ It's simply undiluted, furious entertainment, and horrifyingly good at that."

"Brutal, bloody – and intensely suspenseful: Lars Kepler doesn't write crime novels for weaklings. The Rabbit Hunter is a brilliant thriller for hardcore readers who can take a beating. By combining traditional crime with the breathless intensity of the thriller genre, Kepler has created a success formula of international caliber. /…/ Kepler is a master at letting horror creep into the seemingly harmless. /…/ Kepler writes with a stylistic and genre conscious elegance and intensity that impresses. If you're fond of crime and suspense, this isn't a novel that you can easily put down. The chapters are short, the shift between scenes effective, and the thrilling cliffhangers frequent. /…/ The most important thing for a suspense novel is that it is suspenseful. And that we believe in and care for the characters that populate the pages. The Rabbit Hunter fulfills both requirements. If you are softhearted, sensitive and easily frightened, this novel is not for you. For us inveterate crime novel readers, Lars Kepler is a delight to read."

"[The Rabbit Hunter] is completely spellbindingly suspenseful. It is virtually impossible to put it down before all 520 pages are read in one sitting, it is that good. And exactly that is what makes this novel Kepler's best one to date. It's an accomplishment to maintain the suspense through so many pages."

"Lars Kepler is a master at thrilling cliffhangers. /…/ the language flows, the intensity is boiling and Kepler makes us believe in the protagonists. Joona [Linna] is a character that you enjoy spending time with, it's as simple as that."

"It is with a pounding pulse and heart in my mouth that I put down Lars Kepler's latest novel The Rabbit Hunter. The genre, suspense thriller, indicates just how intense a ride this will be. The pauses for breath are few in the company of Detective Inspector Joona Linna. I'm on the edge of my seat right up until the very last page /…/ Lars Kepler writes with a momentum that is at times unbearable. The story takes unexpected turns and with a wink to Sjöwall & Wahlöö it reveals shortcomings with the police that we would rather not know about. The intensity is undiluted, with few breaks in the form of environmental depictions. It's violent, bloody and completely uninhibited when the serial killer sets off like a target missile."

"Brutal suspense at a break-neck pace/…/ The authors, ie Alexander Ahndoril and Alexandra Coelho Ahndoril, the ones behind the pseudonym Lars Kepler, are sticking to what have made their novels into a success story: uncompromising cruelty, a fast pace, and suspense."

"The authors behind Lars Kepler, Alexandra and Alexander Ahndoril, write in a stylish, visual and aromatic prose that is essential for grabbing hold of the reader."

"Lars Kepler is so skilled that I completely surrender: they start off at full speed and then raise the momentum even more as the vengeful rabbit hunter gains on the protagonists."
Author

Lars Kepler

Published

2016

Genre

Pages

572

Reading material

English edition

Swedish edition

Rights sold

Brazil, Alfaguara

Bulgaria, Enthusiast

Canada, McClelland & Stewart

China, Modern Press (Simplified Chinese)

Croatia, Fraktura

Czech Republic, Host

Denmark, Gyldendal

Estonia, Pegasus

Finland, Tammi

France, Actes Sud

Germany, Lübbe

Greece, Patakis

Hungary, Animus

Iceland, Forlagid

Israel, Modan

Italy, Longanesi

Japan, Fusosha

Korea, Bookplaza

Latvia, Zvaigzne ABC

Lithuania, Lectio Divina

Netherlands, Cargo

North Macedonia, Matica

Norway, Cappelen Damm

Poland, Dolnoslaskie

Portugal, Porto

Russia, Corpus

Serbia, Vulkan

Slovakia, Ikar

Spain, Penguin Random House

Sweden, Albert Bonniers

Türkiye, Dogan Egmont

UK, HarperCollins

Ukraine, KM Books

US, Knopf

Film rights sold

US, Hardy, Son & Baker / Apple TV+