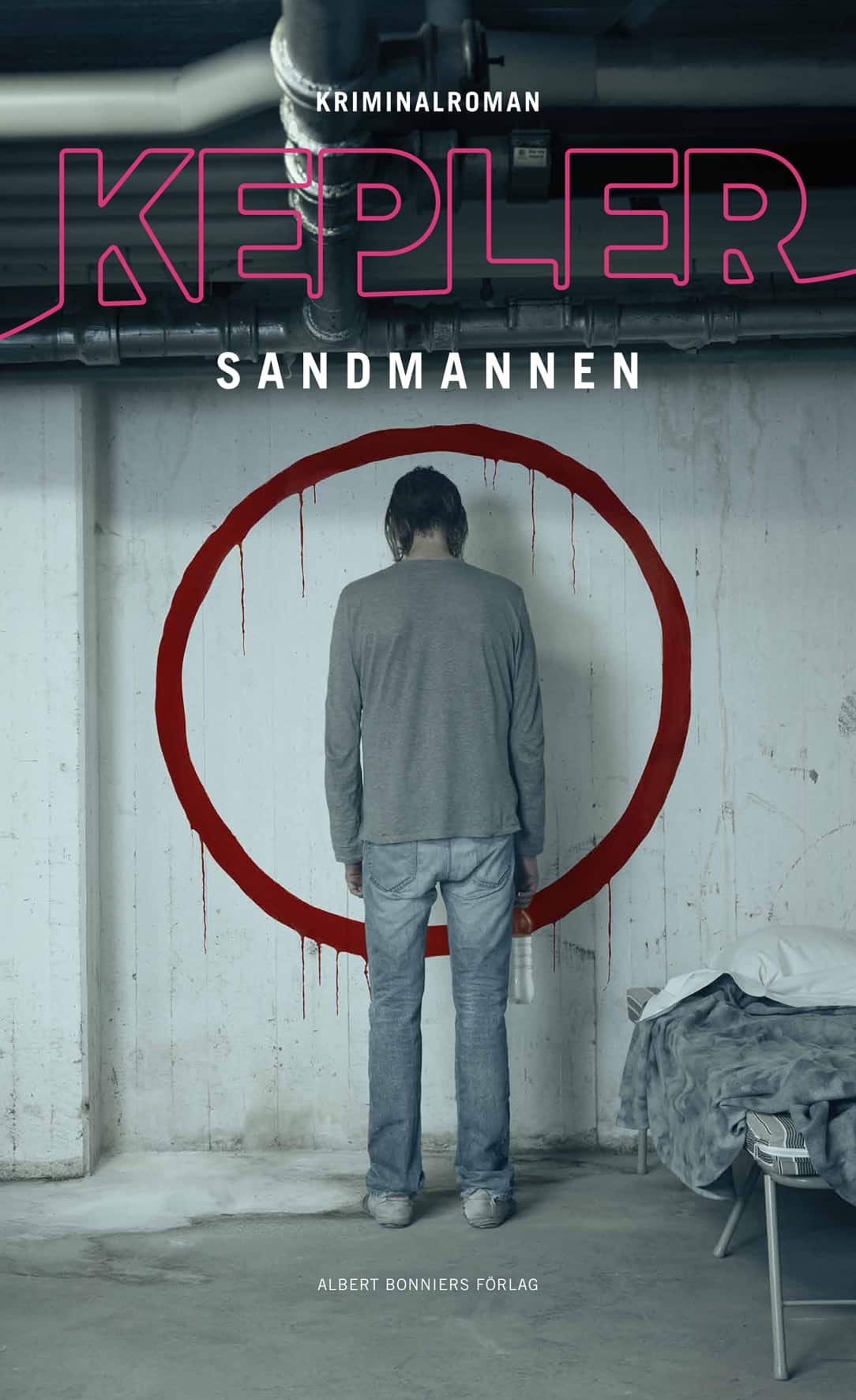 Sandmannen
The Sandman
Joona Linna #4
During a cold winter night in Stockholm, a man is found walking alongside a railway bridge, suffering from hypothermia and legionnaires' disease. After he's rushed to the hospital, it's discovered that according to records the man has been dead for over seven years. He is believed to be a victim of notorious serial killer Jurek Walter, arrested years ago by Detective Inspector Joona Linna and sentenced to a life of total isolation in forensic psychiatric care. As Joona Linna investigates where the "dead man" has been all these years, some unexpected evidence leads to the reopening of a cold case. Danger is imminent, and someone needs to get under the skin and inside the mind of the serial killer – fast – before they run out of time.
The fourth installment in the Joona Linna series, The Sandman took the world by storm when it became an instant No. 1 bestseller in nine countries. Sinister and full of nuanced detail, the novel showcases Lars Kepler's unrivaled gift for crafting plots as original as they are dark.
The most sold crime novel in Sweden of 2012.
Selected by the Evening Standard as "One of the best novels of 2014".
"Sensational … like meeting Hannibal Lecter all over again – twice."
–Lee Child
Awards
Shortlisted for the Swedish Academy of Crime Writers' Award

(Best Swedish Crime Novel of the Year) Sweden
2012
Close award list
Reviews
"If any Scandinavian crime series is poised to top the characterization and gripping action of Stieg Larsson's Millennium series, it's this one. Kepler has crafted a phenomenal hero in Linna, who wields intuition, strategic genius, and refreshing vulnerability against a foe as compelling and calculating as Hannibal Lecter."

"The Sandman sends us off to dreamland with a nightmare that can make us happy."

"The Sandman is an adroitly nerve-racking book /…/ With its tight, staccato chapters and cast of dangerous wraiths lurking everywhere, The Sandman is a nonstop fright. It's able to shift its focus frequently with no loss of tension. /…/ A prominent, hugely suspenseful part of the book involves embedding Saga Bauer, a brave, smart, beautiful cop whose role many actresses would covet, in the same tiny ward where Jurek is housed. /…/ By this point the book's greatest tension comes from wondering whether either Joona or Saga is any match for this near-supernatural monster, who can implant thoughts in his victims' heads or turn up as an apparition just staring into their windows. Scared yet? You will be. /…/ Joona Linna is a character that you want to know as much about as you can."

"Kepler doesn't pull any punches, and his care in creating characters will make readers deeply invested in their fates."

"More dark psychological thriller than police procedural, this shiver-inducing read will have you turning pages until the cliff-hanger ending."

"Writing both separately and together in a characteristic plain prose that focuses all attention on the action, [Alexandra and Alexander] have produced numerous successful and widely translated thrillers. The skill and deftness of their pacing of The Sandman is not, therefore, surprising. Nor is their control of the twists and turns of the plot and its large cast of characters."

"This is a book that will keep you up all night, unable to turn off the light, because the pages almost literally fly beneath your fingers. /…/ The Sandman is an excellent crime novel. Alexandra Coehlo Ahndoril and Alexander Ahndoril are a terrific writing team that deserve every accolade they receive. You won't be able to resist the urge to read all six Joona Linna novels, and you'll fervently wish there were more."

"Kepler — actually the husband-and-wife team of Alexandra and Alexander Ahndoril — is really good at this stuff. The chapters are short, the characters deftly drawn, and the action churns along. The protagonist, Detective Inspector Linna, is a dour but utterly principled and likable fellow. And the main villain, Jurek Walter, is all too believable, given what we know about the ghastly family lives of so many real-life sadistic serial killers."

"The Sandman is a thrilling crime novel that will keep you awake until you read the final page."

"Dozens of books have tried to borrow the raw psychological tension between Starling and Lecter. Most achieve the knockoff status they deserve. Very few manage to create original fiction with the same assurance, pacing and complexity as The Sandman. Fewer still have such a high creep factor."

"The Sandman will keep readers turning the pages. Unlike the creature of myth by the same name, The Sandman by Lars Kepler will not put you to sleep. Quite to the contrary, you won't want to put it down. And when you do finally try to go to sleep, you very likely will be afraid to close your eyes. /…/ I felt impelled by Lars Kepler to finish The Sandman. The characters got into my head and I couldn't rest until the mystery was revealed."

"The Sandman by Lars Kepler (March 2018), is one of those rare books that balances meticulous plotting, edge-of-your-seat suspense, and an almost mythic serial killer to pitch-perfect effect. Cinematic, action-packed, and bone-chilling, The Sandman is poised to deliver a standout 2018 thriller read."

"The reader isn't drawn into the story so much as given to running into it, voluntarily and with abandon… The Sandman is complete in itself, but anyone who reads it will be sitting on tenterhooks, waiting for the next installment…"

"If you have any fingernails left upon completion of this book, you deserve an award… Lars Kepler's The Sandman is Nordic noir at its absolute finest, and a haunting, riveting story that will stay with readers for quite some time."

"Thriller fans will find it hard to escape The Sandman's spell, for the suspense is unrelenting and the bite-size chapters end on cliffhangers. But unlike the villain, who makes victims go to sleep, his namesake novel will keep readers up all night."

"The chapters blitz by at two to three pages each. But there are also deep-rooted ideas and themes, probed in the short blocks of text, with deep queries about life and death and freedom and confinement."

"[A] marvel: utterly unnerving, bordering on horror, dripping with suspense throughout."

"The Sandman is riveting, and like the other Kepler books, is scary as hell. For fans of Nordic Noir, the Kepler books are great additions to the genre. For readers who want to see what all the fuss is about, The Sandman is a great place to start."

"I had been hearing about Lars Kepler's Joona Linna series of crime novels for years and have finally gotten around to reading them. I had really been missing out. /…/ Do you enjoy getting scared out of your wits? Then I suggest you read The Sandman."

"The Sandman is the latest Scandinavian thriller you need to read right now. No matter who you are, there are some books you should only read in the safety of broad daylight. The Sandman (Knopf), an international best-seller releasing in the U.S. on March 6, should be at the top of that list."

"The Sandman was so frightening it nearly gave me a nervous breakdown."

"Kepler's plots are always thrilling, but The Sandman is one of the most hair-raising crime novels published this year."

"Far more energetic than Henning Mankell, as socially involved as Larsson but a better writer, Kepler matches the great Jo Nesbø for gothic excitement."

"The Sandman is Nordic noir at its best: a modern, nightmarish fairytale with an heroic, intuitive policeman, a monstrous villain and a maiden in distress. Kepler's effective use of short chapters quickens the exhilarating pace of the narrative and the unexpected ending increases the enigma that is Joona Linna."

"Gripping, chilling, paranoid – the most suspenseful crime novel of the year."

"As has been necessary with all previous thrillers by Kepler: Keep an oxygen tank close at hand."

"A perfect summer read /…/ It's been a long time since I read a book that was this thrilling. I was still thinking about the characters long after I finished reading The Sandman."

"Negative critics can go and shoot themselves right away – that is, if they've momentarily thought they've read anything better in this particular genre."

"You shouldn't start reading this novel if you have things that need to get done the next few days."

"Above all it is the originality of the story that captivates the reader. The Sandman is not a crime novel with blood splatters, but is all the same extremely intense because of the twisted logic of the criminal mind."

"If you manage to put away The Sandman after beginning reading it, you have nerves of steel. Because it's not often you get to read a book with this level of suspense, both on a psychological and physical level. So all shaken up you keep on reading – fast – until your run-down nerves are intertwined with the novel's highly dramatic ending."

"The technical expertise and brilliant horror film aesthetics surrounding the Finnish-descended prosecutor Joona Linna is a show of highly addictive writing."

"It's the first time I've been scared by the opening sequence of a book. The successful authors behind the pseudonym Lars Kepler is out with a new book in Norwegian, and I was unable to finish painting the wall before it was finished. The Sandman is simply frighteningly well-written."

"So convincingly skilled that they hardly have any writer above them within that genre today. /…/ In short: Your novels feel like carefully utilized jewelry."

"I recommend this book to anyone who likes a good, gritty novel."

"The Sandman is Kepler's fourth novel and maybe the best, most extreme, and horribly exciting so far. The dramaturgy is excellent and the structure of short chapters and an effective language chases the reader from one page to the next."
Author

Lars Kepler

Published

2012

Genre

Pages

517

Reading material

Swedish edition

English edition

Rights sold

Albania, Dituria

Bangladesh, Iha Prokash

Brazil, Alfaguara

Bulgaria, Enthusiast

Canada, McClelland & Stewart

Catalonia, Ara

China, Modern Press (Simplified Chinese)

Croatia, Fraktura

Czech Republic, Host

Denmark, Gyldendal

Estonia, Pegasus

Finland, Tammi

France, Actes Sud

Germany, Lübbe

Greece, Patakis

Hungary, Cartaphilus

Hungary, Animus

Iceland, Forlagid

Israel, Modan

Italy, Longanesi

Japan, Fusosha

Korea, Woongjin Thinkbig

Lithuania, Lectio Divina

Netherlands, Cargo

North Macedonia, Matica

Norway, Cappelen Damm

Poland, Dolnoslaskie

Portugal, Porto

Russia, Corpus

Serbia, Vulkan

Slovakia, Ikar

Slovenia, HKZ

Spain, Penguin Random House

Sweden, Albert Bonniers

Türkiye, Dogan Egmont

UK, HarperCollins

Ukraine, KM Books

US, Knopf

Film rights sold

US, Hardy, Son & Baker / Apple TV+